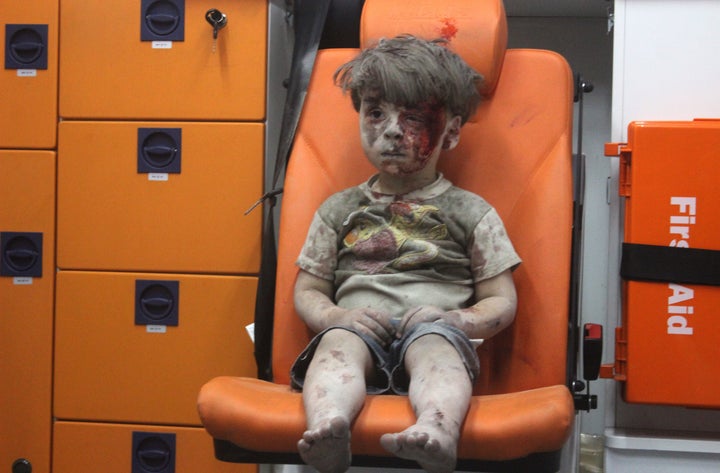 Omran Daqneesh held the world's attention last year when a photo of the Syrian boy, sitting bloodied and confused in the back of an ambulance, went viral.
Omran had just been pulled from the rubble after an airstrike on the Syrian city of Aleppo. His older brother would later die of wounds sustained in the attack. With his image circulating on the internet, Omran came to be known simply as "the boy in the ambulance," a symbol of the terror that Syrian children are forced to endure in a civil war.
Omran's family hadn't spoken to the press since his widely seen rescue ― until this week, when interviews with the boy and his father, apparently living comfortably in government-controlled Aleppo, emerged from news outlets that support Syrian President Bashar Assad.
Kinana Allouche, a pro-Assad journalist, shared on Facebook photos of her interview with a healthy-looking Omran with his family, including his father, Mohammad Kheir Daqneesh, on a couch in an Aleppo home. Other photos on Allouche's Facebook account show the journalist wearing a shirt with the image of Assad's face.
In a similar interview, filmed in the same living room and shared Monday by Russian news outlet Ruptly, Daqneesh said that the now-iconic photo of Omran in the ambulance and hospital was taken without his permission. Video of Omran's rescue was first published by the activist group Aleppo Media Center.
According to Ruptly's report, "Daqneesh had concluded that the footage was used by opposition-supporters for the purpose of 'propaganda.'" Another video taken by the Russian news station shows Omran waving the Syrian national flag.
"They are the ones who hurt us and our country and displaced the people," Daqneesh said.
Omran's reemergence in the media was met with skepticism. Some speculate the recent television appearances on state-run news channels could be a regime-coordinated ploy to project an image of normality in government-controlled areas of Syria.
It isn't clear if Daqneesh was forced to give these interviews, but experts say that the Syrian government has been known to punish anyone who speaks against Assad's regime.
Omran's family is "under government control now and this is a government that we know arrests and tortures anyone that speaks out against it," Valeria Szybala, executive director of the nonprofit research organization Syria Institute, told Reuters. "To me the situation seems to suggest this is probably coerced."
REAL LIFE. REAL NEWS. REAL VOICES.
Help us tell more of the stories that matter from voices that too often remain unheard.
BEFORE YOU GO
PHOTO GALLERY
Syria's Children Draw Messages For Peace