For nearly a month, 11-year-old Yaman Ezzedine has been suffering from horrible pain caused by meningitis that his doctors in Madaya, Syria, lack the equipment and medicine to treat. 
Madaya is under siege by the Syrian government, so Yaman's family in Syria and the United States have pleaded for help from aid organizations and lawmakers so he could leave the town to get treatment elsewhere.  
On Friday, their prayers were finally answered as the Syrian Arab Red Crescent evacuated Yaman and 12 other children out of the besieged town and took them to Damascus for needed medical attention, Yaman's doctor said.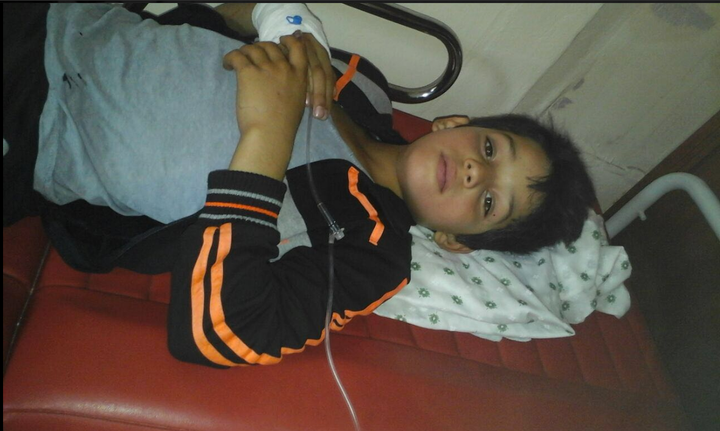 The Syrian Arab Red Crescent said in a tweet that it was evacuating a total of "36 humanitarian cases" from Madaya and two government-held towns, Kafraya and Fuaa, in northwestern province of Idlib.
A local Syrian doctor, Mohamed Darwich, who had diagnosed Yaman, told The WorldPost that Yaman was among those evacuated to Damascus to receive treatment, along with children suffering from malnutrition and two babies with blood poisoning, according to AFP.  
Yaman's uncle, Yousif Jabir, who lives in Allentown, Pennsylvania, has been appealing to local organizations for help. He said he was overcome with emotion at the news. "I am not able to express what I want to say from my heart and how much gratitude I have," Jabir said. 
Yaman's mother, Khawala Jabir, said Friday from Madaya that she only wished she could go with her son to Damascus. "But I am very thankful," she said.
For Khawala Jabir and others in Madaya, a rural town on the outskirts of Damascus, starvation and a severe lack of medical and humanitarian aid are a part of daily life. 
An estimated 40,000 residents have been affected by food and medicine shortages in the town. The starvation and blockades persists despite multiple U.N. Security Council resolutions aimed at ensuring the delivery of aid to those in need, regardless of who controls the territory.
There are 4.5 million people who live in regions of Syria that are hard to reach for aid groups, 400,000 of whom live in besieged areas, according to the United Nations.
Calling all HuffPost superfans!
Sign up for membership to become a founding member and help shape HuffPost's next chapter