"Say goodbye, my loves," whispered Abdel Hameed Alyousef, clinging the corpses of his infant children, Ahmed and Aya, tightly to his chest for the last time. "Say goodbye."
So consumed by grief that he appeared barely able to stand, the heartbroken father then buried his 9-month-old twins with his own hands ― along with his deceased siblings and wife, Dalal, at a mass grave site in Syria.
"Dalal, take care of my children," he sobbed over her tombstone. "I couldn't save anyone. They're all dead now."
Alyousef lost 22 family members this week, The Associated Press reports, after warplanes dropped toxic gas over their town of Khan Sheikhoun in rebel-held Idlib early Tuesday morning, in an attack that may be considered a war crime. Later that day, airstrikes decimated a nearby hospital where victims were receiving treatment.
While it denies responsibility, the government of Syrian President Bashar Assad is widely believed to be behind the massacre that has so far killed more than 70 civilians, including dozens of children.
"I helped a few people on my way to see my family," Alyousef said, recalling Tuesday's tragedy in an interview. "People were falling down on the road, and I didn't know the reason. We could smell something, but didn't know it would be this harsh. Then people started to foam at the mouth."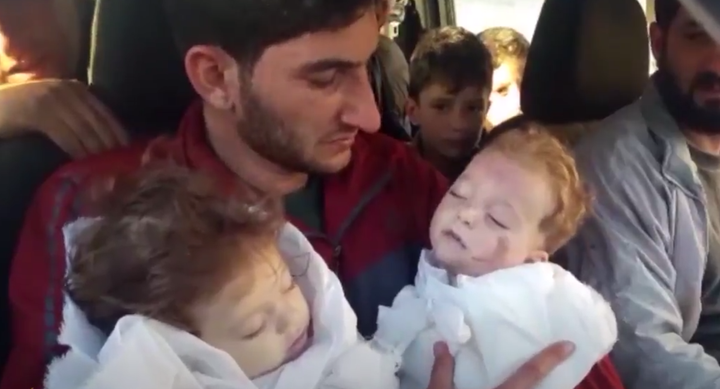 The World Health Organization has concluded that a banned nerve agent was likely deployed, stirring memories of the sarin gas bombardment in 2013 that left as many as 1,700 people dead in a suburb of Damascus. Western governments and human rights observers also claimed the Assad regime was responsible for that attack.
U.S. President Donald Trump added his condemnation to a chorus of world leaders' on Wednesday, saying such "heinous actions by the Assad regime" cannot be tolerated. His administration blamed the "weakness" of former President Barack Obama in part for the assault, and is reportedly considering retaliatory options against perpetrators in Syria at this time.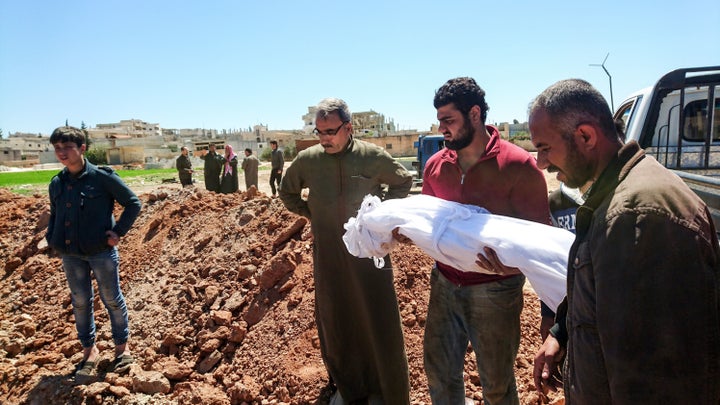 All too familiar with Syria's continued use of chemical warfare against civilians, activists are again warning that little will change without enforced consequences from global powers. United Nations Security Council resolutions seeking accountability for Syrian atrocities have repeatedly been vetoed by Russia and China.
"These attacks will continue as long as there is no justice and accountability," Elise Baker, lead Syria researcher for Physicians for Human Rights, told The Huffington Post in an interview this week. "We're now into the seventh year of this conflict, and there has been no credible international response to the violations we've seen day after day."
More than half of Syria's population has now been killed, wounded or displaced by the nation's raging war, with no resolution in sight. Some 13.5 million people, including 5.8 million children, are currently in need of aid.
Thirteen-year-old Mazin Yusif survived the gassing on Tuesday, and like Alyousef, he too witnessed loved ones suffocate and die before his eyes.
"I saw the explosion in front of my grandfather's house," the teen told CNN. "I ran to their house barefoot ... then I became dizzy," he said, adding that 19 members of his family are now dead.
Yusif's 55-year-old grandmother, Aisha Al-Tilawi, was among the injured.
"Mazin was trying to wake up his grandfather," she told the network from her hospital bed in neighboring Turkey, but he had died in the attack. "Entire families were killed."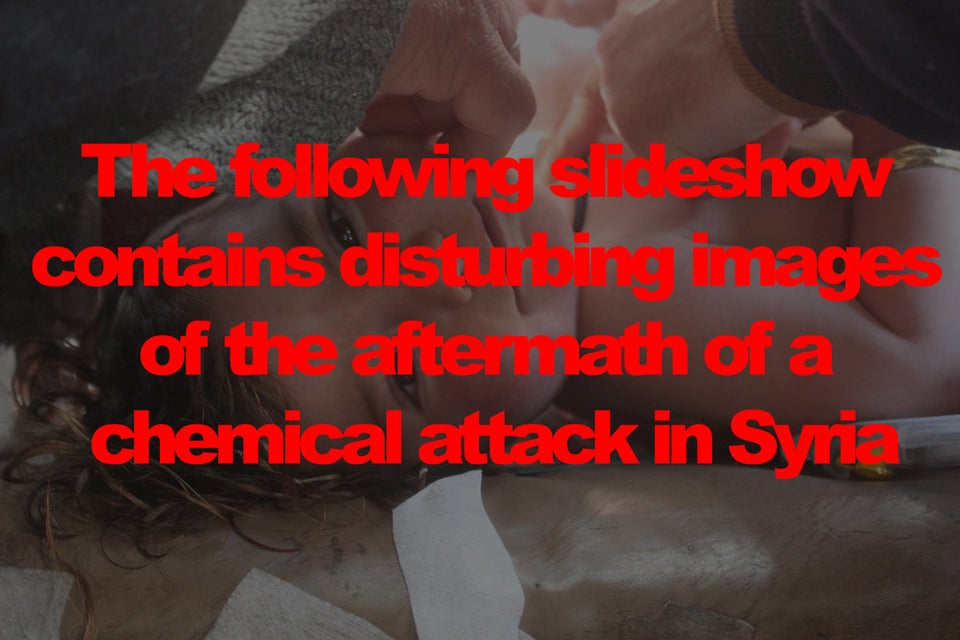 Dozens Dead After Gas Attack In Rebel-Held Syrian Town
Popular in the Community