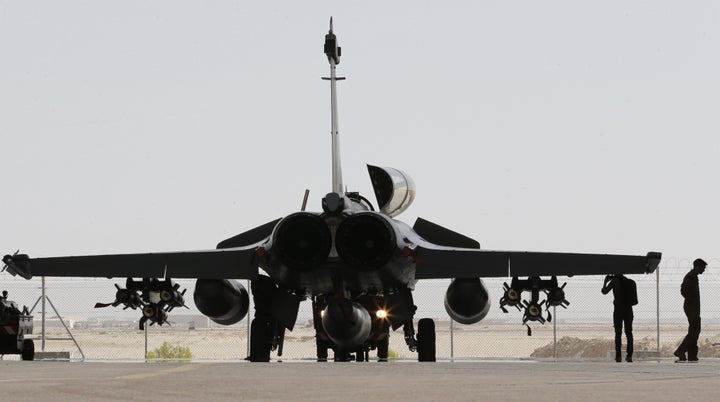 NEW YORK -- TV anchors and correspondents have flooded Paris in the last few days, but journalists are nowhere to be seen on the streets of Raqqa, Syria, where both French and Russian warplanes are pounding Islamic State targets in response to recent terrorist attacks.
That doesn't mean some aren't bravely covering the impact of aerial bombardment and Islamic State occupation. Since April 2014, members of activist organization Raqqa is Being Slaughtered Silently have secretly produced the most sustained coverage of life under Islamic State control. In the days since Friday's attacks in Paris, its dispatches have been widely cited by news organizations and circulated on social media.
"We are fighting for our city," AbdAlaziz Alhamza, a member of the group, told The Huffington Post in an interview Tuesday. "We don't have weapons, but we have our pens or our website or whatever. We are fighting online."
Alhamza, a 24-year-old Syrian refugee now living in Berlin, was visiting New York, where the Committee to Protect Journalists will honor his group next week. But even 5,600 miles away from Raqqa, Alhamza is helping publish some of the best information from the ground. He works with seven activists outside the city to publish information provided by a dozen members living in Raqqa and the surrounding countryside.
The citizens currently trapped in the city, he said, are "afraid because [of] all these warplanes in the sky and ISIS on the ground." They don't have bunkers to take shelter in, he said, and Islamic State members have moved in among them, making it more likely airstrikes could result in civilian casualties. Alhamza suggested that fear doesn't discriminate when a warplane is heard overhead, whether it belongs to Syria, America, France or Russia -- which ramped up airstrikes in response to the October bombing of an airliner.
Raqqa is Being Slaughtered Silently has steadily blasted out updates on social media about the latest explosions and later published detailed maps identifying where the bombs struck. They reported on Sunday and Tuesday that no civilians were killed.
Alhamza said they've been able to report on civilian casualties through sources at the national hospital, which is where anyone killed or wounded is expected to be taken.
He pushed back against any suggestion his group would be reluctant to report when civilians were killed in airstrikes out of concern that nations would hesitate before targeting the Islamic State there.
"We cover everything because our duty is for our city,"Alhamza said Tuesday. Indeed, the group tweeted news that seven civilians were killed the following day.
"We know this is a big responsibility because we are the only serious news from ISIS areas," he said, adding the group has made contacts in other areas controlled by the extremist group.
The Islamic State ruthlessly cracked down on free expression from the start of its occupation, but in recent days has gone to even greater lengths to prevent information from getting out. They have closed Internet cafes, the group reported Wednesday, and Alhamza said it has become increasingly difficult to take photographs with security cameras installed throughout the city. Still, Raqqa is Being Slaughtered Silently has been able to publish several audio recordings this week of warplanes bearing down on the city.
Since the Paris attacks, there's been a lot of talk in the U.S. media about Raqqa.
Bill Kristol, editor of the Weekly Standard and a major Iraq War booster, said Sunday on ABC's "This Week" that "if it takes 50,000 troops going in there and cleaning out Raqqa, the capital of the Islamic State, do it." The next morning, a discussion on Syria strategy on MSNBC's "Morning Joe" included a clip from Showtime's "Homeland" in which fictional CIA agent Peter Quinn suggested that eliminating the Islamic State would require either a U.S. ground force of 200,000 or the willingness to "pound Raqqa into a parking lot."
But amid Washington debates and Hollywood dramatizations about what the U.S. should do in Raqqa, media organizations haven't had opportunities to report on what the people there are doing under Islamic State rule. The terrorist organization granted Vice News filmmaker Medyan Dairieh and German writer Jürgen Todenhöfer permission to briefly report in Raqqa, which it has occupied since early 2014, but no Western journalist has visited this year.
Given the dearth of information, major news organizations are left with few options. They can cite Raqqa is Being Slaughtered Silently; British-based Syrian Observatory for Human Rights, which also has a network of contacts in the country; or cultivate their own sources or work with journalists willing to report anonymously. The New York Times referenced both activist groups in a Tuesday night story on the effects of airstrikes and cited its own sources who have managed to reach relatives in the city. Still, Times reporter Anne Barnard wrote, "outside of anecdotal accounts, damage assessment in Raqqa is inherently difficult."
And incredibly dangerous.
Not only would activists be killed for reporting inside Islamic State-controlled Syria, but they aren't immune from warfare when crossing the border. Last month, Islamic State militants killed and beheaded journalist Ibrahim Abdul Qader, a Raqqa is Being Slaughtered Silently member living in Urfa, Turkey, and fellow activist Fares Hamadi.
Alhamza acknowledged members of his group are "doing the riskiest media work in the world."
"All of us are accepting that any one of us will be killed at anytime or anywhere," Alhamza says.
Popular in the Community