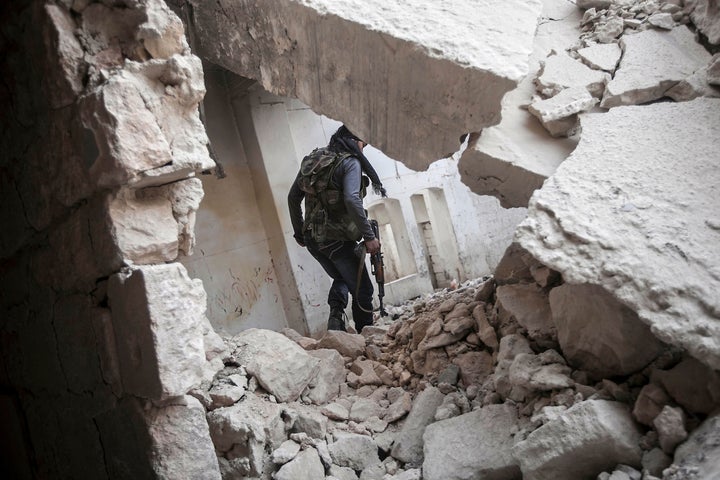 By Regan Doherty and Rania El Gamal
DOHA, Nov 10 (Reuters) - Host nation Qatar, backed by the United States and the United Arab Emirates, on Saturday pressed the Syrian opposition to form a united leadership to pursue its war against Bashar al-Assad, but delegates said they needed another day to reach a deal.
At talks in Doha bringing together various opposition groups, the Syrian National Council (SNC) has been concerned that it might be sidelined in a new broad coalition.
A source inside the meeting said the SNC had asked to continue the talks on Sunday but that it would be a "last chance" before the opposition figures behind the U.S.-backed initiative go ahead without the SNC.
The United States and Qatar, which has bankrolled the opposition to Assad and played a major role in Arab diplomacy against him, have kept up pressure on the SNC to agree a deal immediately, one diplomatic source said.
"I thought it was OK today, but then it's postponed," said prominent dissident Riad Seif who proposed the new body, as delegates hurriedly left talks in the Doha Sheraton hotel that lasted to the early hours of Sunday.
He said there was a 90 percent chance of reaching a deal.
Delegates said the United Arab Emirates Foreign Minister Sheikh Abdullah bin Zayed had earlier appeared to urge the participants to unite and finalise an accord.
Qatar's prime minister and Turkey's foreign minister both addressed the Syrians on Thursday with the same message. U.S. diplomats milled around the hotel lobby on Saturday in a further sign of the pressure on the parties.
The United States and Qatar have urged the foreign-based SNC to join an anti-Assad grouping likely to be called the Syrian National Coalition. Seif has proposed that this would include armed rebel groups fighting in Syria such as the Free Syrian Army.
The SNC, criticised for being ineffective, disunited and out of touch with insurgents and activists inside Syria, says its outside backers should do more to arm the rebels and protect civilians, and allow the SNC to reform itself rather than focus attention on creating a new opposition gathering.
The council's newly elected head, George Sabra, suggested that international pressure on the SNC to quickly approve the initiative was misplaced, saying inaction to back the rebels and hinder the government's room for manoeuvre was shameful.
"The international community has not been able to provide enough weapons for Syrians to protect themselves, while the regime is free to kill all and has resources for weaponry," the leftist Christian told reporters in Doha.
Anti-Assad protests erupted nearly 20 months ago, meeting a violent response which led to a conflict that has cost more than 38,000 lives and threatens to spill into neighbouring countries.
The armed uprising, in which Islamist militants have come increasingly to the fore, lacks weaponry to counter the Syrian military's air power, tanks and artillery. Yet Assad's forces have failed to crush the rebels, who hold swathes of territory.
The SNC hopes it can squeeze guarantees from international backers for more military aid or a no-fly zone to protect "liberated areas" in return for agreeing to join the new body. Forms of international recognition have been raised in the negotiations so far as an enticement to sign.
But Washington rejects overt military involvement in Syria - although some in the opposition hope U.S. President Barack Obama might shift ground after he was re-elected this week.
The SNC argues that even if it bows to U.S. pressure for a body that could present itself as a Syrian government-in-waiting, the new organisation could not be left undefended.
"If we have a transitional government or something like that, we will need protection since it will work on the ground inside Syria," said former SNC chief Abdulbaset Sieda.
A senior SNC figure said former ambassador to Syria Robert Ford had told the group bluntly earlier this week to forget dreams of direct U.S. military aid or intervention.
But the SNC official, who asked not to be named, said this did not exclude military help from other unidentified nations.
U.S. diplomats have been hovering on the sidelines in Doha, where the SNC held several days of internal talks to revamp its own structure before the wider forum opened on Saturday.
The new body, if it sees the light of day, would expect international recognition and more weapons. It would form a government-in-waiting ready to replace Assad, along the lines of Libya's Transitional National Council that took over last year, and could then take Syria's seat at the United Nations.
SNC figures said a basic agreement could be reached this weekend, but that it could take weeks to thrash out details.
The SNC, founded in August last year, is seen as dominated by the Muslim Brotherhood and other Islamists. It is wary of seeing its influence diluted in the proposed 60-member assembly, where it might have about two-fifths of the seats.
SNC activists suspect the United States is seeking to take control of the opposition. Some clerics and youth activists have signalled opposition to taking part in any new body.
The group says it is taking measures to get its internal house in order, holding leadership elections for the first time this week after previously choosing a figure from among its executive council, and including more activists and minorities - though women failed to win seats on its general secretariat.
"The people inside Syria don't see in the initiative a national vision. They see it as a way to undermine the revolution," one young activist said in Doha.
Brotherhood figures in Doha, though, said they were backing the initiative - one factor likely to help bring about a deal.
"The Brotherhood's and SNC's position towards the initiative is positive. The SNC has some reservations relating to preserving the SNC as an entity and its continuation as a force for Syrian opposition," said Farouk Tayfour, a senior Brother. "This may be the main reservation regarding the initiative." (Writing by Andrew Hammond; Editing by Stephen Powell and; Eric Walsh)
Popular in the Community