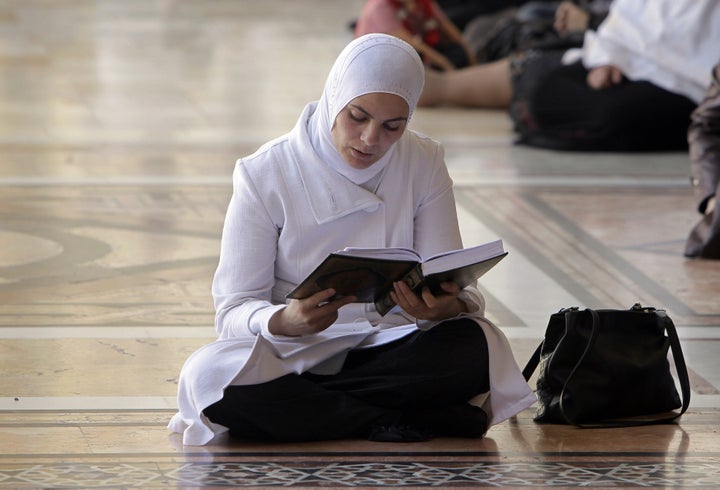 Women have been the heart and backbone of Islam from its beginnings. From the courage of Khadija, Prophet Muhammad's first wife and first convert, to the scholarship and fiery independence of his later wife Aisha; from the political genius of Muslim queens such as Egypt's Shajarat al-Dur and India's Nur Jahan to the spiritual wisdom of female saints such as Rabia of Basra, Islam has been shaped and guided by the feminine hand since its earliest days. And today, as the Arab world goes through a long-overdue confrontation between dictatorship and democracy, women have been at its forefront.
Many Muslim women who are serving as political leaders at this pivotal time are receiving a great deal of attention in the news. Tunisian blogger Lina Ben Mhenni first brought worldwide attention to the injustices in her country leading to a popular uprising that soon spread throughout the Arab world. In Egypt, 26-year-old Asmaa Mahfouz is credited with using Facebook to inspire her fellow citizens to rise up against the regime of Hosni Mubarak. And among the winners of the 2011 Nobel Prize was Tawakel Karman, a Yemeni journalist whose arrest by the government sparked a wave of protest that finally led to the resignation of Yemen's president Ali Abdullah Saleh.
These young women, and many others whose names are perhaps known only to their families and loved ones, have been catalysts for change in their countries. But the question arises as to why now? Part of it is demographics, with 60 percent of the population of the Arab world under age 30, and more than half being female. Part of it is growing access to information and social media. These factors have been discussed heavily in the press.
But what has received less attention is the role that spiritual awakening is playing in Muslim women standing tall against oppression. Back in June, I wrote about how Muslim women are taking a lead role in Islamic scholarship to empower themselves and strip their faith of misogynist accretions promoted by men over the centuries. That rediscovery of the feminist elements of Islam has been pivotal in helping Muslim women worldwide reclaim their innate dignity and power, and has helped them to fight back against the staid and outdated traditions that have held back many Muslim countries in the past century.
I recently came across a remarkable documentary that focuses on exactly how that is happening, how Muslim women are taking charge of their religious upbringing, even in the face of oppression. The independent feature documentary, "The Light In Her Eyes," had its world premiere Nov. 19 at the International Documentary Film Festival in Amsterdam. A world rarely seen by outsiders, it is the first feature film to be made inside the women's side of a mosque in Syria. The film reveals why modern women are choosing to practice Islam in a rapidly changing society.
Directed and produced by Julia Meltzer and Laura Nix, "The Light In Her Eyes" is a story about Muslim leader Houda al-Habash, and one summer at her Quran school for girls in Damascus. Al-Habash and her students are bravely challenging cultural traditions, while staying true to their dedication to Islam. In a surprising shift for many viewers, Al-Habash teaches them that pursuing their ambition is a way of worshipping God. "The Light In Her Eyes" provides an inside look into the Islamic revival from the women's perspective, shedding light on the impact it could have on Syria if the current regime is displaced.
The undercurrents of the contemporary Syrian uprising can be seen in the women's insistence to be educated and to think for themselves. The filmmakers were granted unprecedented access to the world of conservative Muslim women in Syria, shooting over three and a half years as the political climate grew more repressive. They completed principal photography in November 2010, four months before the beginning of the Syrian uprising. Audiences are able to pierce the veil of Muslim women's inner lives and spiritual longings, and see the role that faith plays in their sense of identity and their hopes for the future.
The idea of a Quran school run by women, for women, might seem surprising to many. But Houda al-Habash is simply following in the tradition of Muslim women who have served as religious scholars and teachers back to the days of Prophet Muhammad himself. In my novel, "Mother of the Believers," I discuss how the Prophet's wife Aisha was a scholar who was fluent in the Quran, as well as a jurist, who served as one of the principle sources of Islamic law and teachings. As the woman who was closest to Prophet Muhammad (he died in her arms), Aisha was in a unique position to relate intimate conversations she had with her husband, from marital sexual practices to how to cleanse oneself properly for ritual ablutions. She recounted more than 10,000 hadith, or oral traditions, relating to every aspect of her life with the Prophet, and Aisha's accounts serve as a bedrock for Islamic jurisprudence even today. And she was no wilting wallflower. Aisha was a confident, strong-willed woman who openly challenged men, even arguing spiritual matters with the Prophet himself without trepidation. And she became a political leader after his death, playing a critical role in the disputes over the Caliphate, and eventually taking arms to fight for her beliefs when she led an army in Iraq during the first Islamic civil war. I have no doubt that Aisha would look at Houda al-Habash and her Quran school with esteem, a continuation of her own legacy as a feminist leader of Islam.
The phrase "feminist leader of Islam" may strike some as an oxymoron. And this wonderful documentary will be surprising for many who assume that as freedom comes to the Middle East, Muslim women will seek to model their lives according the secular feminism of the West. As the Muslim women and girls interviewed in the documentary reveal, feminist empowerment will likely be presented in Islamic terms, and a knee-jerk hostility toward the religious aspects of the Arab Spring will only create a new divide of understanding between East and West. The only way such misunderstandings can be prevented is if we learn to see the world through the eyes of others. Despite the rage of anti-Muslim bigots, Islam is not going to go away, and the changes in the Middle East will only bring it even further onto the world stage. The question will be what kind of Islam takes the spotlight when the dust settles on revolution and transformation. Will it be an Islam that pushes its people backward or forward?
Watching this documentary, it is clear that this question will in large part be answered by Muslim women themselves. As the Muslim women featured in "The Light In Her Eyes" say: "A woman is a school. You teach her, you teach a generation."
Kamran Pasha is a Hollywood filmmaker and the author of Shadow of the Swords, a novel on Crusades (Simon & Schuster; June 2010). For more information please visit: http://www.kamranpasha.com. To contact the filmmakers of "The Light In Her Eyes," please email pr@rajae.net.
Popular in the Community