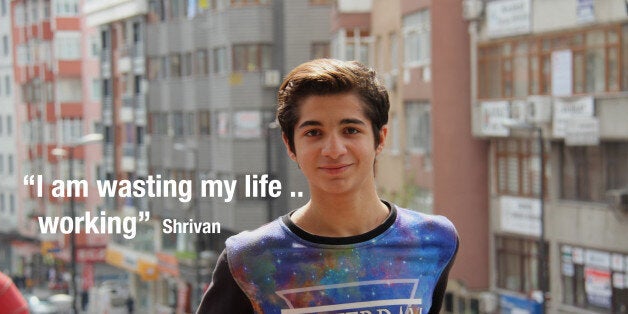 What if you had to make a decision between continuing to work as a child laborer to make ends meet for your family or planning to risk the choppy waters and dangerous journey of taking a refugee boat from Turkey to Greece? This is the dilemma of Shrivan, a 16-year-old boy who fled Aleppo, Syria three years ago to southern Turkey.
Shrivan, the youngest member of his family, is a self-proclaimed computer geek. In conversations with us, he expressed great pride in being one of the best students in his class back in Syria.
"We were the best students with the highest grades," he said with tears in his eyes. "Now I cut fabric in a factory."
In 2013, Shrivan and his family were forced to flee their home in the Syrian neighborhood of Sheikh Maqsood. They tried to escape to his grandparents' house a few blocks away from his home for a night hoping the situation would calm down so they could return. But they were never able to.
"We left only with the clothes we had on," Shrivan recalled. "We didn't even pack anything."


'We left only with the clothes we had on. We didn't even pack anything.'

But then a bomb hit his grandparents' house. All of the roads were blocked and Aleppo was officially besieged.
Shrivan explained that there was a sniper on a nearby rooftop, so the safest option for his family was to flee to a nearby village, al-Ra'i, close to the Syrian-Turkish borders, and as far as possible from the war.
With no hope of returning home, Shrivan's family crossed the border towards Gaziantep to find refuge. He began working the week after he arrived in Turkey, when he was just 13 years old. He still works six days a week, 12 hours a day, and still does not bring in enough money to support his mother. Shrivan has been stuck in child labor for at least three years.
"I go to work everyday. I wake up in the morning and go to work," he said of his day. "I come back home in the evening. I sleep only to wake up and go to work again."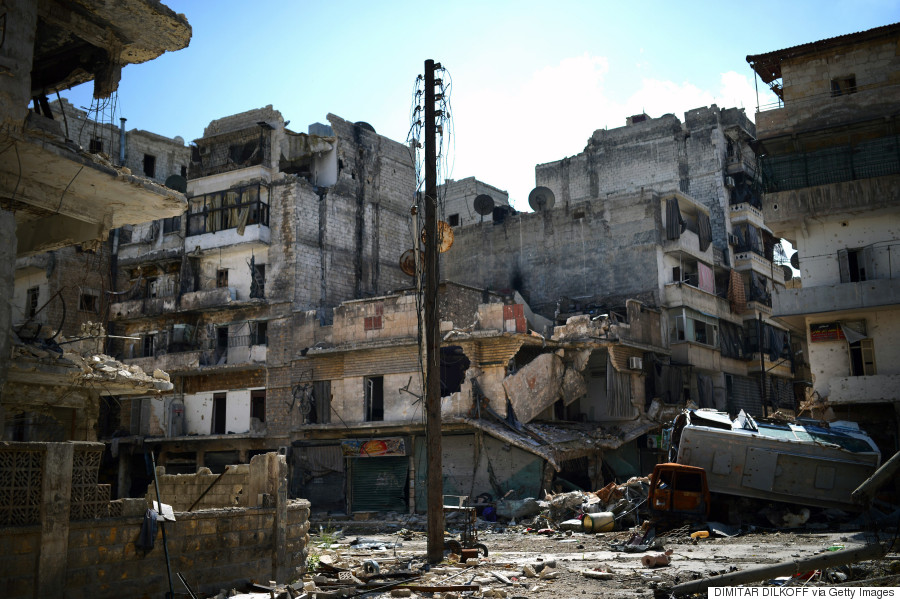 A picture shows destruction in the Salaheddine district of the northern Syrian city of Aleppo on April 12, 2013. (DIMITAR DILKOFF/AFP/Getty Images)
Not only has his neighborhood in Aleppo been destroyed in the war and shelled heavily, but Shrivan said he's heard his school was also hit with barrel bombs several times. Just during the last week, the Assad regime has reportedly launched more than 260 airstrikes and close to 70 bombs on Aleppo, killing hundreds of civilians -- among them at least 50 children. The indiscriminate bombing campaign continues to destroy the city's hospitals and schools, regardless of any cease-fire attempts. Recent reporting indicates that some 300,000 children remain in Aleppo and many are unable to attend school today due to the high risk of injury or death.
Shrivan wants to either become a doctor so he can help end suffering or an English teacher so he can teach and travel the world. But he knows he needs to find a way to get an education in order to realize either of those dreams. His determination to continue his education made him even risk his own life by briefly going back to war-torn Aleppo to take cumulative school exams to help him pass eighth and ninth grades. Shrivan did, regardless of all the dangers of Syria's war.
Last month, Shrivan told us he had come up with a better solution: he would cross the Mediterranean Sea on an inflatable boat so he could go to school in Germany, following in the footsteps of thousands of Syrian refugees and putting his own life at risk, again.
Shrivan knows that many Syrian refugees have drowned to death in those boat trips in their pursuit of refuge and safety away from the war -- no one can forget the image of Alan Kurdi, the little Syrian boy whose dead body washed up on the shores of Turkey. But he thinks it's worth the risk if it gives him an opportunity to resume his education.

Shrivan wants to either become a doctor so he can help end suffering or an English teacher so he can teach and travel the world.

"I am wasting my life here working," he told us. "It does not matter if I am cutting fabric in a factory for 12 hours a day, or if I am working at a radio station, this work isn't going to get me or my family anywhere. We can barely pay our rent, how will I even attend school if I have to work? I need to leave, I need to study. I heard education in Germany is good."
Every child has a right to education and no child should have to risk his or her life to go to school. Six thousand dollars would cover the cost of one year of tuition in Turkey and also offset the lost income from Shrivan not working.
When the Syrian refugee crisis started, we immediately felt a responsibility to help. As Syrians who were forced to leave our country in 2005 for political reasons, we know first-hand what it means to leave everything behind, not knowing if returning will ever be possible.
In 2011, we launched The Syrian-American Network for Aid and Development, an independent organization in Washington dedicated to supporting Syrian refugees, families and children, as they escape the conflict. The word SANAD ( ْسَنَد ) comes from Arabic, meaning support. Through our work, in 2013 and 2014, we got the chance to meet Syrian refugees in Turkey and learn about their stories. This is how we first met Shrivan. His dreams and hopes are still alive and growing stronger as we kept in touch with him throughout the years. We are now raising money to send Shrivan to school this fall, without him risking his life at sea.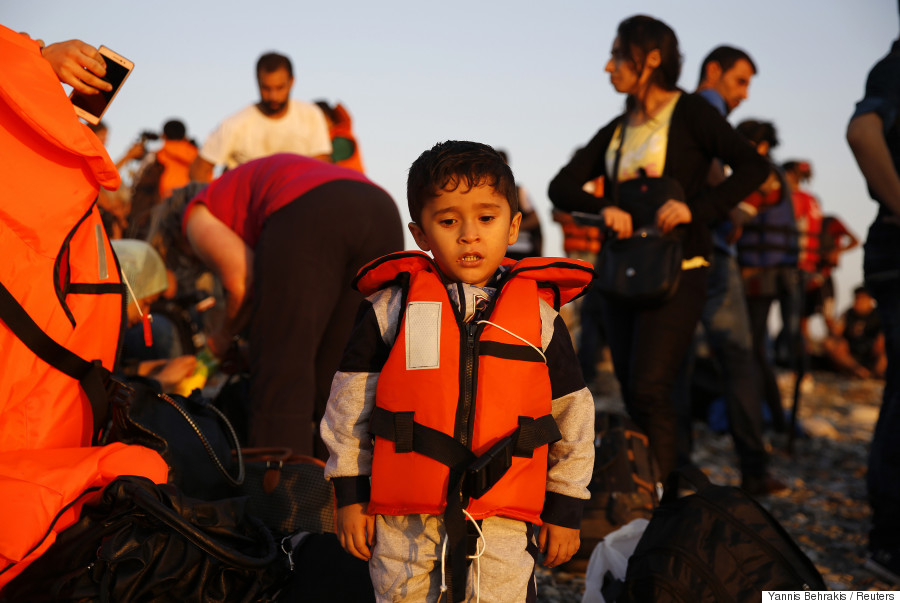 A Syrian refugee child pauses moments after arriving at a beach on the Greek island of Kos after crossing a part of the Aegean sea from Turkey to Greece on a dinghy. (REUTERS/Yannis Behrakis)
Helping Shrivan go to school is just one sub-project of a broader effort by SANAD to empower Syria's displaced families. It is part of our current project, which emerged in 2013-2014: a documentary film series called "Tomorrow's Children: Syria's Not Lost Generation." We met the innocents in their places of refuge, and listened to their voices that have been muted by the sounds of bombs and tank shelling. We wanted to learn how we could help them. Syria's children are stuck in child labor, living in the shadows; they are marginalized and unnoticed. In Turkey, we saw the need to give them a voice. Their stories must be heard, and their struggles must not be ignored. We interviewed six children, who on average work 10 hours a day, six days a week. They are friends facing the most difficult adversities together -- working to support their families and denied their right to education.
Through this documentary, which we hope to release soon, our aim is to raise awareness and money to establish a school on the Syrian-Turkish border, sponsored by SANAD, where Syrian child refugees learn the universal skills of English and mathematics. We believe this will improve their living conditions, help protect them from exploitation and prepare them for a brighter future.
To learn more about SANAD and the documentary "Tomorrow's Children: Syria's Not Lost Generation," visit our website.
Related