Last week I had the opportunity to visit Za'atari refugee camp just outside of Amman, Jordan. Of the 80,000 refugees living there, almost all are Syrians. Arriving in Za'atari, my only context on the experiences of refugees -- of people running from war -- had been informed by images captured by journalists. At the camp, I was brought to an art studio filled with images originated by Syrian artists. These artists paint and sculpt memories of their homeland, either to immortalize the memory of its beauty or as a form to express grief of searing images -- their houses destroyed, their neighbors and countrymen unburied on the streets. Many of the paintings explore the role of media in communicating the conflict to the outside world- how the conflict is being framed and packaged to people, what is being highlighted and what isn't.
Though I saw a lot of things at Za'atari, I felt it's important to share these artworks because they communicate so directly the experience of civil war and are made in the hands of those most affected. The names of the artists have not been disclosed by UNHCR, and I didn't have the opportunity to speak with them directly but I include some personal interpretations and reactions from when I first saw these pieces.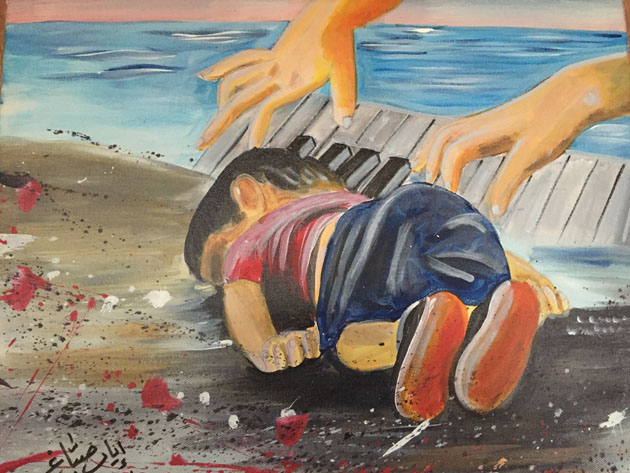 The first painting is a recreation of the infamous photograph captured by a journalist of a three-year old boy, Aylan, washing up on the shores, an image that ignited international outrage. This photograph woke up the world, while Aylan himself looked to be sleeping. In this recreation a keyboard is included next to Aylan reinforcing the image of his sleep, as a lullaby is played in the waves.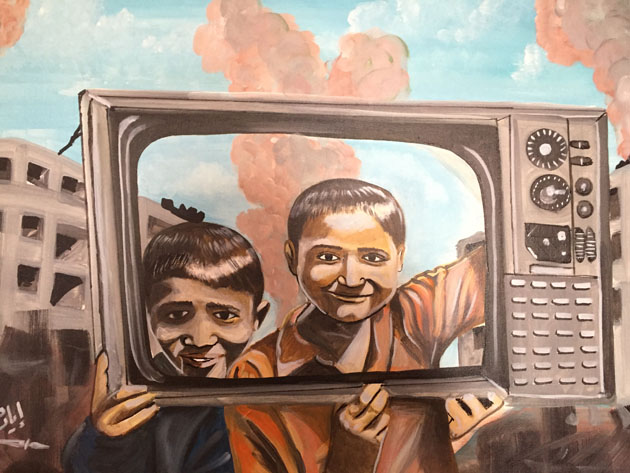 In this image we see two children framing themselves within a television screen. Perhaps this is a commentary on the limitations of media to communicate a full and real experience, by only being able to capture what can fit physically into the screen of a television.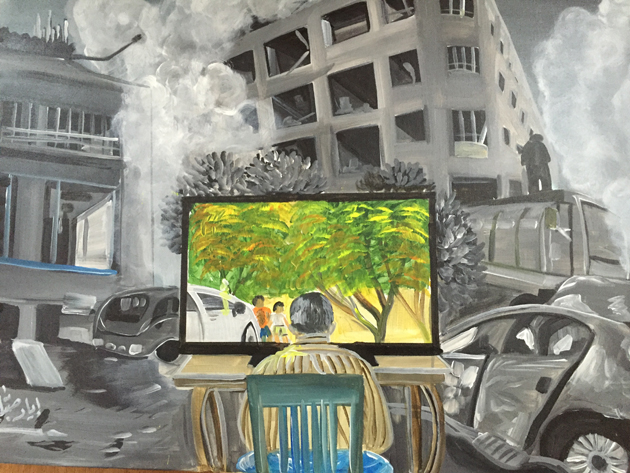 This image is perhaps a commentary on the inability of media to capture the colourless atmosphere of war. Or a comment on what existed before war, on the importance of media in the survival of Syria's pre-conflict memory. This is paramount to Syrians; some children are too young (or of the 4500 born within the camp) to have never known the beauty of where they come from, and this tears parents apart. I met a man named Abu who told me "I love my country more than my eyes, because at night I can dream of it."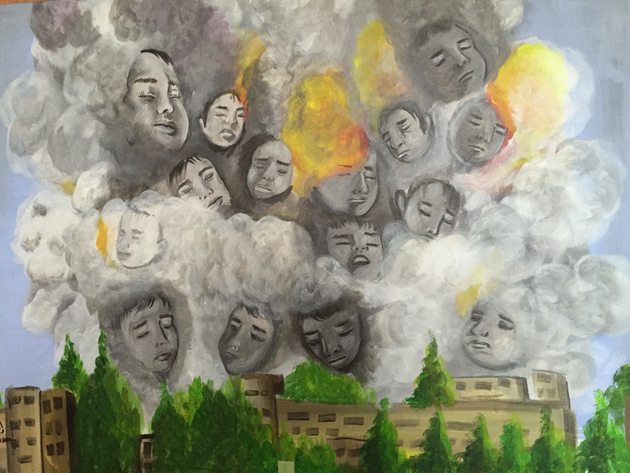 Expressions of national grief, of futures destroyed.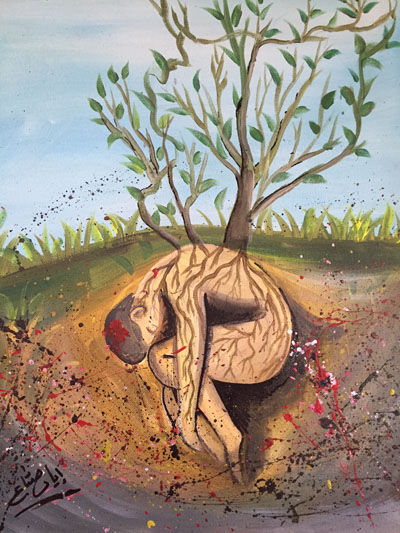 An image perhaps suggesting the blood sacrifice it will take to build a new country, or indicating re-birth: a Syria re-built and growing stronger than the weight of its tragedy.
This room is energetic, as artists work through the shock of their history, the contradictions of civil war, of forced displacement, the fear of letting go of place -- of identity, of culture, of community, and the context that home offers us.
The grief Syrians have faced in their past has been newly complicated by their present, delaying any confirmation of a brighter future. What refugees face now is known as Second Exile: first you are denied a home in your own country and then denied a home in the country that you're in. Za'atari houses only 80,000 of the four million that are displaced outside of Syria. People who come from lives like ours: they are entrepreneurs, university students and architects, but have been stripped of their right to exercise these skills because they don't have work visas. So they're running out of cash, and forcibly becoming an impoverished population.
In the future, the Syria History and Civilisation Group plan to house these works in a museum. But in the decisions the international community faces today, as to whether we accept new neighbors or whether we don't, perception is everything. Images are driving public opinion because they are all that can. Aylan's photograph is a testament to this. For most of us, images feel like the closest we get. But we are closer than we think; this crisis is coming to our door wherever we live, whether in Europe or America. And even with the facts, it can be hard to empathize with people without hearing them tell their own experiences. I hope the first-hand power of this art can serve to bridge that gap.
Calling all HuffPost superfans!
Sign up for membership to become a founding member and help shape HuffPost's next chapter