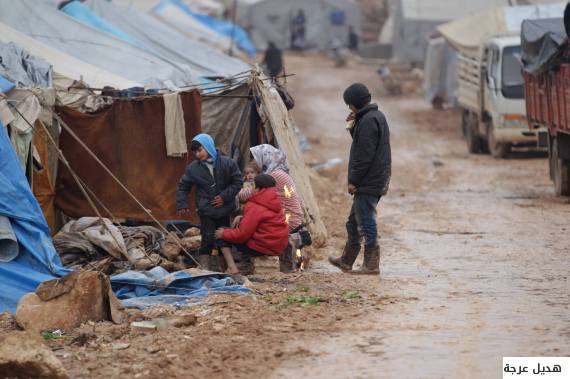 They've condensed an entire homeland into a tent, the Syrians who fled the war at home for Lebanon, Turkey, Jordan and other countries. They've set up camp and created new lives that in no way resemble their past.
More than four years have passed since many Syrians have been in exile, carrying with them details of their own cities and villages. Approximately 4.3 million refugees now live in countries that neighbor Syria, according to a recent report from the UN High Commission for Refugees. There are also 7.6 million Syrians who are internally displaced in Syria, according to the UNHCR.
Some of the main camps are Al-Zaatari in Jordan, Otmh in Syria, and Kilis in Turkey, as well as other camps of varying sizes. And despite the harsh living conditions in these camps, they tell the story of people who have managed to overcome war and destruction, and have continued living life on their own terms.
Indian Clothing, Syrian-Style
The Otmh camp, located in northern Syria near the Turkish border, recently received a large donation of Indian clothing from philanthropic organizations. As the clothes were distributed among the families in the camp, the residents found them very unfamiliar compared to their traditional Arab garments, and were embarrassed to wear them.
"It would have been impossible to just get rid of all these clothes, since the people here need any help they can get," Ahlam Al-Rashid, the manager of one of the women's centers at the camp, told HuffPost Arabi. "Since the people of Otmh camp were embarrassed to wear these clothes, the women altered the designs in a way that suits children, and even used them to sew dresses for girls and trousers for boys."
"While there is life, there is hope," Al-Rashid said. She explained that the years she has spent between Otmh and the Al-Karamah camp, also located in northern Syria, have taught her that life goes on, and nothing can stop that.
The smiles brought to the faces of children wearing the Indian clothes have actually restored life to the camp, Al-Rashid said.
Al-Rashid, who now manages a women's center for an international organization, lost her father and brother to the war. That experience made her more determined to dedicate her time to helping others overcome their suffering and adapt to their new life.
"The process of adapting to camp life takes place in stages before a person starts to actually feel settled," Al-Rashid said. "A team from the center plays the role of rehabilitating newly displaced people and providing them with a detailed idea of how to secure food, water and take care of other daily needs."
Around 175 to 200 displaced women visit the center on daily basis to learn new crafts that could help them earn a living in the future. Some of the women have become so established in sewing, weaving and handicrafts, Al-Rashid said, that they participated in exhibitions, amazing people with their spectacular work.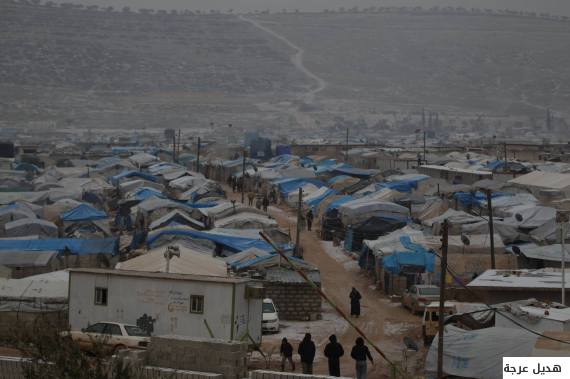 Beauty Salons And Rented Wedding Gowns
You might think that entering a refugee camp is a bitter experience, filled only with sorrow. But that's not quite what you find when you visit the Syrian refugee camps along the Turkish-Syrian border. Many of the residents have been refugees for some time now, and there is a sense that there's no end in sight to the war in Syria. As a result, the camps have grown into small cities, where you can find all the elements of normal life.
Women everywhere in the world "like to pay attention to their looks, and it's pretty much the same in the camp," said Al-Rashid. She explained that several girls have established hairdressing salons in the camps, while some of them built small rooms where they could provide beauty services.
Some camp residents opened shops for cosmetics, wedding gowns and party attire. "The goods are transported to the camp by people who used to sell those products back in their town, before their shops were damaged by shelling," Ammar Haj Omar, a member of a Syrian humanitarian group called Molham Volunteers Team, said. "They moved the products from their cities or villages to the camp when their shops were destroyed, and some of them have recently resumed their work as a way to make a living. They bring in goods either from neighboring Syrian cities or from Turkey, through agents."
Through his job and constant travel between camps, Omar has seen their transformation into little cities. "Many residents refuse to go back to their villages after they are liberated from the regime that displaced them. That also has to do with the fact that these people receive aid and assistance, which they won't find back in their destroyed villages and homes," he said.
Omar told HuffPost Arabi that he no longer experiences the depression he used to feel when he entered the camps two years ago. "The camps are now filled with life and resilience. You can find everything from shops selling traditional Syrian food to sporting activities and different contests."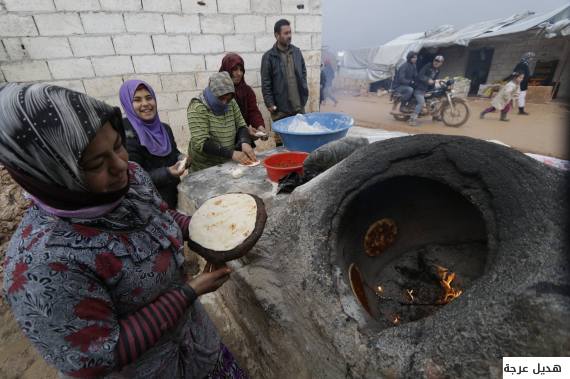 Even The Pigeons Have Fled
Hassan and Mohammed, two brothers from the countryside of Idlib, fled with their family to Al-Karama camp. On the roof of the shelter they built to replace their tent, they found a place to once again take up their hobby of pigeon-keeping. It's common now to see the camp's young men climbing to the roofs of buildings before sunset to watch pigeons fly over the tents.
"This hobby followed us here from the home we abandoned in Idlib countryside," Mohammed said. "Every day we climb up to the roof, feed the pigeons and watch them as they fly, since we do not have jobs we could earn from. We choose to spend our time on the roof of our room with the pigeons."
Mohammed and Hassan are not the only ones who practice this hobby; Syria has been famous for it for decades. Pigeon-keeping has actually become very common at the camp, and some have even turned the hobby into a job by selling and trading the pigeons. Many pigeon-keepers also set traps to catch other people's pigeons and resell them.
While pigeon-keeping became popular at the camp, other people found a different way to earn a living. Om-Khalid and her daughters set up a traditional tandoor oven for baking bread and pies at the Al-Karamah camp. Recently, several stalls have popped up that bake pies for passersby.
Most of those who work at such stalls are women who left their homes and villages on account of the ongoing war. "We can no longer refer to it as a 'camp.' Two years ago we could have called it that, but today it is our reality and our new life," Om-Khalid said. "We are people who got used to the war and learned not to get used to anything."
Taekwondo Lessons For 400 Children
Taekwondo occupies a very important place in Jordan's Al-Zaatari camp. It all started two years ago, with a small number of children and a tent that was turned into a training center. Today, 400 children participate in the program, including 100 girls.
"Taekwondo restored hope and life to the children of the camp, and brought back their smiles," Fady Bekawi, one of the coaches, told HuffPost Arabi. "The academy isn't limited to taekwondo training for children," Bekawi added. "It also teaches children self-reliance and to overcome the physical impacts of the war. It teaches them love, forgiveness, justice and helping others. Such concepts are important for the new generation that will help build the future of Syria."
The idea, launched by the Head of the International Korean Refugees Project, Dr. Lee Chul Soo, actually started in a tent with a sand floor. Twenty trainees earned black belts after training there, and some of them are even preparing to travel to Korea to attend an international taekwondo show.
This article originally appeared on HuffPost Arabi and was translated into English.
Popular in the Community