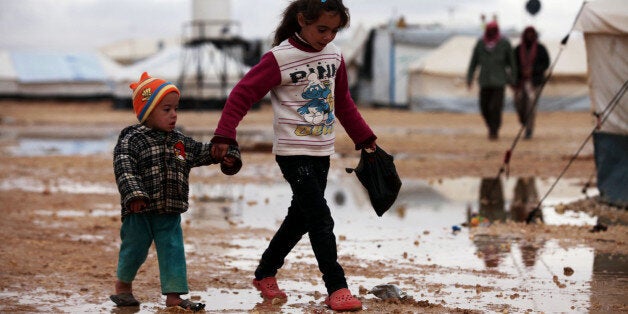 A few days before Storm Alexa swept across Jordan, covering our cities, towns and villages with a gelid white blanket, I visited a Mine Risk Education football project at Khadija Um Al Mumineen School for Girls in Kufr Yuba, a Jordanian village in the Irbid Governorate in the North currently hosting more than 40 percent of the approximately 600,000 Syrians residing in Jordan.
It was the school's afternoon shift. The students were all Syrian. Their mothers, also invited by the school to participate, spent their time watching an awareness video on the risks of explosive remnants of war. But that's not why they showed up.
As the program concluded, the Syrian mothers, accompanied by their girls, asked if there was any aid being distributed. That is why they came.
"It is heartbreaking for us to hear our Syrian sisters pleading for aid every time we invite them to come to the school," said the school's headmistress Siham Al Sharman. "We wish we had something to give. We feel helpless. And we are doing our best. It is our moral duty."
Siham is an impressive woman. She is self-assured, compassionate and elegantly in control of a very challenging situation. Her school, which holds a gold medal in the Healthy School Accreditation Program, is one of Jordan's public schools hosting Syrian refugee students.
As the numbers of Syrian student enrollment increased, more than 60 public schools were compelled to introduce an afternoon shift for Syrian students. Today, according to the Ministry of Education, 80 Jordanian schools are hosting more than 85,000 Syrian students.
At Khadija Um Al Mumineen, Siham told me that Jordanian teachers and administrators are working around the clock to ensure that both Jordanian and Syrian students are receiving the education they deserve. Her school includes 850 Jordanian students who attend the morning period from 8:30 to 12 and more than 300 Syrian students attending in the afternoon from 12:30 until 4:00.
"We don't get a break. The half an hour separating the two shifts is spent wrapping up the first session and preparing for the second one," she added.
A few other teachers join our conversation and chime in, "We don't have enough stationary for everyone. We need more support."
"We feel guilty when we are forced to cut some of the classes short for our Jordanian girls. Especially the Tawjihi students (high school) who have a lot of material to learn for the final exam that cannot be taught in 30 minutes," avowed Siham as her colleagues nod in agreement.
In addition to Khadija Um Al Mumineen, another school in Kufr Yuba (population 25,000 with an estimated Syrian refugee population of 5,000) has also introduced an afternoon school schedule for 300 Syrian boys. And the numbers keep rising, as they are expected to.
This anticipated surge is due to two daunting realities: First, more Syrians are crossing over to Jordan every day, fleeing the violence, persecution and destruction. Second, as the report notes, school enrollment rates among Syrian refugees "are now lower than those found in Afghanistan." In fact, only one-third of Syrian refugee children attend school, despite momentous efforts by "host-country governments, civil society, NGOs and UN organizations" to ensure not only that all have access to education but that all are enrolled.
Host governments in the region -- Jordan included -- are definitely feeling the pinch. According to the Jordanian government's impact analysis, the cost of accommodating 80,000 Syrian students in the public school system surpasses $80 million annually. And today, approximately one out of 10 students in Jordanian schools is Syrian.
While some in the international community are cognizant of this problem and have responded accordingly -- case in point is the European Union, which signed a 30-million euro grant for the education sector in Jordan -- others are yet to step up to the plate. A mere 67 percent of UNICEF's 2013 appeal for education needs for Syrians has been met.
Saving a GenerationThese assessments remain sheer numbers that can only paint half of the larger picture. More important, however, are the human experiences that lie behind these figures. Beyond each and every digit lies a human story: an emotion, a tear, a cry, a sigh and perhaps a thinning hope for a better tomorrow.
"When we ask for support. We are not thinking of ourselves. We worry for these girls -- both Syrian and Jordanian," said Siham.
Siham understands the gravity of this crisis. She lives it first hand, everyday. She sees the sadness in the Syrian girls' eyes, their anger and despair for being away from their home. She also sees the confusion and frustration in the eyes of her Jordanian students who are also grappling with a new environment at school that is impacting their educational journey.
We simply cannot sit and watch. Words are not enough to address this predicament. Action is required, on a global scale.
It is not just about protecting these children today. It is about investing in an educational process that will ensure their long-term survival in the face of what lies ahead. It is about giving them an opportunity to dream, to be doctors, engineers, architects, athletes, writers, teachers and peacemakers.
From Kufr Yuba to the world: help us save a generation.
Related
Popular in the Community