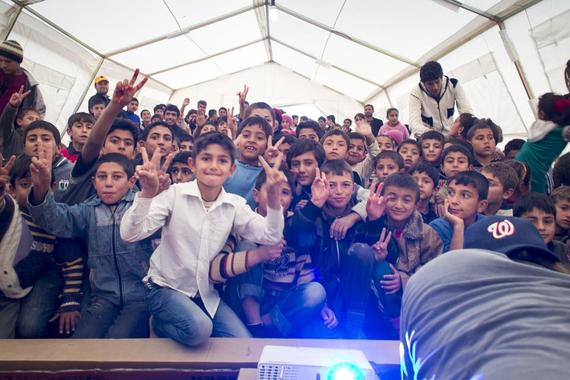 Last week I had the opportunity to catch up with my good friend and fellow veteran Zack Bazzi who is planning on making a trip to Northern Iraq in June of this year to bring support to schools in refuge camps for Syrians who have fled the fighting in their own country. The project is called TentEd. Zack had deployments as an active duty soldier and as a member of the New Hamphsire Guard in the last 15 years. He most recently spent two years working in Afghanistan as a civilian with an aviation company and a few months in Iraq as a consultant for a non-profit.
Here's a portion of our conversation about why he wants to go back to Iraq this summer:
What is TentEd? Why are you starting it? Why now?
TentEd (Tent Education) is a project I started with two other veterans, Scott Quilty and Patrick Hu, to support education efforts in Syrian refugee camps, starting in Iraq. There are more than 220,000 registered Syrian refugees living in nine camps in the northern region of Iraq. While working as a programs consultant for an Iraqi development firm last fall, I occasionally volunteered at these camps and got to know some good people who happened to be Syrian refugees: government officials, camp school principals and aid workers. I got a pretty good understanding of the situation on the ground, and a good deal of access to the camps, which led to the idea of TentEd.
We started TentEd as a way to fill specific gaps in education and support the ongoing efforts of bigger organizations. We will tailor our response to the direct requests and needs of school officials and students in the two camps: Camp Gawilan and Camp Domiz.
What motivated you to start TentEd?
Many kids are attending school without what we would consider the basics -- backpacks and notebooks -- and teachers are instructing class without any teaching aids or material. This stuff adds up and impacts the quality of education those kids are receiving.
One of my first friends in the camps, Hassan Azadeen Ayoub, is an assistant principal of an elementary school in Gawilan Refugee Camp, an hour drive outside of Erbil, Iraq. Hassan asked me for pretty specific help: 250 backpacks, a handful of shelves for the storage room and help fixing a leaking toilet. All these items -- the backpacks, the shelves and the leaking toilet -- needed to be addressed immediately. An investment of a just few thousand dollars would have made walking to school a bit more pleasant for 250 children, the courtyard smell a whole lot better, and Hassan a happier assistant principal.
The other NGOs are doing good work, but aren't set up to do smaller scale, reactive support and I thought we could. So... TentEd.
How did you end up volunteering in Syrian Refugee camps? It doesn't seem like an easy thing to do. Can anyone just fly to Baghdad and take the bus north to do volunteer work?
I was living in Erbil, Iraq, which believe it or not has a pretty robust expat community. I joined hiking groups, attended parties, went on photography trips with local friends and I started volunteering in the Syrian refugee camps near Erbil.
I'm not sure I would recommend someone fly all the way to Iraq to volunteer in the camps. In my case, I happened to already be there for work and I was in a position to help in a small way, so I did. Anyone in my shoes would have done the same.
What's the refugee situation like for the average Syrian?
I got the feeling that it must be a very boring and confusing experience. One day you're living a normal life filled with routines, work, responsibilities and the numerous little things that make up life. Then the war comes and now you're in a camp somewhere unfamiliar, without a job and completely depending on someone else to provide you with the basics. The feeling that you're losing your dignity must be intense, as is the unavoidable feeling of boredom that comes with sitting in a tent much of the day. This is another reason why providing a quality education in the camps is an important step towards helping these kids maintain a sense of routine and normalcy.
What were the kids like who you met? What were these refugee kids lives like in Syria?
The kids I met in the camps seemed incredibility resilient. Despite the horrible experiences they endured, these children still managed to laugh and play and be mischievous. Spending time with the kids was always the highlight of my visits to the camps. In fact, it's the reason I would like to go back, as cliché as that sounds. It's how I feel though. I feel like the best way I can help them is to support their education, which is what TentEd is all about.
All of the founders are veterans. Does your military experience have anything to do with why you are starting TentEd?
For me, Iraq was a major life event. It was my first time being in a war and experiencing combat. In many ways, life can be divided between before Iraq and after Iraq. I suspect that's the case for most of us [veterans]. Wherever life takes us after the war, Iraq still tugs at us. At the most random of times, you might find yourself wondering what the roads you spent so many hours patrolling look like these days or if any of the local friends you made are still alive. In some ways, it's that tug that has motivated so many other fellow veterans to want to help me make TentEd a reality. Perhaps it's a way to reconcile the whole thing. I'm not sure, I'm not a psychologist. I do know that going back over there as a civilian has profoundly changed my view of Iraq and its people.
What skills did the military give you that give you the confidence to start TentEd?
We all exit the military with our own tool kit. In my case, I left the Army with a well-developed ability to plan and think through problems, which is not surprising since those are bread and butter skills for those in uniform. All the tedious processes that go into developing and selecting a course of action, stuff that we used to complain about having to go through, comes in pretty handy on the outside.
What are your long-term goals for TentEd? Just Iraq?
For now, we're focusing on getting this project off the ground and putting something in the win column. Long-term? We'll see how this goes! There will certainly be a long-term need so if continue getting strong support we may have to make long term-plans!
How can people get involved?
To learn more, visit here and read some of the stories about these amazing children and why education is so important. Please consider donating to help us meet our goal of raising $27,000 in 60 days. It's an aggressive timeline, but we know it can be done. There are many generous people out there (some hopefully reading this interview) who appreciate the value of education and the impact war has on children. It is those people we're trying to reach for support.
Also, spread the word! I encourage those out there who share our passion for these issues to reach out to their networks about our work and personally ask some of their friends to support us. Nothing beats a direct ask from a friend.
Can other veterans or other people go with you?
The best way to support TentEd at the moment is to contribute and help us spread the word. We really do value the impact a small, nimble team can have in these situations. The support from the veteran community so far has been overwhelming which is very inspirational to me.
Calling all HuffPost superfans!
Sign up for membership to become a founding member and help shape HuffPost's next chapter