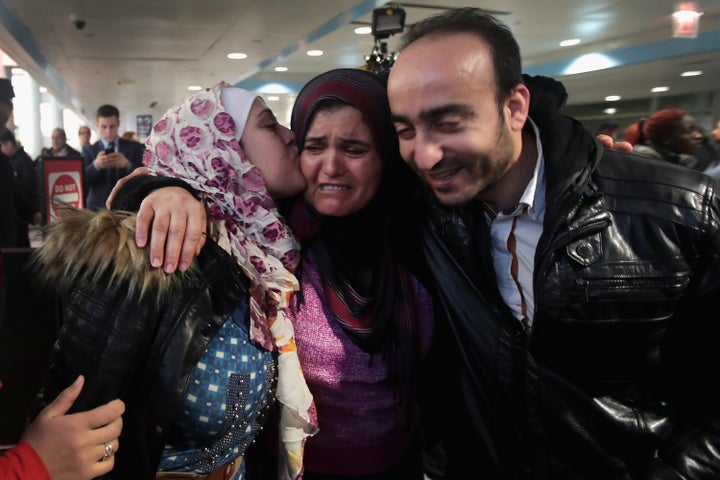 CHICAGO ― A family of Syrian refugees who were barred from entering the U.S. last month due to President Donald Trump's refugee-banning executive order ended their yearslong journey Tuesday night to the sound of cheers.
The international arrivals terminal at O'Hare International Airport was filled with family and sponsors who had been waiting ― at times on knife's edge ― for Baraa Hajj Khalaf, her husband and their 16-month-old daughter to make it to the U.S.
The sponsors, a group of 36 Chicago women who banded together to raise money, prepared an apartment and pledged social, language and job support, held gifts, flowers and American flags to welcome the family.
Baby Sham, who has known life only in a refugee camp, was quickly draped in a small scarf and handed a plush toy bunny as her uncles hugged her.
"This is what I expected of the American people," Baraa said through a translator. "We are just overjoyed."
As the family cried and embraced, cell phones pinged with updates on the legal battle over the executive order that was unfolding in a federal appeals court in San Francisco.
The outcome will determine if other Syrian refugees, like Baraa's in-laws, will be able to come to the U.S. or if they'll be among the last ones for an unknown amount of time.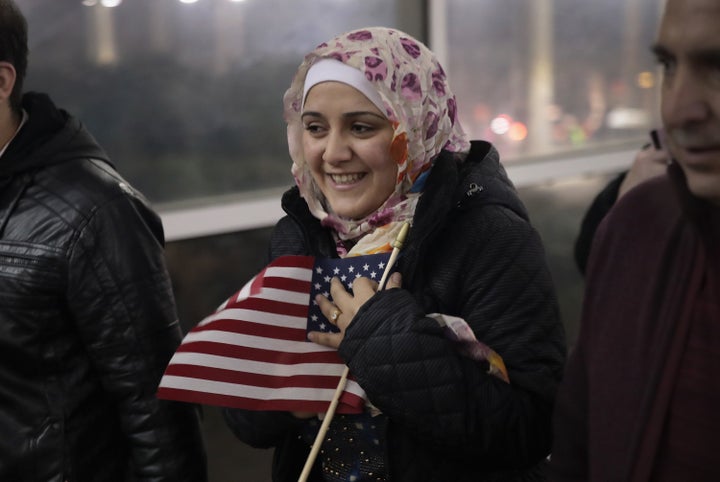 The Hajj Khalafs fate was thrown into uncertainty on Jan. 27 when Trump signed an executive order that indefinitely banned Syrian refugees from entering the United States. It also banned all other refugees for 90 days and barred even valid visa holders from seven predominantly Muslim countries from entering the U.S.
The family fled Aleppo in 2013 amid the Syrian civil war. Baraa, a literature major, and her husband, Abdulmajeed, an accountant, lived and worked in a Turkish refugee camp and later embarked on the resettlement process.
Baraa's parents, her two brothers and her sister had successfully resettled in suburban Skokie, Illinois, last September, but she, her husband and their daughter were unable to join the family when a paperwork error emerged during the strict vetting process.
Like many refugees preparing for their life, the Hajj Khalafs sold everything they had and had given up their spot in the refugee camp when the State Department finally notified them their resettlement date had arrived. The family took a nearly 18-hour bus ride to Istanbul to wait for their flight.
With Trump's executive order expected, the Hajj Khalafs travel date was bumped up several days to Jan. 27.
Baraa's parents were waiting at O'Hare that Friday when they learned their hopes of a family reunion were dashed. She had to tearfully call her mother and tell her they couldn't get on the plane.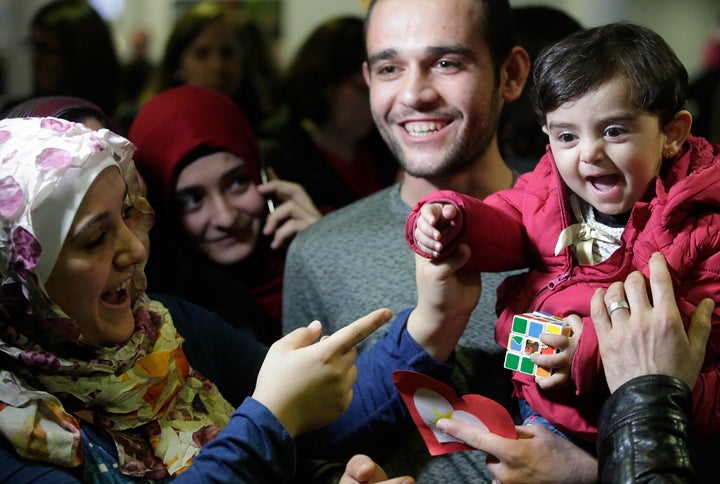 Erika Hostetler, one of the sponsors, said her group had been cautiously optimistic the morning of Jan. 27.
"It was the worst kind of waiting game — 'he didn't sign it, he didn't sign it,'" Hostetler said of the looming executive order. "And we knew [the family] just had to make it to Friday because then they'd be in transit."
About 5 p.m. that day, Hostetler's husband texted a devastating three-word update: "He signed it."
"It was just stunning," she said.
After word of the executive order spread, the sponsors said they were determined not to give up on the family. The sponsors, who are volunteers under the Chicago-based resettlement agency RefugeeOne, maintained as much contact with the family as they could as updates to the order came in almost daily.
When a federal judge in Seattle issued a temporary restraining order last Friday, halting the ban nationwide, the tide seemed to turn in the family's favor. When an appeals court denied the government's request to reinstate the ban Sunday, the Hajj Khalafs' U.S. sponsors reinvigorated their welcoming effort.
"We were hanging curtains, buying food for the pantry ... bringing the lawyers and the family [in the U.S.] food," said Rachel Zahorsky, another sponsor.
"We were living last week hour-by-hour," Zahorsky added. "We're overwhelmed with joy and relief."
The day the executive order was signed, sponsor Alisa Wartick posted a photo of the empty crib the women had prepared for Sham. It was covered in a pink sheet with a stuffed bunny placed inside.
Tuesday night, Sham was handed the toy and snuggled it to her face.
Uday, Baraa's 15-year-old brother, was so excited that he missed a day of school for the first time. Uday and his 22-year-old brother, Mohamad, were both itching to hold their small niece. Mohamad said it had been so long since she had seen him, he worried the girl might not recognize her uncle's face.
"We never lost hope," Mohamad said through an interpreter as he lifted his niece in the air. He said he remembered the words inscribed on the base of the Statue of Liberty: "Give me your tired, your poor ..."
Jims Porter, a spokesman for RefugeeOne, said the Hajj Khalafs' reunion was "one of the most moving experiences" he had seen at the airport.
"This is one I'll never forget," Porter said.
Zahorsky, one of the sponsors, said a traditional Syrian meal was already waiting for the Hajj Khalafs at their new home ― which just happens to be in the same building as Baraa's parents.
She recalled after the family was denied entry, Baraa reached out to tell them, "I've never met you yet, and I love you all like sisters."
Baraa said Tuesday she has "big hopes" for her daughter's new life in the U.S.
"This is the country of dreams."
Sign up for the HuffPost Must Reads newsletter. Each Sunday, we will bring you the best original reporting, long form writing and breaking news from The Huffington Post and around the web, plus behind-the-scenes looks at how it's all made. Click here to sign up!
Before You Go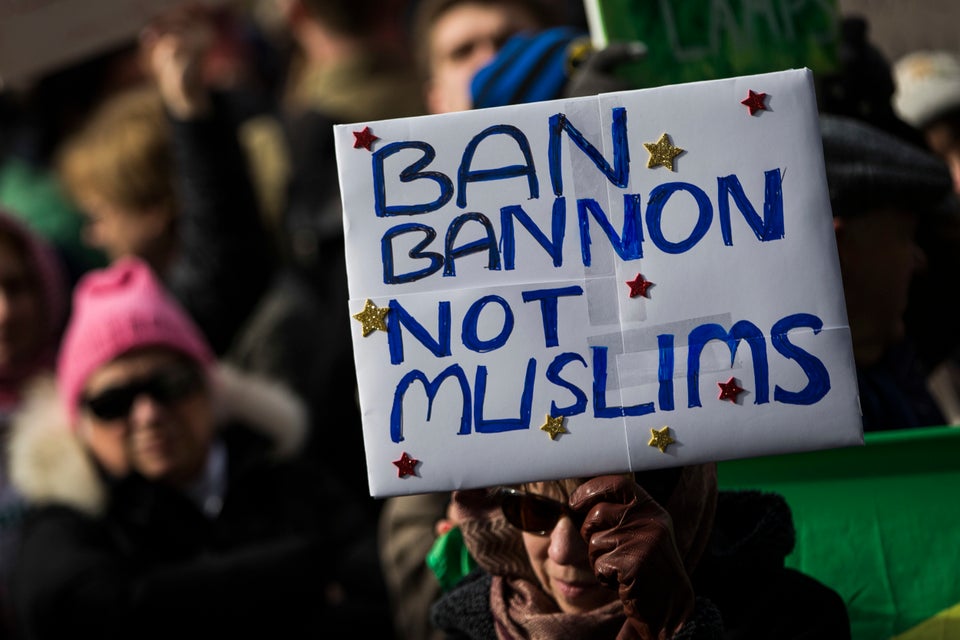 Nationwide Protests Against Trump's Executive Order
Popular in the Community