The Huffington Post is chronicling the experiences of a Syrian refugee family that has settled in New Jersey. Beginning in fall 2015, the installments in this series will examine what life in America is like for a family that is starting anew after fleeing war and persecution.
JERSEY CITY, New Jersey -- On a sticky late summer afternoon, the Darbi family converges on their living room. Mohamed, 42, and his wife, Amira, 33, sit on wooden Ikea chairs. Their two daughters Nabiha and Hajar run in and out of their small bedroom, while their young son Shaker rides around on a pink sparkly bicycle with purple tassels.
The Darbis are refugees from Homs, Syria. Mohamed worked as a carpenter and Amira was a physics teacher. They arrived, with their children, in the United States three months ago.  
Amira, like any typical Syrian wife, felt compelled to provide refreshments for her visitors despite the fact that the family is living on food stamps. After peeling a banana and handing it to her son, she removed the rest of the bananas from a Dole plastic bag and placed them on the dining room table, which had been moved near the couch to accommodate the visitors.
It took the Darbis over three toilsome years to reach this industrial street in Jersey City, a relatively short period of time compared to how long many refugees await new lives on another continent.
Mohamed leaned back into the creaky chair and told his story.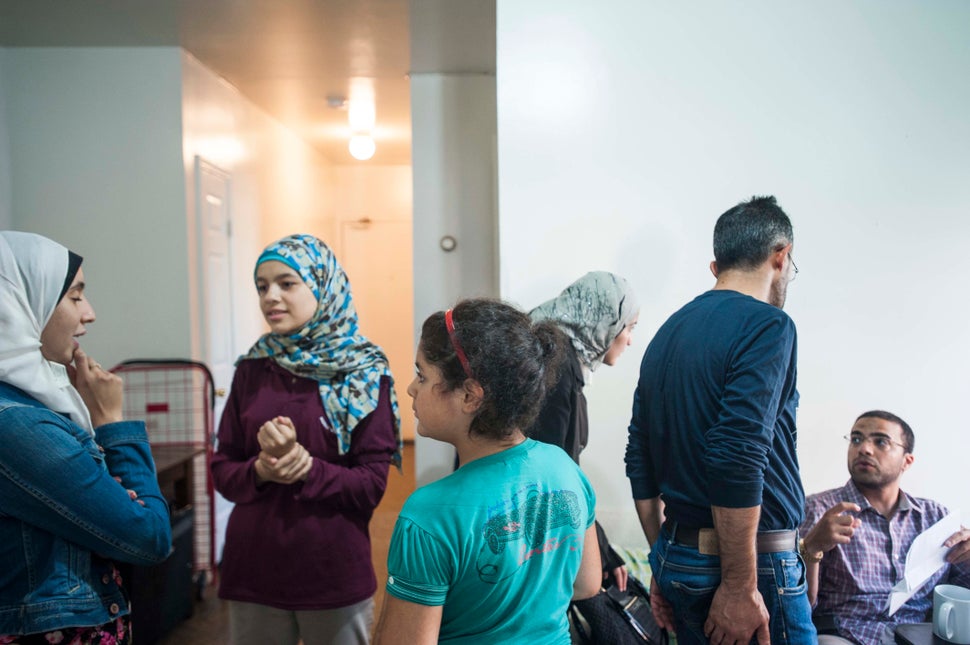 Mohamed Darbi was the last of his siblings to leave Syria. He refused to accept the notion that his beloved homeland was falling to pieces before his eyes. His family life was comfortable, "normal," filled with love and stability and both he and Amira were gainfully employed. Mohamed couldn't fathom any scenario dire enough to uproot his family. The thought of tearing his children away from their home terrified him.
But tensions in Syria boiled over in the summer of 2011. Protests against President Bashar al-Assad turned violent when government forces began to clamp down on dissenters. Soon government troops were battling rebel insurgents for control of Syria's major cities.
But war hadn't hit Mohamed's doorstep just yet. He wanted to believe that the turmoil was only temporary, and delayed preparations for his family's departure -- acquiring passports and packing up their apartment -- for as long as he could.
"It is true we were being cautious. But we were living," he explained. "We would go out to get bread and things."
As Mohamed spoke, Amira shielded her face as she cried silently. She then got up to make tea.
The war eventually crept into Homs. Government airstrikes battered the city, leading to "many difficult nights." Mohamed's siblings, who lived in the same apartment building as he and Amira, hustled to prepare for a departure through Jordan. One brother fled to Libya after the fall of then-leader Muammar Gaddafi. Another brother went to Saudi Arabia. His sister went to Turkey. His older brother was given the opportunity to resettle in the U.S., and relocated with his family to Michigan in early September.
Mohamed, Amira and their children, still without passports, headed south for the capital Damascus, where Amira has family.
Mohamed hoped Damascus would be an improvement, but it was a central battleground of the Syrian conflict. The Darbis shared one house with four other families. Amira said they couldn't find food and she feared they were going to starve to death. 
So Mohamed briefly returned to Homs to check whether the bloodshed had ebbed in their hometown, only to discover that their lives had been permanently turned upside down. "I was shocked when I saw [our] house. It was destroyed. I even saw a few of my things there, but I wasn't able to take anything."
In the living room, the children were growing rambunctious. Amira motioned to her children to settle down. Mohamed continued his story.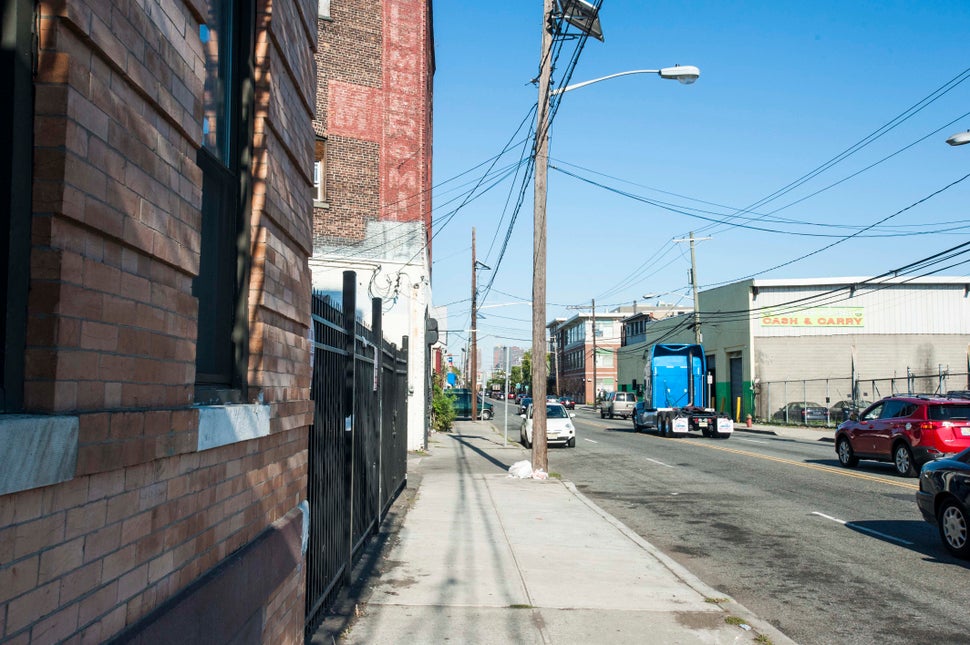 In March 2012, about one year after Syria's civil war started, Mohamed decided it was time to leave the country. He thought it wiser to face an unknown future than to put the lives of his wife and children at risk. The family packed up, spent a week in the city of Daraa, close to the border, and then crossed into Jordan.
The Darbi family moved around Jordan for many long months trying to make ends meet. Jordan does not offer work permits to Syrians, so Mohamed never found a steady source of income. Odd jobs brought in about $150 per week. 
Mohamed explained that they were treated as "beneath zero" in Jordan, as he turned to look at his youngest child, five-year-old Shaker, who was riding around the small living room on a metallic blue scooter -- one of the many donations littering the apartment. Shaker was bullied in Jordanian schools. "In the schools in Jordan, they said mean things to him," Mohamed said. Kids teased him for being Syrian.
"After being in Jordan for two, three months, I kept trying to go from one embassy to another. I wanted to journey off. I wanted to get out. They kept saying I can't. We can't."
One day, the bad luck finally ran out. Mohamed received news that the U.S. would be resettling him and his family. The interviews and health screenings took one year, he said.
"I didn't pick America," Mohamed recalled, shushing Shaker, trying to signal to his son that he was dealing with adult matters. "It was a dream!"
Mohamed was so nervous on the day he left Jordan that his "heart almost stopped." Anything could go wrong, he told himself. All he wanted was for the plane to take off in order for it to feel real. "Go airplane! Go! Fly!" he said as he gestured animatedly.
"You want to fly? Fly!" he said cheerfully from his chair. Amira erupted into laughter.
The Darbi family landed in the U.S. at Newark Liberty International Airport on July 23, 2015, at around midnight on a flight from Amman, Jordan. Mohamed recalled the first time he walked into his new apartment with piercing clarity. "The moment we entered ... it was like this is it. We are here. This is my home. It was a moment of stability."
Three months later, they're taking things day by day.
"The one thing I miss the most are our gatherings. It was the country and the family. A person's memories are from his homeland and its memories and how your family was and how your siblings were," Mohamed said. The room fell silent.
Amira and Mohamed's lives are at a complete standstill. Neither of them have a job and they can't speak English. They feel useless, unable to provide for their family, unable to connect with the environment around them.
Mohamed even seemed to experience guilt for his inability to perform his traditional duty as a husband and father. Once they're working and there's no longer a language barrier, that is when their lives here will effectively begin, they asserted.  
They just applied for Social Security numbers.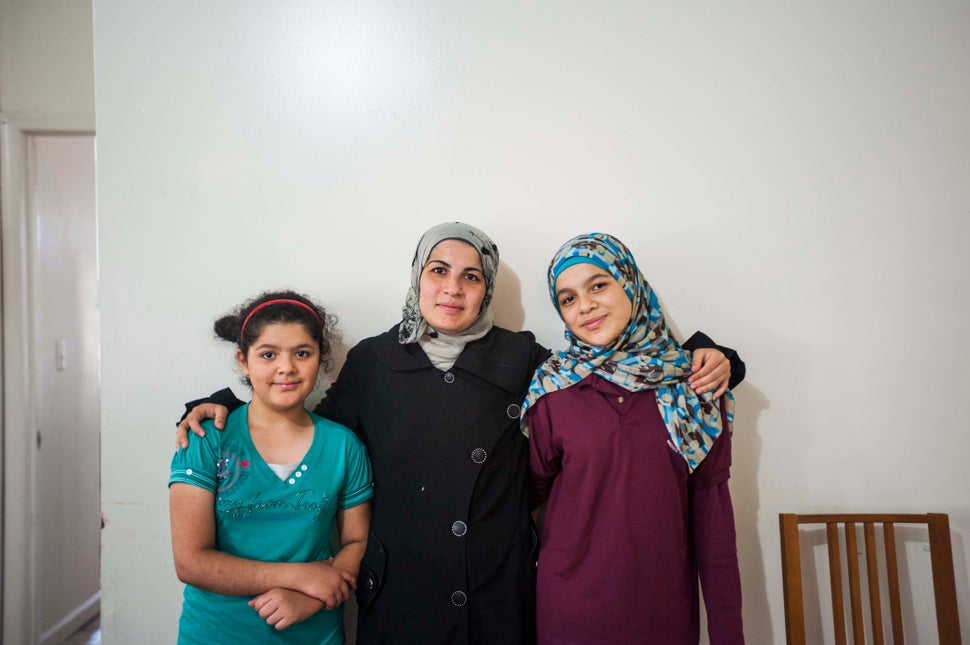 Mohamed and Amira's daily routine is to send the children off to school. Nabiha is in seventh grade. Hajar is in sixth grade. Shaker is still in preschool.
The couple then head to English as a Second Language classes. 
Nabiha said it has been difficult in school, but added that she took comfort in the fact that there are some Arabic-speaking teachers. The girls have trouble speaking English, but they can understand when people speak slowly enough.
Both Nabiha and Hajar love mathematics because numbers transcend language barriers. They joked that it is perhaps attributable to their mother's background in physics. Hajar said math is her favorite subject in school because her teacher actually comes over and explains things to her, unlike in any other subject. "Numbers are the same language. It's all the same," Mohamed added.  
"After being in Jordan for two, three months, I kept trying to go from one embassy to another. I wanted to journey off. I wanted to get out. They kept saying I can't. We can't."

Mohamed Darbi
Shaker, meanwhile, refuses to take the bus to school. He makes his parents walk him there and back. When his mother said his name, he briefly looked up from the smartphone game he was engrossed in and smiled coyly. He then ran into the bedroom he shares with his sisters.
Amira, during this time, stood by her daughters, admiring their ability to open up in the company of total strangers.
In their downtime, the family said they spend time in nearby parks and along the Hudson river. The girls chat with the friends they made in Jordan through Whatsapp and Amira talks with her relatives in Damascus. They keep the conversations light. "They don't tell me [what's happening in Damascus]," Amira said. "They don't want to tell me." Amira also loves to cook -- her specialty is Mashi, peppers stuffed with rice and meat.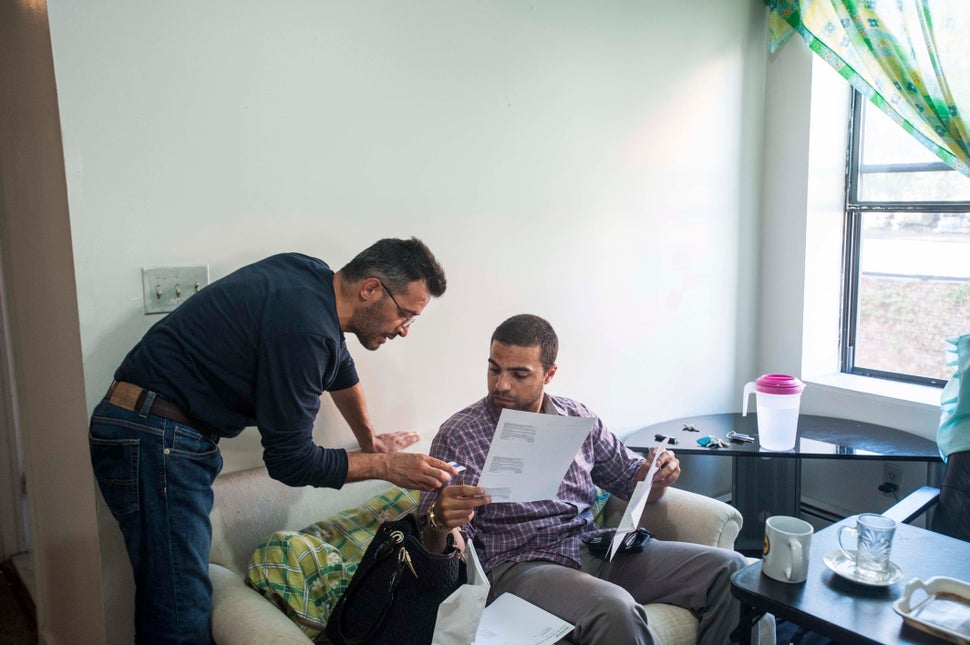 In many ways the Darbis feel like they've landed on planet Mars: The differences between the U.S. and the Middle East are so incomprehensibly large that Mohamed had trouble verbalizing the vastness.
But he has found time to reflect on what he appreciates. He's awestruck by American democracy, by the general sense he has that the people here are law abiding and the government exists to maintain order. This concept is totally foreign in Arab countries, he said. It didn't even exist before the Arab Spring sent governments across the region into a tailspin. Mohamed feels empowered by the notion that all he needs to do is to follow the rule of law to live happily and not be bothered.  
"I will not go back to Syria. I am not willing to go back to a country that is in chaos, that could expose myself, my children to death. No."
As the visitors said their goodbyes, Amira sprung over to the table and grabbed two bananas. She peeled each one halfway and handed them over as parting gifts. "Eat!" she implored, a grin spreading across her face.
Stay tuned for our next installment as we receive updates from the Darbi family on their language progress, Mohamed's job search, and how Nabiha, Hajar and Shaker are acclimating at school. We'll also follow along as they experience their very first Halloween.
Calling all HuffPost superfans!
Sign up for membership to become a founding member and help shape HuffPost's next chapter