A Syrian refugee family of four had to flee their home again last week -- but this time, it was in Tucson, Arizona. A threatening message of hate written in crude, multicolored handwriting had been taped to the door to their new home.
"Go Away Killers," read the note, which the family discovered on June 15.
"America hates Terrorist [sic] like you!"
"You are Muslim and not welcome."
"Please move before danger can happen."
"We do not like you living here! You need to move!"
"Shame on you terrorist!"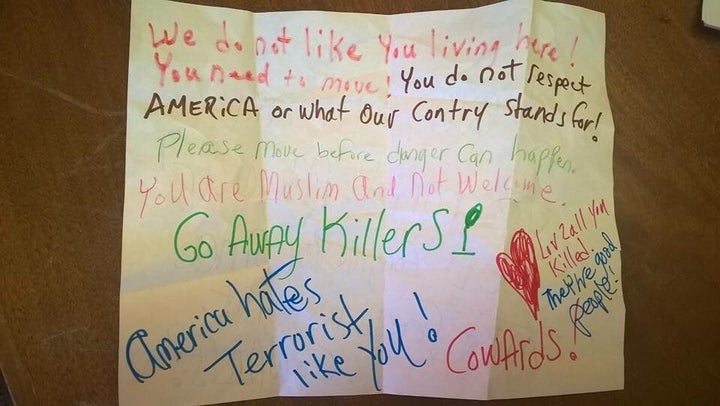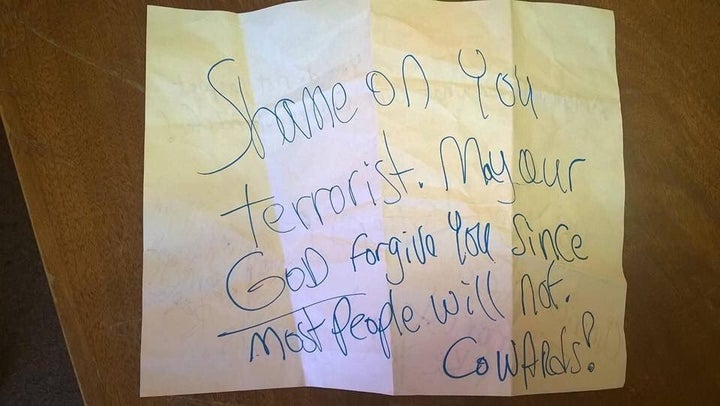 The father of the family -- who asked that neither he, his wife, nor their two young children be identified out of concern for their safety -- told The Huffington Post through a translator that seeing the note made "all the fears come back."
Like the fear he felt in their neighborhood in Homs, Syria, three years ago, when news spread that President Bashar Assad's forces were approaching. The fear he felt when they fled to Lebanon.
Aerial footage of Homs, Syria, the city the refugee family in Arizona escaped.
America was supposed to be safe. When the family finally landed in Tucson nine months ago, they felt "peace and security," the father said.
But last week, he pushed a couch up against the front door of the house so no one could get in. They were moving, he decided, and until they found a new home, they would stay at another Syrian refugee family's home in Tucson, cramped in close quarters with that family's seven children.
And all the while, they were just struggling to get by and adjust to life in a new country, learn English and fast for Ramadan.
The past nine months in Tucson have been "great" and "happy" for his family, the father said, but "the past week has felt like forever."
"This incident is extremely troubling, as it is not only vicious in nature -- but also targets some of the most vulnerable people in the world, refugees," said Imraan Siddiqi, executive director of the Arizona branch of the Council on American-Islamic Relations, which is assisting the family. "With increased levels of anti-Muslim hate, we must ensure that this incident is investigated from all angles, to ensure that this does not happen to anyone else."
The hate note is being investigated, according to the Tucson Police Department. "No suspect information was provided and no suspect(s) have been identified at this time," the department said.
Last November, 30 governors -- all but one of them Republican -- spoke out against allowing Syrian refugees into their respective states, citing terror concerns. Some even went so far as to issue executive orders making Syrian refugees unwelcome in their states.
A poll in November found that a majority of Americans opposed accepting Syrian refugees into the U.S.
There are currently an estimated 4.8 million Syrian refugees seeking resettlement after fleeing the country's brutal civil war, which has killed hundreds of thousands of people. President Barack Obama pledged to take in only 10,000 Syrian refugees by the end of 2016 and so far, only 1,300 people have been resettled here.
Anti-refugee hysteria in the U.S. has coincided with growing Islamophobia. In the month after last year's terror attack in Paris, hate crimes against Muslims tripled. A new report released Monday by the Council on American-Islamic Relations found 78 instances in 2015 in which mosques were targeted for vandalism, arson and other types destruction. Thirty-four of those incidents came in the last two months of 2015, after the terror attacks in Paris and San Bernardino, California — while Trump and other political figures were ratcheting up their anti-Muslim rhetoric.
HuffPost has also documented the daily discrimination, harassment and violence American Muslims have faced over the last six months.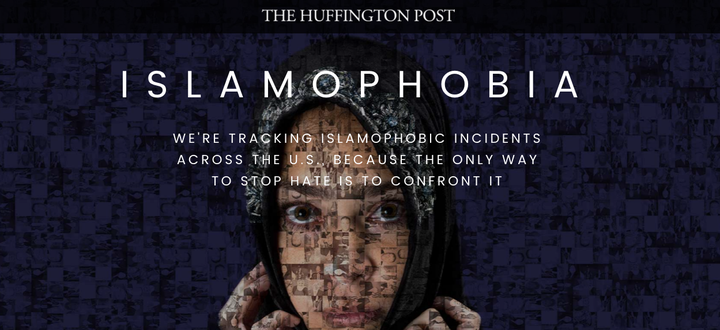 But for the Syrian refugee family in Tucson, the note left on their door was their first real brush with that type of hate in the U.S.
"People here are really nice," the father said, nothing that when they first moved into their home, a "neighbor came by with a couple flowers."
According to Elizabeth Beresford at the International Rescue Committee, a nonprofit that helped the family settle in Tucson, the city has "historically been a refugee welcoming community" with a "very active inter-faith community...led by both the Mormon LDS church and Tucson Refugee [Ministry], a coalition of faith based organizations that are outspoken supporters of refugee resettlement."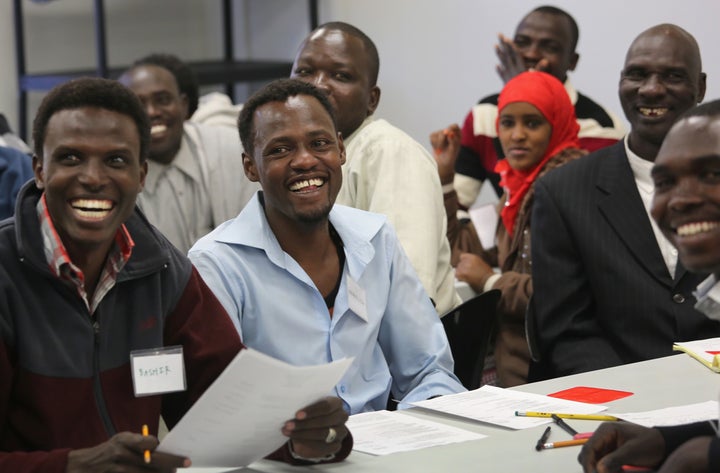 The IRC -- which provides refugees with housing, job placement and English language classes, among other services -- has received a record number of in-kind donations in Tucson this year, Beresford said. The organization also fielded a record number of inquiries from Tucson residents who wanted to volunteer -- particularly after the San Bernardino terror attack.
And according to the Tucson Police Department, the hate note left on the Syrian family's home "is the first reported harassment/threat from anyone in our refugee community (this includes Nepalese, Somali, Syrian, etc.)."
"The Tucson Police Department strongly encourages anyone that is the victim of any type of harassment or threat to report the incident to police immediately (even if there is no suspect information)," the department stated.
"We're not who they think we are. We came here to find safety for our family."
"This is what I love about the U.S.," the Syrian father told HuffPost. "When the police came, they handled the situation really well. I feel more secure. I understand there is a process here, not like overseas where you're not safe from your own government. ... The society here is much safer."
While there is no hate crime statute in Arizona, the Tucson Police Department noted that "there are enhanced penalties for felony offenses if there is evidence that the defendant committed the crime out of malice toward a victim because of the victim's identity [in certain groups]."
But the Syrian father added that he doesn't want whoever is responsible for the note on the family's door to get into trouble. He just wants them to know that "we're not who they think we are. We came here to find safety for our family."
"We want to feel safe around you, and for you to feel safe around us," he continued. "We're not the misconceptions that they have, and we want them to know that."
The family is expecting to move into a new home by the end of the month.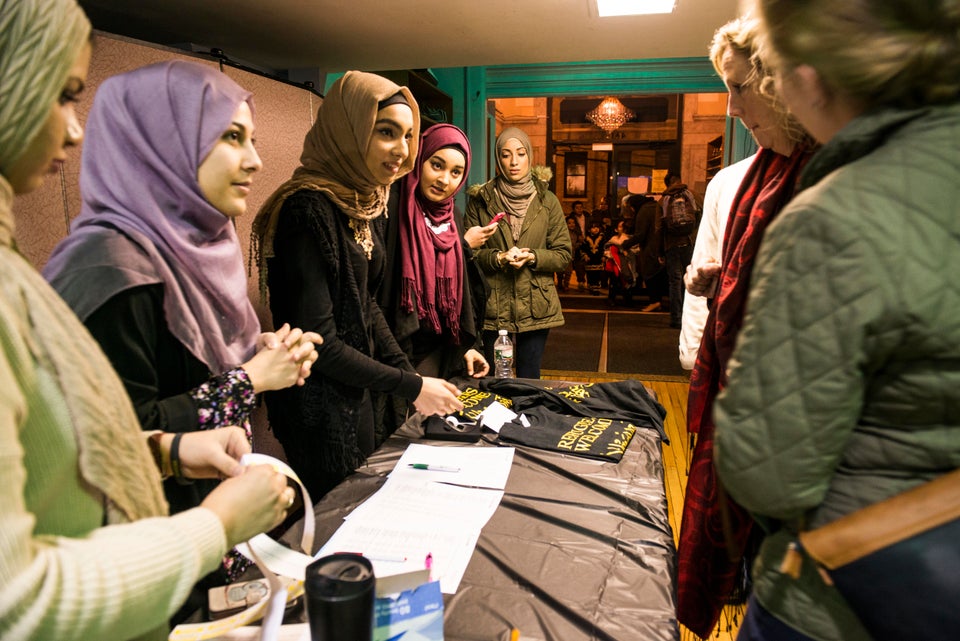 Syrian Refugees Welcomed To U.S.