ISTANBUL -- Sitting in a rented apartment in Turkey, not too far from his hometown Deir ez-Zor, in eastern Syria, 19-year-old Mohanad could not believe what he saw on TV: His father, Osama Abdul Mohsen, and youngest brother, Zeid, were being kicked and tripped by a Hungarian journalist, Petra László. The video was broadcast on numerous Arab and international TV channels. László's attack apparently intended to keep Mohanad's family, and many other refugees, from escaping the police, who were attempting to stop them from crossing the border toward the promised land: Germany.
Mohanad told HuffPost Arabi in a phone conversation that since being shot in September 2012, he hadn't experienced such a profound moment of weakness. He was distraught to see the fear on his brother's face, and to hear his father's cries of agony, as László, who was there to cover the fleeing of hundreds of refugees from the police, assaulted him.
A German journalist caught László's attack on video. Her behavior was met with worldwide outrage.
The Hungarian Internet-based channel, N1TV, which employed László, fired her, despite its close ties to Hungary's far-right Jobbik party, which is known for its anti-immigration views.
"An N1TV colleague today behaved in an unacceptable way at the Roszke collection point," N1TV's Editor-in-Chief Szabolcs Kisberk said in a statement shortly after the incident. "The camerawoman's employment contract has been terminated with immediate effect as of today, we consider the matter closed."
"I believe we have done what we what we had to do in this situation. We don't understand how could this happen, it is shocking and unacceptable," Kisberk added.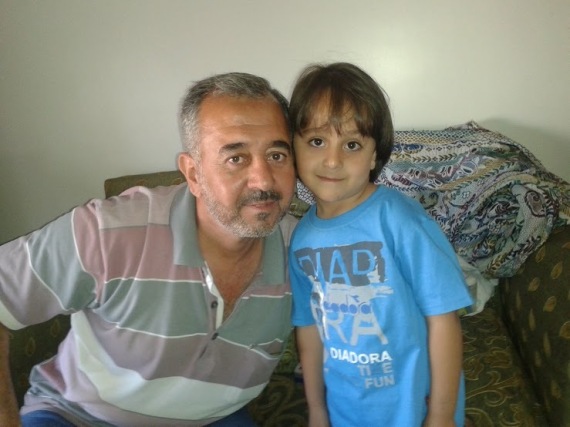 Osama Abdul Mohsen and his son Zeid were tripped by Hungarian journalist Petra László while attempting to flee from police at the Roszke collection point.
Mohanad mourns his inability to be by his father's side during such difficult times. He remembers fleeing to Damascus years earlier when Deir ez-Zor was bombed and besieged by the regime.
When Mohanad moved to Damascus with his family, Osama stayed in Deir ez-Zor. "He used to visit us every fortnight, to make sure we were okay. Then he would go back to Deir ez-Zor, facing all kinds of challenges along the way, since he was wanted by security forces," Mohanad said.
Mohanad said his father worked as a facilities manager in Deir ez-Zor, before he was forced to resign, following clashes that broke out between the Syrian regime and the opposition.
After receiving treatment in Damascus for his leg wound, Mohanad left with his family to the city of Al-Raqqah. They stayed there for three months before leaving for Turkey. Osama joined his family in Turkey after Islamic State militants took Deir ez-Zor.
"My father gave up on everything. He couldn't find a job in Turkey, and his financial situation worsened, especially since the cost of living here is very high," Mohanad said, remembering the events that led his father to embark on the dangerous journey to Germany. "He wanted us to keep getting an education."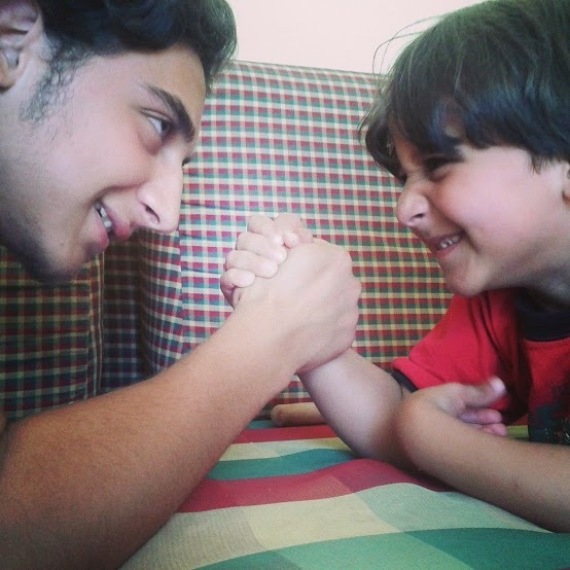 Mohanad and Zeid arm wrestle for fun.
Mohanad, who lives with his mother in Turkey, has two brothers. His brother Mohammed is 17 and seven-year-old Zeid is the youngest.
Mohammed was the first in the family to embark on the dangerous journey from Turkey across Europe. Eight months ago, he traveled to Italy on a ferry, and then took a train to Germany.
Osama and Zeid started on their journey earlier this month. Osama believed that traveling with his youngest son would help speed up requests for family unification once they made it to Germany. They left from the Turkish city, Bodrum, and after three failed attempts, they arrived in Greece. Then they continued to Macedonia, and then on to Serbia. Mohanad spoke to his father before his trek to the Hungarian border. "Then, we didn't hear from him at all," he said.
The family was concerned and tried to contact members of the group that Osama had traveled with.
"It had been two days since we heard from him," Mohanad said. "My mother, sister and I were greatly appalled by the video, and the cruel incident my father and younger brother had to endure."
The Hungarian police announced on its website that it had closed off the M5 highway, after a large group of refugees broke through a police cordon at Roszke, at the border with Serbia, and set off on foot towards the highway. Others set off toward a peripheral road leading to the city of Szeged.
The news failed to console their mother, who could not get the images out of her head of her son hitting the ground, and of her husband being surrounded by police officers.
The mother regrets giving in to her husband's insistence on taking their youngest son with him on that grueling journey. "It's not like any other journey. It is a journey of death," she told HuffPost Arabi.
She also remembers her young son's reassurances. "I am going to Germany to see Mohammed, don't you worry," Zeid told her. He was very excited to see his brother, she said.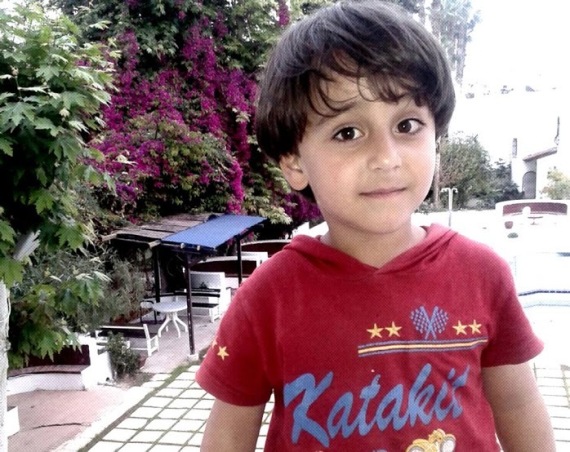 Seven-year-old Zeid's father was tripped by Hungarian journalist Petra László.
Mohanad, who actively participated in protests in Deir ez-Zor, against the Syrian regime, until he was shot, couldn't help but wonder what prompted the journalist to exhibit such "hostility and hatred" towards his father and brother. He predicts that his father will not silently accept what has happened to him. "But we don't know what his situation is now," he said, referring to the possibilities of taking legal action against the Hungarian journalist.
Now, Mohanad can think about nothing other than pursuing his education, which was interrupted when war broke out in Syria.
He insists that, while he was the victim of a "dictatorship" that may have impaired his body, his soul is alive, urging him to keep living and studying. His eyes are set toward the promised land: Germany.
This article first appeared on HuffPost Arabi and was translated into English. It has been edited and condensed.
Popular in the Community