President Barack Obama's proposal to admit more Syrian refugees into the U.S. has limited support among the American public, a new HuffPost/YouGov poll finds, with many considering the refugee crisis a problem for other countries to handle.
Thirty-nine percent of Americans favor allowing more Syrian refugees to move to the U.S., while 46 percent oppose it.(A CNN/ORC survey released Monday found greater support for the idea, with Americans saying, 55 percent to 44 percent, that the U.S. should take in some refugees.) A proposal to send government financial support to charities or the European Union is more popular, with 50 percent in support and just 36 percent opposed.
Public opinion in the HuffPost/YouGov poll is divided sharply along party lines: While a 57 percent majority of Democrats want to take in more refugees, 69 percent of Republicans oppose the idea. Independents are slightly more likely than not to oppose the idea.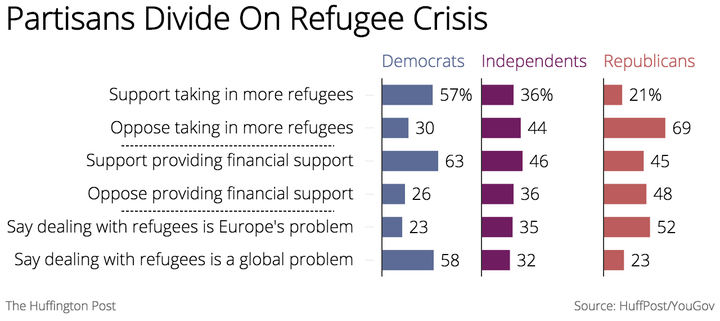 Sen. Lindsey Graham (R-S.C.) told reporters earlier this month that the U.S. should "take our fair share" of refugees or "take down the Statue of Liberty," and several Republican presidential hopefuls, including Sen. Marco Rubio (R-Fla.), have expressed cautious support for accepting refugees.
Others in the GOP presidential field, though, have taken a more isolationist stance. Sen. Ted Cruz (R-Texas) argued that "it doesn't make sense from a logistical or a security standpoint" for the U.S. to accept large numbers of refugees, while Ohio Gov. John Kasich (R) called the crisis "fundamentally a European issue."
Many Americans agree. Just 27 percent say the U.S. has a responsibility to take in those fleeing from other countries, regardless of whether they were asked about Syrian refugees or about refugees in general. And although 37 percent say that dealing with the Syrian refugees is a global problem in which the U.S. needs to do its part, 35 percent say the problem is Europe's to solve on its own, with the remainder unsure.
A YouGov survey conducted for The Sun newspaper, however, showed British people siding 51 percent to 36 percent against admitting an increased number of refugees, with more than a third saying they'd be unhappy to see a refugee family housed in a home on their street. Polls taken in the Czech Republic and in Switzerland found residents of those countries are also opposed to taking in refugees.
The HuffPost/YouGov poll consisted of 1,000 completed interviews conducted Sept. 10-14 among U.S. adults, using a sample selected from YouGov's opt-in online panel to match the demographics and other characteristics of the adult U.S. population.
The Huffington Post has teamed up with YouGov to conduct daily opinion polls. You can learn more about this project and take part in YouGov's nationally representative opinion polling. Data from all HuffPost/YouGov polls can be found here. More details on the polls' methodology are available here.
Most surveys report a margin of error that represents some, but not all, potential survey errors. YouGov's reports include a model-based margin of error, which rests on a specific set of statistical assumptions about the selected sample, rather than the standard methodology for random probability sampling. If these assumptions are wrong, the model-based margin of error may also be inaccurate. Click here for a more detailed explanation of the model-based margin of error.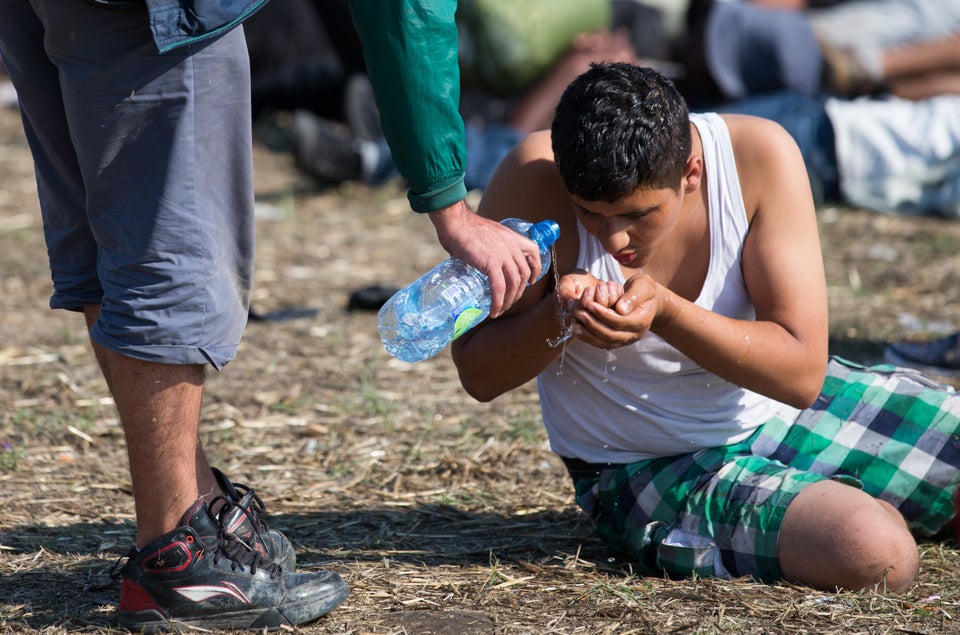 Migrants And Refugees At Hungary's Border
Popular in the Community