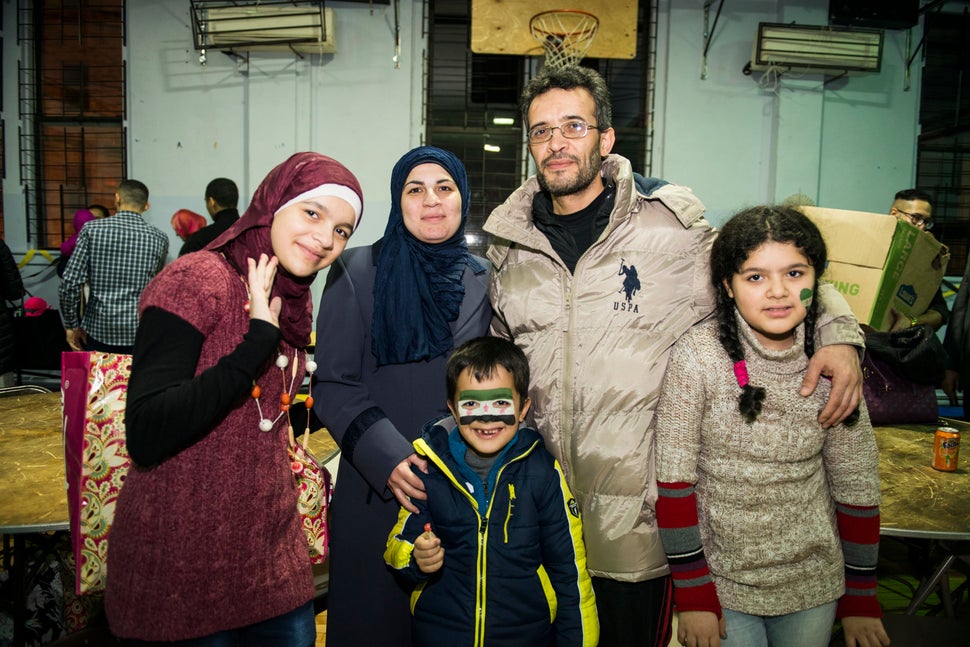 The Huffington Post is chronicling the experiences of the Darbis, a Syrian refugee family that settled in New Jersey almost one year ago. The "Meet the Darbis" series -- which began in October -- examines what life in America is like for a family that is starting over after fleeing war and persecution. The last installation looked at the difficulties associated with assimilation, compounded by the fervent Islamophobia that arose after the Paris and San Bernardino attacks. The latest piece in the series delves into the sense of isolation that is part and parcel of the refugee resettlement experience.
JERSEY CITY, New Jersey -- "These are no longer Syrian refugees," a Syrian activist told a packed room as he pointed to several families sitting around a stage. "They are our brothers and sisters."
Over the winter, dozens of Syrian refugees that have been resettled in New Jersey met each other for the first time at a welcome event hosted by the Ihsan Charity.
They gathered to eat, pray and hear from community members who extended a warm welcome.
The Darbi family, who resettled here in July, joined the festivities. Mohamed, Amira, and their three children Nabiha, Hajar and Shaker wiggled their way through the throngs of people.
Although they went home all smiles, the evening did not lead to a closer feeling of community. Exchanging hellos and phone numbers with other refugees did not fill the void of loneliness that comes with being a foreigner in a new land -- if anything, experts have argued, the forced socialization reinforces their sense of isolation and otherness.
"Families come knowing that they're giving stuff up, obviously their home, obviously their savings," said Alastair Ager, professor of clinical population and family health at Columbia University's Mailman School of Public Health. They're "hugely grateful," but nothing can prepare them for the sense of anguish.
"Dislocation is so traumatic for so many people that there's no normal, no normal response to trauma. Every response is a coping mechanism."

Jessica Darrow, lecturer at the University of Chicago's School of Social Service Administration
The experience of refugee resettlement is akin to that of aliens landing on planet Earth -- they hop off an airplane and into a place they had only ever envisioned through movies and television. They most often don't speak the language. For many of the Syrian refugees, they have zero friends or family to rely upon. And yet they have to integrate somehow.
Indeed, life in the United States has been a string of disappointments for Nabiha, 13, and Hajar, 12, they said.
When the family was still in Jordan and learned they were going to America, Hajar had pictured living in a large suburban house, or even a "castle," she said, with a backyard, a white picket fence and a garage. She wasn't expecting a cramped two-bedroom apartment overlooking a factory and a truck repair lot.
"I remember someone telling us we'd get a 5 bedroom house," Nabiha said.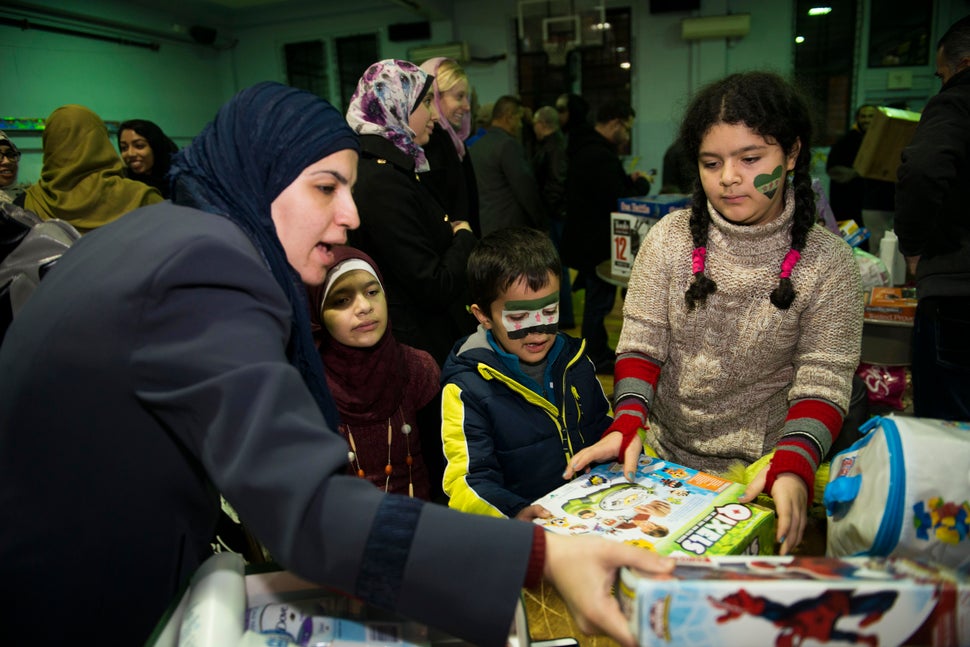 Amira, 33, who has resumed her duties as the head of her household and attends ESL classes for a few hours each day, showed off pictures of the kids playing in the snow during their first blizzard in January. Instead of venturing further away to a park or a playground teeming with other children also enjoying the snow day, they frolicked alone in the truck repair lot next door, climbing atop machinery.
The months since they landed on American soil in July have flown by, Amira said.
But now that they've settled in and developed a daily routine, they have more time to reflect on what is missing, what makes them feel most isolated.
Amira reminisced about a time when their entire extended family -- which has its own word in Arabic, a'ilah, to distinguish it from immediate family, usra -- all lived in the same apartment building in Homs.
"It was a family apartment, where we all had our own place," Amira said. "Even when you get married, some tend to stay in the house, taking a portion of it. Family ties are stronger."
The Western concept of sleepovers -- children being allowed to stay over at a friend's house once they reach a certain age -- was completely alien to them, they said.
"We had that in a sense, but only with close family members," Amira said. "Like when we used to visit our grandmother."
Amira's anecdote reminded Hajar of the days when she and her cousins used to sleep over at her aunt's house. Now, all 35 of their cousins on Mohamed's side of the family are refugees in four different countries.
Hajar and Nabiha can't believe that American children often move out of their family homes when they go to college.
"Are you going to kick me out?" Hajar asked her mother jokingly.
That closeness to family, that ability to share things like child care and household responsibilities, is something the Darbis miss deeply. They are one of five Syrian families currently resettled in Jersey City. The rest of the Syrian refugee families live about a 30-minute drive away in Elizabeth.
"Dislocation is so traumatic for so many people that there's no normal, no normal response to trauma," Jessica Darrow, a lecturer at the University of Chicago's School of Social Service Administration, told HuffPost. "Every response is a coping mechanism."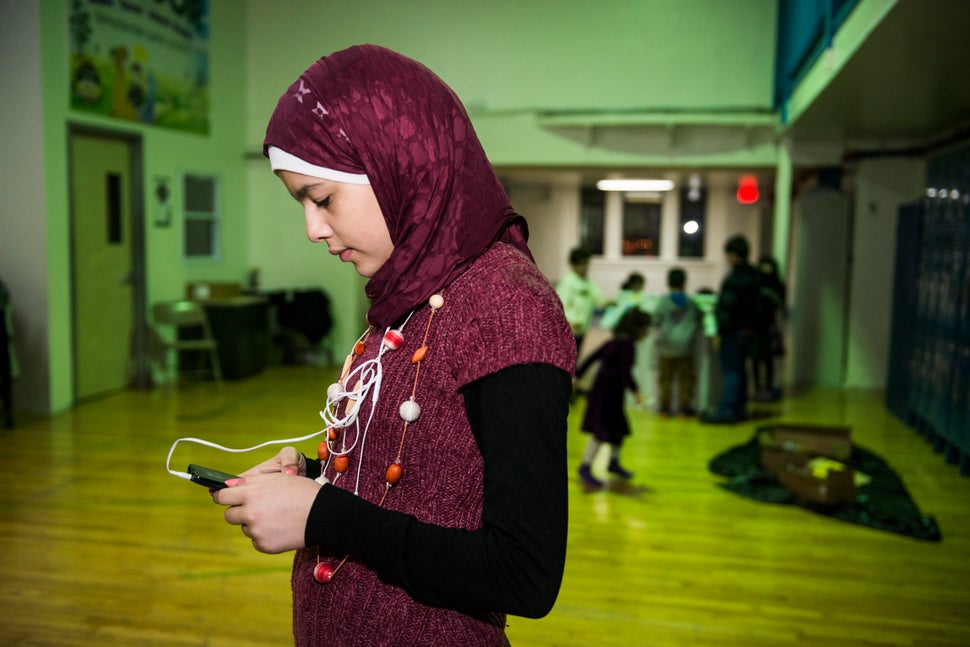 The Darbis seem left out of whatever social circle is sprouting up among the other Syrians. They stopped attending welcome events after the first meet and greet in December. Amira chats with a couple of the other women living in Jersey City, but has otherwise not formed any substantial friendships.
Neither Nabiha nor Hajar have found friends who have made a lasting impression either, they said. Nabiha has started to dislike school because she is overwhelmed by the workload. She is friendly with her classmates, even practicing English with one of them over WhatsApp, but never sees them outside of school. Hajar said that her older sister sits in front of the window at night, praying that the following day will be a snow day so that she can miss school.
Nabiha's environment stifles her, she complained. There are too many people living in too small a space. She waits for all of her family members to go to sleep before she pulls out her books and starts her homework.
Darrow explained that Nabiha's behavior is a coping mechanism. For refugees who became accustomed to being segregated and needing to protect themselves in an intermediary country like Jordan, they're put off by the behavioral expectations in American schools. "Now, they're permitted to assimilate and they get all the opposite cues," she said. "It's a complete restructuring of their trust, so they're living in a state of transition and ambiguity."
While helpful at first, the sense of government handholding fades after the first few months, carving another hole in refugees' lives that isn't always naturally filled. Although some resettlement agencies provide classes and training, the bonds that refugees form with the resettlement agents, who are the first people to greet them here, evaporate over time once government funding ceases and basic needs have been met.
"Policy here is on such a fast track that it doesn't account for the kind of real time it takes to develop relationships and trust," Darrow said. "For people who have had those relationships ruptured, it just takes a lot of time."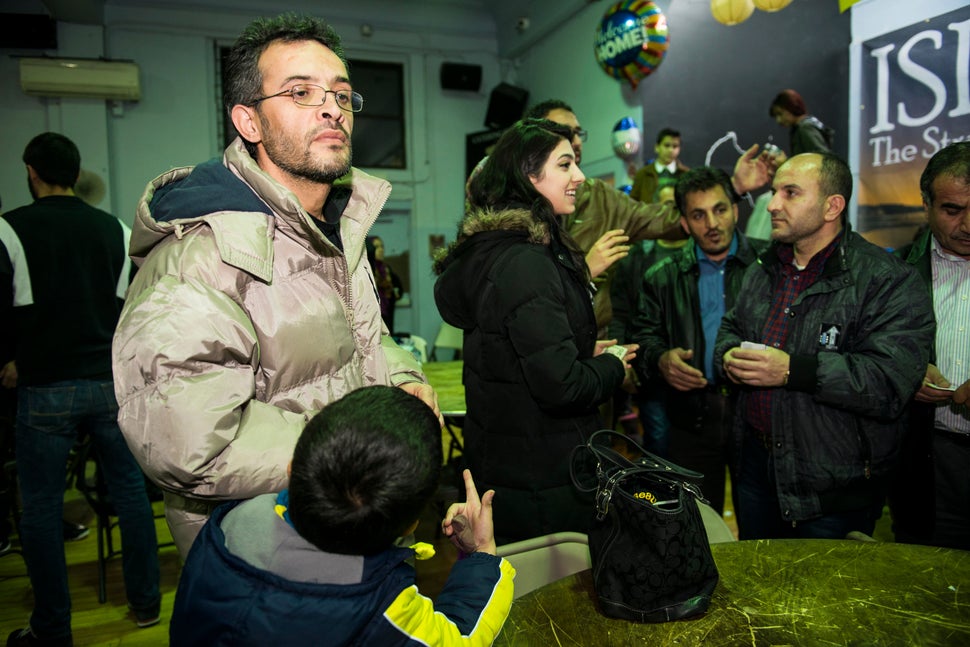 The next hurdle for the Darbis to clear will be the need to actively suppress their isolation.
Mohamed, 42, who is facing his own set of resettlement troubles as the sole breadwinner for his family, is still thinking of moving his family to Dearborn, Michigan, this summer. That's where his brother was placed during the resettlement process last summer.
"In the long term, although having people like you [to lean on] is important, getting to know other people in New Jersey is even more important," Ager, the professor at Columbia, said. "For many migrants who don't have any English, that's really really tough."
For now, the source of their happiness and sense of belonging still lives in large part on their smartphones. Their minds are far from New Jersey as they either wait for WhatsApp messages from friends or family members overseas or scroll through pictures of the life they once had.
Calling all HuffPost superfans!
Sign up for membership to become a founding member and help shape HuffPost's next chapter
BEFORE YOU GO
PHOTO GALLERY
Syrian Refugees Resettled in New Jersey Meet For The First Time