WASHINGTON -- The nation's top law enforcement official said Thursday she's disturbed by the tone of the U.S. debate over refugees since last week's terrorist attacks in Paris.
While calling the screening of refugees "important" and "vital," Lynch said the process was already rigorous, and that there was already an extra screening process for Syrian and Iraqi refugees in place. It's important to base the debate over refugees on facts, rather than on perceptions originating from a "place of fear," she said.
"We need to say, we will not let our actions be overtaken by fear, and we will not allow merchants of violence to rob us of our most precious ideals," Lynch stated. "Our values are not secondary considerations in the fight against terror – they are central to the work that we do, and they are essential to the nation that we protect."
"They are also the reason that we are a target, and they are what terrorists want most to see us abandon," she added. "They want us to live in fear, and we refuse. They want us to change who we are, and what makes us quintessentially American, and that we will never do."
Lynch made the comments at a briefing with reporters alongside FBI Director James Comey at Justice Department headquarters. Comey said the government had perceived no credible threats of an attack against the U.S. similar to the ones in Paris, but said the bureau was keeping close watch on individuals who could be inspired by them.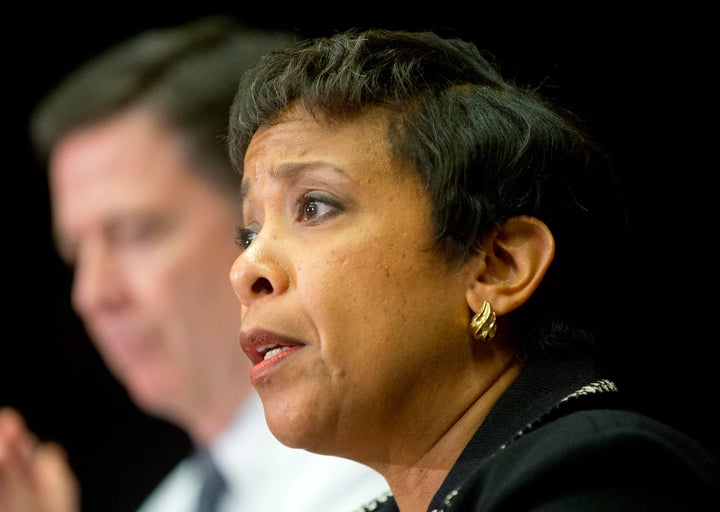 On Wednesday, 47 House Democrats defied a veto threat from the White House to vote for a bill that would essentially end the already-limited flow of Syrian and Iraqi refugees coming to the United States. More than half of all U.S. governors have said they will not accept Syrian refugees, despite the fact that the White House described them as "some of the most vulnerable people in the world," and stressed that many of the people fleeing the Middle East are victims of terrorism themselves.
The House bill would require the FBI to conduct a background check on every Syrian and Iraqi refugee applicant and would require Comey -- as well as the director of national intelligence and the secretary of homeland security -- to personally sign off on each individual admitted from those two countries. Comey said it would be "very, very difficult" for the bureau to "say there is zero risk" for each and every applicant.
To have the FBI director make personal guarantees "presents us with an impracticality and an impossibility," Lynch said on Thursday, arguing that the requirement would not provide the safety and security that she believed lawmakers were seeking.
"I don't want to downplay anyone's concerns or their desire to keep the American people safe," she said. "What concerns me about the tone is it very much runs the risk of essentially devolving the problem on one group of people and saying, 'If we just fix this one thing, we're done and we're safe.'"
That's not the case, she said, pointing out that half of the recent ISIS-related cases involved U.S. citizens. 
"My other concern about the tone is that it's in direct conflict with who we are as a nation and our values as a people, and it really does [make] us live and work and operate in a place of fear," Lynch said.
PHOTO GALLERY
These Are The Terrifying Syrian Refugees Coming To The U.S.
Calling all HuffPost superfans!
Sign up for membership to become a founding member and help shape HuffPost's next chapter