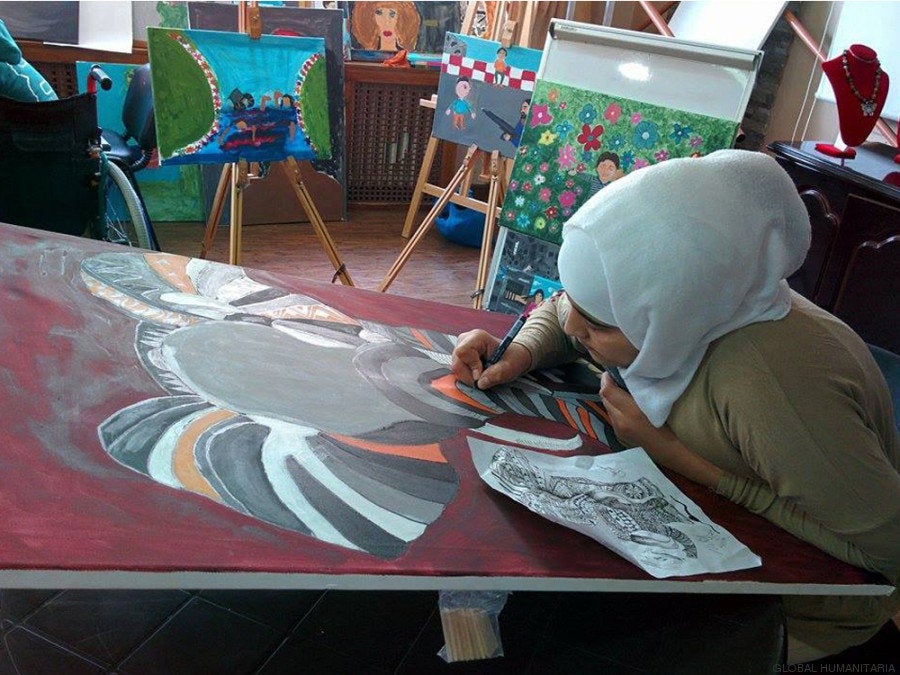 "Even the snowman's heart has melted with grief after seeing the situation we're in," said Abd Allah, 15, describing a piece he created during an art therapy workshop at the Bader Medical Center in Amman, Jordan. 
Abd, a Syrian refugee who has suffered physical and psychological trauma from the ongoing war in his home country, is just one of millions of Syrian children rendered homeless and forced to live in refugee camps scattered across Europe and the Middle East. Studies have demonstrated the serious psychological repercussions that refugee status has on children. Memories of war are painful, and adapting to new environments presents additional stress.
The Spanish nongovernmental organization Global Humanitaria recently held an art therapy workshop for Syrian refugees residing at the Bader Medical Center in Amman. The workshop was meant to give refugee children an opportunity for self-expression, and a way to deal with the trauma they've endured these past five years.
The resulting paintings now make up a traveling exhibition titled "Little Hopes," which will be on display at College of Physicians in Madrid until Jan. 30. After the Madrid show, the paintings will be exhibited in Barcelona.
The paintings are accompanied by captions written by the children. Some of them capture the horror they've lived through. Others exude hope and optimism. The paintings are also on sale on the NGO's website.
"The goal is to sell them all in order to give a better future to these young people, who are full of resilience and hope," said Marta Garcia, a representative of Global Humanitaria.
Many of the young refugees currently living at the Bader Center have endured major injuries -- both physical and psychological.
"A child who came to the center was only able to speak a year after he arrived, due to the trauma he had endured," said Garcia.
This story originally appeared on HuffPost Spain. It has been translated into English and edited for clarity.
Calling all HuffPost superfans!
Sign up for membership to become a founding member and help shape HuffPost's next chapter