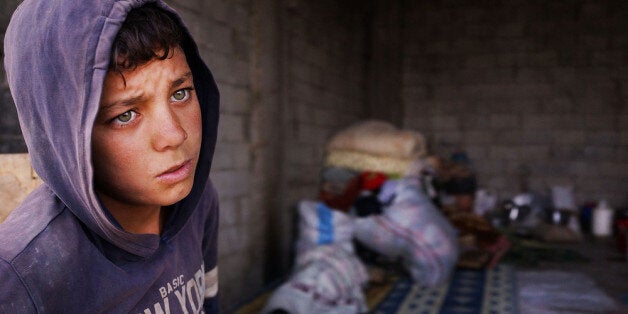 BEIRUT -- Just inside the door of a health clinic that treats Syrian refugees, in a secluded residential neighborhood, sits a padlocked box with the United Nations logo on the side.
It's supposed to be a box for appeals. A couple of months ago, then facing more than 700,000 registered Syrian refugees in Lebanon, the U.N.'s World Food Program (WFP) quietly started cutting off select beneficiaries from meal assistance and other programs. Refugees who felt they were wrongly cut off were told they could fill out an appeal form describing their situation and deposit it in a box like the one at this clinic.
But the deadline for appeals was the end of October -- almost two weeks ago. Today, the box sits there stuffed to the brim.
"They're not going to take any of these papers into consideration," an aid worker at the clinic said solemnly, as he looked down at the overflowing container of pleas that came too late. "They are not even coming to take the box."
The reduction of food aid in Lebanon, hitting some 60,000 "households" -- a term that could mean the affected number hundreds of thousands of individuals, out of what is now more than 800,000 registered refugees -- is merely the latest in a string of bureaucratic travails that keep seeming to catch the refugees off-guard.
Ask WFP officials why it happened, and they talk about things like "efficiency" and international norms and benefits "targeting."
Ask the refugees who were cut off, and they usually cry out in frustrated defeat.
"I don't know!" a young woman named Bara'a exclaimed, when asked why she thought she'd lost her benefits. A 19-year-old from Aleppo, Bara'a had come to the clinic for a checkup for her one-year-old daughter; she herself is eight months pregnant.
But she was also curious about appealing the loss of her food aid. Last month, when Bara'a picked up her family's allotment of food vouchers -- three of them, worth about $27 each -- she said she was also handed a small piece of paper. It told her that she no longer qualified for assistance. She had no idea why.
Ninette Kelley, the Lebanon representative for the U.N. High Commissioner for Refugees, said her organization has made substantial efforts to communicate about the change. It's not uncommon, she added, for refugees to profess confusion about their benefits.
"Maybe some of them really just missed it [the notice], or maybe they missed a distribution or changed a phone number," Kelley said. "But also there are those who, even though it was explained to them, they didn't like the answer. I can understand that, too."
Then again, the public explanations offered by the U.N. haven't always helped.
In a brochure distributed to refugees when the food cuts were first announced, the WFP emphasized its significant budget shortfall to explain why food assistance was being reduced. A large, colored pie chart in the brochure noted that of the $142 million the U.N. estimated it would need to feed Syrian refugees in Lebanon, only 27 percent was currently on hand.
But asked this week by HuffPost, a spokeswoman for the WFP in Lebanon said that funding was not the main consideration when the aid was cut.
"Targeting food assistance is not about cutting food assistance but rather directing resources only to those who cannot meet their food needs by themselves," said the spokeswoman, Laure Chadraoui. "As such, targeting is not due to funding shortfalls."
Adding to the confusion, the U.N. has recently started to automatically "de-register" refugees who don't go to food distribution centers for three months in a row. In the first week of November, 13,000 Syrians were cut from the rolls this way, the U.N. reports.
"The whole thing is so inefficient," the aid worker at the clinic said. "They did the cuts all randomly. And now they say they are reviewing the appeals by going house to house -- that's not efficient either! It makes no sense."
When pressed to help, as he often is, the aid worker said there are a few things he can advise the refugees, but they rarely seem to work.
One is to show up at the U.N.'s main office for refugee affairs in Beirut and deliver a complaint in person. But tales of six- or seven-hour waits and a staff that summarily sends refugees home empty-handed keep many from even trying. There's also a hotline they can call, but refugees and aid workers both said it's usually busy or just rings and rings.
As for the appeals process itself, which consists of a home visit from a U.N. inspector who attempts to assess how much the household really needs the aid, refugees seemed at a loss to explain how that worked, too.
"They asked me how much meat I eat," said one cut-off refugee, a father of four living in the town of Bourj Hammoud just outside Beirut. "What kind of question is that? If I only have a little bit of money, of course I will use it to buy meat. I have to feed my children, don't I?"
A copy of the WFP's home-visit form, acquired by The Huffington Post, consists of four pages of detailed lifestyle and consumption questions, but offers little clue about what sorts of answers might trigger a reinstatement. WFP officials said some 26,000 families have submitted an appeal, and the agency is currently conducting home visits at a rate of about 1,000 per day. They hope to finish the process by mid-November.
Kelley said the process is working as well as it possibly can, given the unprecedented conditions in the countries surrounding civil war-torn Syria. She added that her agency is straining to make sure its message reaches as many of the refugees in Lebanon as it can.
"With over 800,000 refugees spread out all over the country, it's inevitable that we probably missed a few," Kelley said. "But that's why we have safeguards. If we identify people in need outside of the formal appeals process, we can still provide them with the help they need. It's not a perfect system, but it's pretty solid."
REAL LIFE. REAL NEWS. REAL VOICES.
Help us tell more of the stories that matter from voices that too often remain unheard.