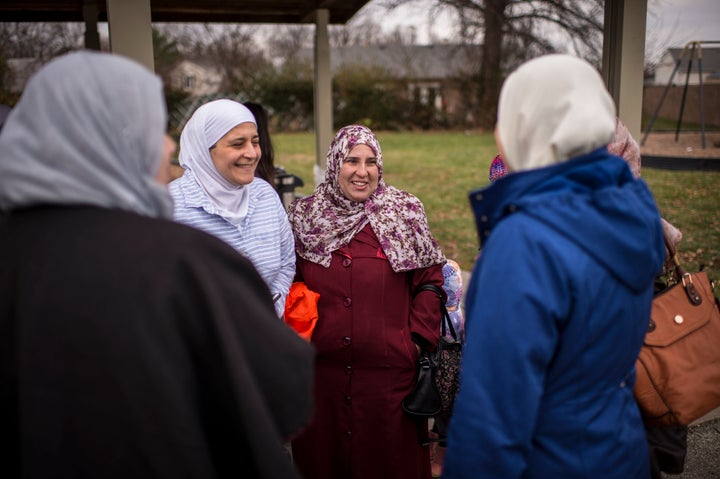 Nidal Hajomar just wants to go home. He fled Syria three years ago with his wife and three sons to escape the fighting that had arrived at their doorstep in the city of Aleppo.
In the sunny garden patio of Aleppo's Kitchen in Anaheim, California, Hajomar's jovial smile and portly stature give him a carefree appearance. But a closer look reveals his thinning hair and kind eyes framed with crow's feet, signs of the stress and trauma he has endured for the past three years.
Hajomar recounts his family's narrow escape from a war that has displaced over 10 million and caused the deaths of almost 300,000 Syrians to date. "The war had come to my city, to Aleppo," he explains. "But I'm lucky. Before it came to the city, I bought a ticket from Turkey, from Istanbul, in case something got worse."
After a heart-wrenching decision to abandon their home, the Hajomars made the perilous drive through the mountains of Syria into Turkey, where they boarded a plane bound for the United States. Once in Los Angeles, the Hajomars opened Aleppo's Kitchen and began hiring refugees to help support those caught up in the conflict. They joined a robust community of Syrians and Syrian-Americans who are attempting to fight the war against Syrian President Bashar Al-Assad's regime from over 7,000 miles away.
Much of this community immigrated to the United States decades ago. The resulting population of Syrians in Southern California is one of the largest in the country. They embrace two main goals in regards to the ongoing conflict. The first is to pressure the international community to help solve the conflict inside of Syria instead of focusing solely on the resulting refugee crisis and the rising tide of Islamic extremist groups like ISIS. Their second goal is to support the immediate needs of the Syrian people and the refugees who are suffering through what the United Nations has deemed, "the largest humanitarian crisis since the Second World War."
While most of the Los Angeles Syrian community escaped the fighting, the ubiquitous nature of the war deeply affects them. "Every person here today has either lost a family member in the offense by the Syrian regime, or one of their family members has been taken into a prison and they don't know anything about them or they have lost their homes," says Suzanne Meriden, director of operations at the Syrian American Council (SAC). "Every one of these people has been touched in one way or another." 
In response, L.A.'s Syrian community mobilized. "The community here immediately engaged in support of the revolution," says Hussam Ayloush, executive director of the L.A. chapter of the Council on American-Islamic Relations (CARE) and National Chairman of the SAC. "Many organizations focus on advocacy and relief, on youth, and have been conducting forums, picnics, social gatherings, media gatherings, political events." 
The passion and dedication of the Syrian diaspora in Los Angeles manifested in different types of activities, including political advocacy, media and education campaigns and individual grassroots efforts. The community aims to help victims of war and to end the Syrian conflict.
It has been challenging for the Syrian community to fully engage in the political process. "The Syrian-American community has not been politically very active mainly because of the fear of repression from the regime," says Ayloush. "Everybody knows that if you get active here, the regime will punish you and punish your family members."
Despite the risks involved, political events play a critical role in the Los Angeles community's efforts. "After the revolution, people did break this fear barrier and decided it's worthwhile," Ayloush continues. "If the young people of Syria were willing to take bullets during peaceful protests demanding freedom, then we might as well take that risk and stand up in support of these brave young men and women."
According to Ayloush, one of SAC's political goals is to work with the U.S. Government to bring about change. "It could be through increasing of humanitarian assistance that we provide as the U.S. to refugees or through increasing the number of refugees admitted into the U.S, or through trying to change our foreign policy by supporting the rights of the Syrian people," he says.
The SAC's Suzanne Meriden agrees that the community's political efforts are fundamentally important in achieving their long-term goals. "The most important point is to tell the world that yes, it's important to help the refugees right now," says Meriden. "But we would actually help more people who are about to become refugees if we were to speak out to our government and ask that they do something about Syria."
Media and Education Campaigns
Organizations such as SAC and CARE are also working on publicity campaigns to help educate the American public about the ongoing conflict. "We try to work with media and the public in general to make sure that people are informed about what's happening in Syria," says Ayloush. "And how we, as Americans can support the Syrian people through their struggle for freedom that is going on now."
Lack of information about the Syrian conflict generated misconceptions that the advocacy organizations are working to correct. Ayloush believes that for some people, "when they think of Syria they're thinking of terrorist groups like ISIS, or think of something that is completely removed from them, that doesn't impact them in any way." In his experience, education and information efforts are crucial, "to counter the misrepresentation that comes sometimes from certain pro-regime outlets or misinformation that happens because of lack of understanding."
"We're lacking, but not because we're not empathetic people as Americans. We're lacking because the media is completely either distorting what's really happening or just not sharing the truth," Meriden agrees.
While political advocacy and media campaigns are crucial in dealing with the root of the conflict, an immediate need exists to help both the refugees and those still trapped in Syria. 
Nidal Hajomar found a way to help the Syrian cause through his work. And he does it right from his restaurant in Anaheim.
Hajomar recalls being approached by Syrian refugees looking for work after he opened Aleppo's Kitchen. He at first only hired them to do temporary work in his restaurant during the high-season of Ramadan. When the season ended, Hajomar found himself faced with a conflict. "I mean, where can they go?" he asks. "I don't need them anymore but at the same time I have to do something for them. I cannot leave them. So I talk to God. I said, 'Please God. Help me just to help them.'"
Hajomar's prayers were answered when he decided to keep his new staff working in the restaurant and to continue hiring refugees in need. He was approached by an older woman who had lost two sons in the fighting and needed to find work to support their two wives and five children.
"She wanted to work but I needed somebody younger," says Hajomar. But he could not turn her away. "I looked at her and said, 'Okay, go ahead inside.'"
Hajomar worked with his new employee to produce an updated menu featuring rare, homemade Syrian food. It was a risk, but it paid off. "Now my business is booming. Maybe because I help people, so God helped me," he muses. In the years since, Aleppo's Kitchen has become an informal gathering place for the Syrian support movement in L.A.
For Hajomar, there is no other choice. "It's going to be 10,000 Syrians coming. Most of them, they're going to come to Los Angeles maybe," he says. "So the Syrians, they should prepare themselves to help those refugees. Syrians should help Syrians."
Ayloush agrees that Syrian-Americans must continue to help their community- both locally and overseas- as the war rages on. But he also sees a place for non-Syrians in the conflict. "You don't have to be Syrian to care about what is happening in Syria. You just have to be a caring human being," Ayloush points out. "Get informed. This is a strive for freedom and justice, something similar to our history here in America. We struggled for liberty and justice for all. Syrians are doing the same thing."
Ayloush believes that by lobbying the American government, U.S. citizens can bring about the major political and humanitarian changes needed to end a long war.
Which is exactly what Syrians like Nidal Hajomar are hoping for. "The only thing that will make us happy is when we go back home to visit those people we love," he says. "Not now. But I hope."
This post is part of a partnership between The Huffington Post and USC Annenberg School for Communications and Journalism.
PHOTO GALLERY
Syrian Refugees Welcomed To U.S.
Calling all HuffPost superfans!
Sign up for membership to become a founding member and help shape HuffPost's next chapter