BAR ELIAS, Lebanon -- The tallest structure in this small refugee camp in Lebanon's Bekaa Valley is called the education center. But like the rest of the camp, it is merely a tent covered with billboard canvas, tucked behind houses at the edge of a plowed field.
It's here that 220 Syrian children are attending school, many for the first time in three years. "There are kids who didn't even know A, B, C," says Omima, a veteran teacher from the Damascus suburbs who runs the education center. She declined to give her last name because of fears for her safety.
Omima writes exams based on her memory of the tests she gave in Syria, and kids sit tightly together on the floor in four improvised classrooms. Still, the school -- opened in December by the aid group Sawa for Development and Aid -- is the best one available for these and many other refugee children across Lebanon.
As Syria's civil war grinds on, its increasing violence has pushed hundreds of thousands of new refugees across the border into Lebanon. Public schools are finding themselves overwhelmed, prompting many to turn away students. For Syrian families already grappling with the loss of homes, land, jobs and basic stability, here is another area of grave disruption -- the education of their children.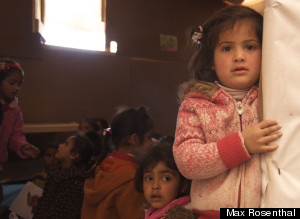 A student in the youngest class at the Bar Elias education center stands at the doorway of her classroom. Precise grades are impossible to determine, so teachers here divide children up by rough age groups.
There are now 280,000 school-aged Syrian children in Lebanon, according to the United Nations High Commissioner for Refugees, exceeding the number of Lebanese students who attend public schools. At the behest of the UNHCR, some of these schools have set up afternoon shifts to accommodate Syrian children and give them a formal education.
But even with the second shifts in place, only 75,000 refugee students found spots in Lebanese classrooms for the current school year. The rest must rely on stopgaps like the education center in Bar Elias. The aid groups that run such programs acknowledge that their work is no substitute for a typical education, but there is no end in sight for the war and the number of refugee children in Lebanon is only increasing.
The aid workers hope to be able to give students documentation on the classes they complete so they have proof of their schooling when they return to Syria. But no one knows if that will end up proving useful in Syria, or even in Lebanon itself if refugees try to apply for a place in formal schools.
"No one recognizes these papers," says Hani Jesri of Jusoor, an NGO partnering with Sawa to build another education center a few minutes away from Bar Elias.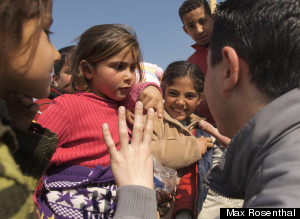 Outside of the Bar Elias education center, Hani Jesri plays math games with young Syrian students. Jesri's NGO, called Jusoor, is preparing to run its own education center in the nearby town of Jarahiya.
Teachers at the education center say that Lebanese school officials, looking for excuses to turn away students, sometimes ask for formal documents proving that children attended classes in Syria. Few people thought to take such papers when fleeing their homes, expecting to return within months, and no one is able to retrieve them now. Schools for the children of Palestinian refugees are also closed to Syrians, the teachers say.
Aid groups like Sawa must build their centers from scratch, leaving them to do everything from securing donations to haggling over rent for the land they need. At the unfinished school it's building with Jusoor, the outhouse has been placed too close to the classrooms, so Sally Alwan, the head of Sawa's Children's Department, must make a trip to the landlady to negotiate for more space.
"If we want to take just a little bit extra, we have to pay for that," she says.
Groups like Sawa and Jusoor are just two of at least 20 NGOs that help provide education for the Syrian refugee community in Lebanon. Even UNHCR has its own informal education system called Accelerated Learning Programs, which aims to keep children prepared in case a seat at a public school opens up.
Some private schools offer classes using the Syrian curriculum, giving a limited number of students a chance at getting a formal education like the one they received back home. But even these programs sometimes struggle to survive.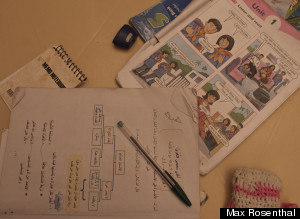 Schoolbooks in Arabic and English lie on a table at the education center in Bar Elias. Teachers here are trying to help refugee children learn some English, which is not taught in Syrian public schools.
"One of the problems we saw last year with these schools is that some ran out of funding halfway through the year and hundreds of kids were left without school," Bathoul Ahmed, a UNHCR press officer in the northern city of Tripoli, said in an email. There, the al-Iman School, a prominent Islamic private institution, had to shutter its Syrian-curriculum program after one year when money from Islamic charities ran out.
The stakes of failure are readily visible in Bar Elias, where the education center is separated from a refugee camp by only a few feet and a short chain-link fence. As children swarm and shriek outside the tent during breaks, their fathers can be seen smoking and sitting idle in the background, most unable to find work. Many Syrian children who aren't in school end up working in their place because locals can hire them for less money.
Whatever the shortcomings or uncertainties that worry the aid groups, the children here are glad for the diversion. Hands eagerly shoot up in the classrooms, and students grab every chance to show off their skills with English numbers.
The kids are "really excited," Omima says with a smile. "If someone gives me a hard time, I tell him he's out of the school and the next day he's begging to come back."