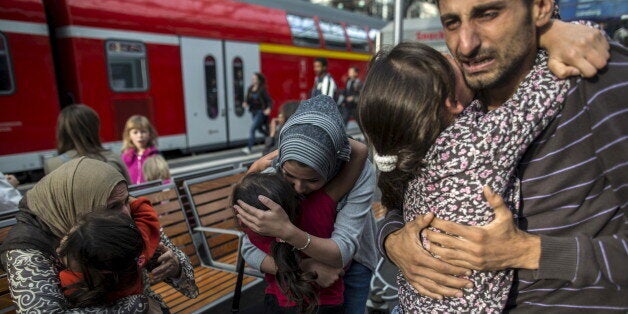 Over the weekend, the major German newspaper Die Welt reported that refugees are going "on vacation" in the countries they've fled from, such as Syria, Afghanistan, and Lebanon, citing information from Berlin labor agencies.
There was an immediate outcry on social networks. If they can go on vacation in their homelands, they have no right to be living in Germany, many people said. If their countries are peaceful enough to vacation in, what are they doing here? For those who harbor hostility towards refugees, this report was a good excuse for an uproar.
I'm a Syrian refugee, and I want to say something very clearly: Of course we go to Syria for vacation!
But it's a very different type of "vacation."
Yes, we visit relatives and we drive to sunny spots and to places we've always enjoyed -- but it's still hardly a relaxing or restorative trip to a beach resort!
We don't splash around in the water for a bit then fly back to Germany replenished, with bags full of gifts and candy.
As soon as they -- in this case "they" refers to acquaintances of mine -- step on Syrian soil, they're at serious risk.
As a young man, I would not make a short trip to Syria.
And that wouldn't even be possible. I would be able to enter relatively easily, but I may never be able to leave again.
It's mostly elderly people who travel to Syria. These are parents who want to see their kids again -- those who couldn't escape and who are now fighting in the frontlines. These parents worry about their kids' lives every single day, and they take chance to see their kids one more time.
 

After everything we've been through, are we supposed to skip out on seeing our relatives?
Why would you expect people to refrain from visiting their families? Germans fly halfway across the world to have a little fun, but we're expected to feel ashamed when, after losing everything, we want to see our families. And why are journalists choosing to refer to these trips as "vacations"?
If we visit friends and family in a war zone, it's because we feel some kind of responsibility towards them.
After everything we've been through, are we supposed to skip out on seeing our relatives? Are we supposed to stop visiting our beloved home?
We've lost so much already.
All we want is to try to support our relatives. We bring them little trinkets, and show them that we haven't forgotten them. We were fortunate enough to escape and find safety -- our loved ones were not.
For the elderly, too, it's not easy to travel to Syria. They risk being arrested at the border and assaulted if they can't pay the corrupt policemen a sufficient bribe.
There's always the risk of not being able to return to Germany.
Sure, there are people who travel to Syria with the goal to make money. Some of them work as human traffickers and profit from bringing others back to Germany with them. But that's a minority.
People like them hurt all other refugees -- including me.
Why should a trip to a war zone be considered a relaxing vacation? Anyone who believes that trivializes the horror and the crimes in Syria, where there's a war going on, not a spring break party.
This post first appeared on HuffPost Germany. It has been translated into English and edited for clarity.
Calling all HuffPost superfans!
Sign up for membership to become a founding member and help shape HuffPost's next chapter