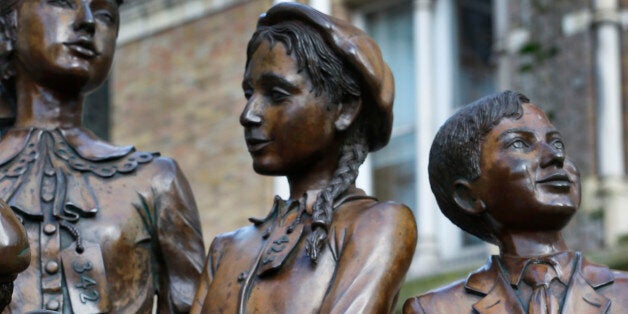 In August 1939, two weeks before the start of World War II in Europe, I was admitted to England as an infant refugee. My parents and I got out of Germany, where I was born, at the last moment. Three months earlier, my older sister, then age 10, had been admitted to England along with about 10,000 other unaccompanied Jewish children in what became known as the Kindertransport. When the British admitted us, all other doors were closed. America, for its part, had a restrictive quota system for immigrants that my father saw as lengthy and, thus, hopeless.
Some refugees who had fled Germany to other countries in Europe continued to arrive in England even after war broke out. British security officials, then fearing an attempted German invasion, worried that those claiming that they were refugees might include German spies and saboteurs. After all, many German Jews and other European Jews were highly assimilated. They were under threat because of their heritage, but they knew little or nothing of Jewish culture. A German spy could pass for such a Jew.
The British dealt with this by sending late arriving adult males to the Isle of Man, in the sea between England and Ireland. They were held there for a period to determine who was a genuine refugee. One way this was done was to have them identify each other and, thereby, verify each other's accounts of their lives. So far as is known, no German spies or saboteurs succeeded in masquerading as refugees. Britain never suffered any harm during the war from the 60,000 or so refugees from Germany and Austria -- including some non-Jewish political refugees -- that the country admitted up to October 1939.
President Obama has proposed to admit 10,000 Syrian refugees to the United States, a minuscule portion of about 4 million who have fled their country to escape President Assad's barrel bombs and the fanatic cruelties of the Islamic State. Before they were admitted, the refugees will be subjected to rigorous scrutiny by the United States which could include procedures like the British used in 1939. Yet even the modest gesture of allowing in such a small number has come under fire. The House has already voted to increase unnecessarily the security screening of Syrian and Iraqi refugees so much that it will bring resettlement to a screeching halt. Senate Republicans are threatening a government shutdown over the issue, and the backlash against admitting Syrian refugees has infected the Republican campaign trail and governors' mansions across the country.
Senator Ted Cruz and Jeb Bush say that only Christian Syrians should be admitted. The other leading Republican candidates for president want to bar all Syrians. The governors of more than half of the states have said that they will bar Syrians from their states. We have come a long way from the time when the Statue of Liberty was considered a symbol of the country's receptivity to those "yearning to breathe free." Perhaps the governors don't know that free movement from state to state has been recognized as a fundamental right under the United States Constitution since at least 1868. (It was even a right under the Articles of Confederation.) Or perhaps the governors don't care about the Constitution.
One of those who proposes to exclude all Syrians is Senator Marco Rubio. He argues that even if 999 out of a thousand are genuine refugees, the United States cannot take a chance that one terrorist may get in. Senator Rubio has a double standard. The United States long designated Cuba as a state sponsor of terrorism. When that designation was dropped in May, Marco Rubio (along with Ted Cruz) was at the forefront of those denouncing the decision. Yet there is no indication that he ever supported exclusion of the hundreds of thousands of Cubans admitted to the United States out of concern that the Castro brothers would sneak in a terrorist claiming to be a refugee.
The eight childhood years I spent in England as a refugee were a time when the country's citizens suffered many hardships. That did not stop those British people my family and I encountered from treating us with remarkable generosity. The experience has made me a lifelong Anglophile. It has also probably been the principal factor that made me devote my career -- since I joined the staff of the American Civil Liberties Union more than half a century ago -- to the protection of rights. I can think of no cause more important, and more satisfying, than saving the lives of those threatened by racial, religious, sexual or political persecution.
In 1939, it was the Jews whose lives were threatened. Today, it is the Syrians. For me, those who want to close the doors to all Syrians, or all Syrians who are not Christians, are no different from those who closed the doors to me and my family in 1939.
Aryeh Neier, President Emeritus of the Open Society Foundation, was previously the executive director of the American Civil Liberties Union and co-founded Human Rights Watch.