Less than 24 hours after President Donald Trump signed an executive order barring immigration and refugee admission from seven Muslim-majority countries, border officials in Chicago turned away a Syrian woman who'd flown to the U.S to visit her sick mother, the woman's sister told The Huffington Post Saturday.
Sahar Algonaimi, a 60-year-old Syrian national who lives in Saudi Arabia, was detained for nearly five hours at Chicago O'Hare International Airport Saturday morning. She was ultimately forced to board a flight back to the United Arab Emirates, from where she'll go on to Saudi Arabia.  
Her sister, 40-year-old Nour Ulayyet, who lives in Indiana and is an American citizen, provided HuffPost with photos of Algonaimi's plane ticket; her visa to enter the U.S., issued by the U.S. government; and a signed letter from a surgeon to immigration officials saying Algonaimi was "needed to assist" in the care of her sick 76-year-old mother, who is recovering from a surgery for breast cancer.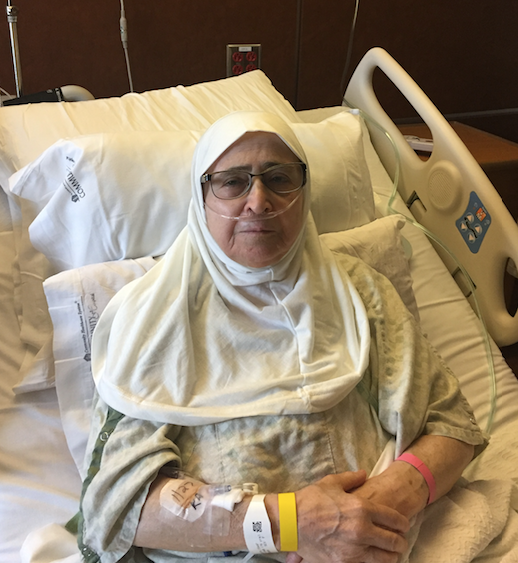 According to Ulayyet, Algonaimi was interviewed by immigration officials in Abu Dhabi and was permitted to board Etihad Airways Flight 151, which arrived in Chicago at 8:48 a.m Saturday.
Although Algonaimi had a visa to be in the U.S. ― where she planned to stay for one week ― officials detained her and told her she would not be allowed past the border.
"The officer told me that it's the executive order," Ulayyet said, recounting a phone call with the border officials detaining her sister.  
Ulayyet said she and her sister pleaded with the border officials to let Algonaimi visit their sick mother, even for a few hours. But the officials, although kind and apologetic, wouldn't budge, she said.
The mother and her two daughters all wept over the phone to each other ― Algonaimi from the airport, her mother from her hospital bed and Ulayyet from by their mother's side.
"I needed someone to be with me here," Ulayyet tearfully told HuffPost in a phone call from the hospital Saturday, occasionally excusing herself to translate her mother's Arabic into English for the attending nurses. She has four children who are staying with friends while she tends to her mother. 
"We left Syria because of such situations," she said. "I didn't leave for Syria for this."
Etihad Airways, U.S. Customs and Border Protection and the Department of Homeland Security did not respond to HuffPost's requests for comment.
This is an inhumane law.

Nour Ulayyet
Trump signed the executive order Friday afternoon during a ceremony at the Pentagon. The order bans Syrian refugees from coming to the U.S. indefinitely, shuts down the whole refugee program for 120 days, and bars all immigrants and visitors from seven Muslim-majority countries ― Iran, Iraq, Libya, Somalia, Sudan, Syria and Yemen ― from entering the country for at least three months.
Hours after Trump signed the order, heartbreaking stories emerged from around the country of immigrants, visitors and refugees being detained or deported ― or, in some cases, both ― by border officials scrambling to adjust to the new law.
ProPublica reports that the executive order will prevent half a million green card holders, also known as legal permanent residents, from returning home to the U.S. from trips abroad. A White House official told reporters on Saturday that those green card holders can be approved to return with a waiver on a case-by-case basis.
A spokeswoman for Church World Service, an organization that handles refugee resettlement, told HuffPost it had planned to welcome 212 refugees next week, the majority of whom would be joining family members already in the U.S. Now the organization expects no refugees to arrive, and no happy reunions.
There have been no fatal terror attacks in the U.S. by immigrants from any of the seven Muslim-majority countries in Trump's immigration ban.
"This is an inhumane law," Ulayyet said Saturday. "I'm willing to advocate against this law. I'm a local citizen and I do have rights to have a family member come here."
When asked what she would tell Trump if given the opportunity, Ulayyet said that she wishes he could be in her situation.
"I want him to feel that same feeling that I have," she said. 
Ulayyet said she was proud to take an oath to become an American citizen, and that she's proud to be a part of this country.
"But with this happening now in front of my eyes, how am I going to teach my kids and tell them that this is a free country?" she said. "How can we tell my kids that we have to take care of each other?"
Sign up for the HuffPost Must Reads newsletter. Each Sunday, we will bring you the best original reporting, long-form writing and breaking news from The Huffington Post and around the web, plus behind-the-scenes looks at how it's all made. Click here to sign up!
Calling all HuffPost superfans!
Sign up for membership to become a founding member and help shape HuffPost's next chapter