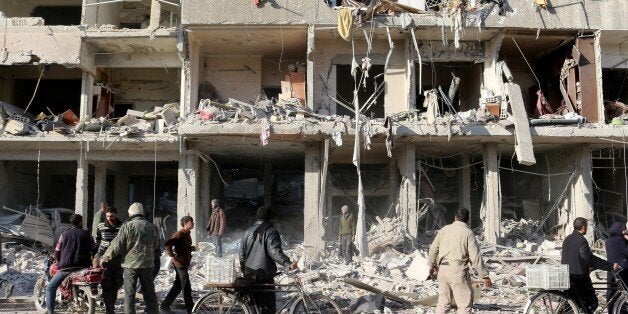 By Gilad Shiloach and Jacob Steinblatt
Activists say the town, called Madaya, has suffered from a months-long siege by forces backing Syrian President Bashar al-Assad's regime. It has left residents unable to flee, they say, and in dire need. According to the Syrian Observatory for Human Rights, at least 10 people died of starvation in the town in the past six weeks, and the lives of 40,000 people are at risk according to the World Food Programme (WFP), mainly due to widespread starvation sweeping the town.
Aid -- 3,900 food rations -- was last delivered to Madaya in October, but was "enough to feed over 19,000 people for one month only," the WFP said.
Human rights activists uploaded dozens of horrifying images they say show starved residents and children eating leaves and hot water. Using the hashtags #savemadaya and #مضايا_تموت_جوعا, which means "Madaya is dying from starvation," they protested the lack of attention from Western governments to the issue and called for a protest under the title "Madaya's Starvation -- A Shame On Humanity."
To further highlight their cause, they shared a series of photoshopped images showing the faces of U.S. President Barack Obama, Russian President Vladimir Putin and the Syrian president, among others, on emaciated bodies.
The main Facebook page of the Syrian opposition said in a post on Thursday that more than two people die every day because of starvation in Madaya. "In Madaya we wonder what year we're in, is it really 2016?" the group said. "Where are the Arabs and Muslims? What about the U.S and the UN? Where is the world?"
One user said in tweet that "the criminal Obama is crying after 20 American children were killed by the spread of weapons, but he now supports the killing of 40,000 Syrians in Madaya at the hands of Shiites." The comment, which referenced Obama's Tuesday's speech announcing executive actions aimed at curbing gun deaths, echoed a dozen other tweets criticizing Obama.
More Stories from Vocativ:
REAL LIFE. REAL NEWS. REAL VOICES.
Help us tell more of the stories that matter from voices that too often remain unheard.