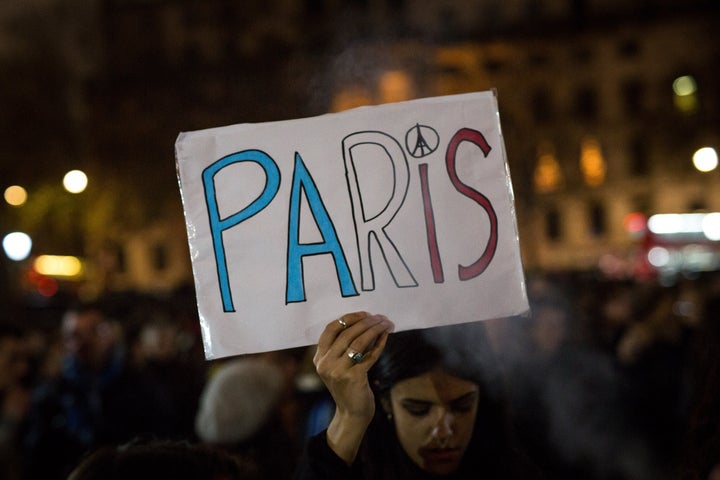 As the horrific scale of the attacks in Paris became increasingly clear on Friday night, Parisians rushed to check in on loved ones and find safe ways to get home.
Among them were Syrians living in Paris, who fled there to escape such horrors back home.
"I immediately called my friends, and then stayed up checking Facebook and the news until 5 a.m." said Eyad, a 28-year-old Syrian who took a boat to Greece earlier this year and arrived in France after a long trek through Europe. 
One of his Syrian friends was at the Stade de France when suicide bombers detonated outside, but was safely evacuated along with thousands of others watching the France-Germany soccer game.
At least 129 people were killed as seven gunmen went on a rampage around the French capital -- detonating blasts by the stadium, shooting patrons at restaurants in central Paris and killing dozens at a rock concert. The Islamic State militant group claimed responsibility for the attacks.
The horror is all too familiar for Syrians living in France who tried to flee the brutal conflict in their homeland, including the brutality of the Islamic State and of the regime of Syrian President Bashar Assad.
"We know about this feeling, when someone attacks you," Eyad said. "We've been there."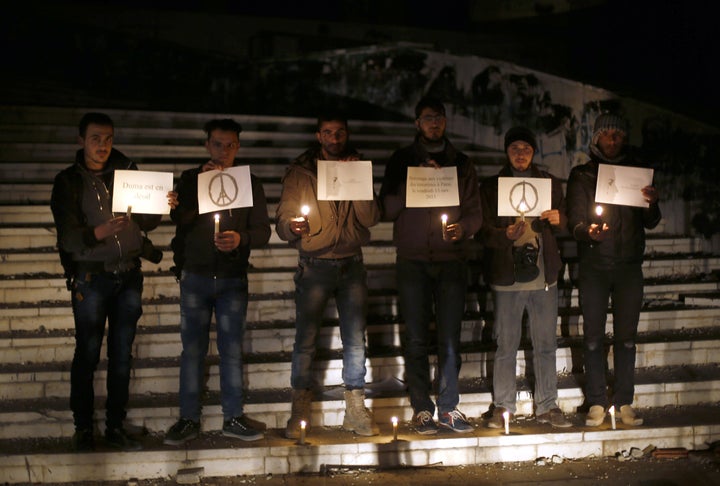 He is now scrambling to find ways to help. He is thinking of holding an event at the university where he is learning French and preparing to apply for a scholarship to university to study classical art. He designed a Facebook banner urging for "Paris Peace."
"We are not French, but we are living in France. So we should do something for this city that holds us, the city that let us in," Eyad said. "We should do something to help and say to the French people, 'We are with you, and we will stick together.'"
"We care about this city like the French people care about this city."
That policy is now under scrutiny, as politicians in France and around the world seize on the discovery by French authorities of a Syrian passport near the body of one of the attackers and the information that its holder passed through Greece last month.
"People are very sad and they're not thinking clearly. They are trying to find someone or something to put the situation on their shoulders," Nora, a 23-year-old studying cinema in Paris after fleeing Damascus, Syria, four years ago, said of the refugee backlash.
But most French people aren't like that, she says. Her French friends have already checked that she's OK, and they know well the difference between Syrians and terrorists.
"I have no doubt, even if [an attacker] was from Syria, he doesn't represent Syrians or Syria or anything of our culture," Nora said.
Police have not confirmed the identities of the seven attackers, but said one was a Frenchman known to authorities for his links to Islamic extremism. Many questions remain about the connection to the Syrian passport recovered at the scene.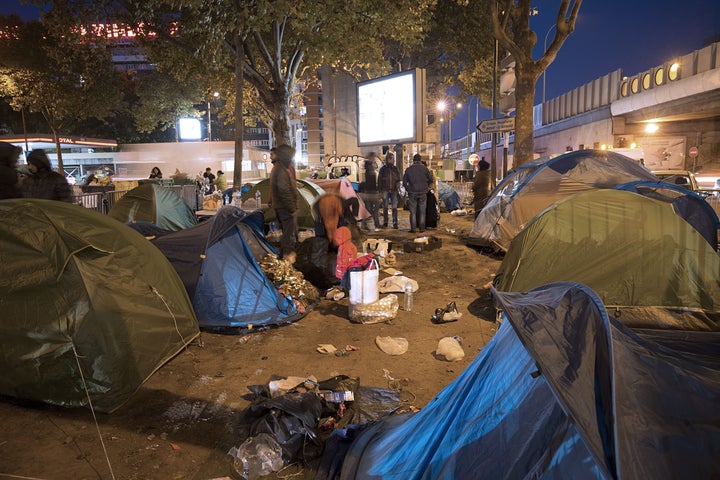 Layla, 27, who is from Damascus and came to Paris in the past year to work on a master's degree in architecture, said the connection appears "ridiculous."
"None of us walks with our passport, especially someone who wants to bomb themselves," she said.
She is concerned the attacks could make life difficult for Syrians in Paris, and also back home. She noted Assad's comments Saturday blaming the attacks on France's "mistaken policies." The Kremlin also seized on the attacks to urge a unified front against the Islamic State, essentially an invitation to team up with Assad.
"This will not be good for Syria," she said. "The regime is doing horrific things, and Assad says he's protecting the people -- it is bullshit."
Syrians in the rebel-held district of Douma posted a note of condolence to the French people on social media after the Friday attacks, and photos showed a small solidarity vigil in the area. "We hope that we could help each other to make our World safer and more civilized," the note read.
The subjects in the story asked that only their first names be used in order to protect their families in Syria or their asylum status.
Read More Paris Coverage
PHOTO GALLERY
Newspapers Cover Paris Attacks
Calling all HuffPost superfans!
Sign up for membership to become a founding member and help shape HuffPost's next chapter