Sabah laughs when I asked her if she thinks Johnny Depp is cute.
I met her in Reyhanli, a Turkish town a stone's throw away from the Syrian border that, only two and half years ago, had only 35,000 residents. Reyhanli is now home to more than 120,000 people, the vast majority of them penniless Syrian refugees fleeing violence and terrorism. Rent prices are eight times what they were. There are no jobs or husbands to be had.
The fact is that here, outlooks are bleak. All are grieving, the smell of their burning homes and loves ones within still hovering through them.
Among the young, commonalities are apparent. Their feet are too big for their shoes, their hopes larger than their prognosis, their bellies full of junk food. Religion and family all that remain for their soul to drink.
But their ambitions? Boundless.
Take Sabah, the girl with the obvious crush on Johnny Depp. Her English is surprisingly fluent, a rarity among Syrian refugees. Sabah had never left Syria before the attacks on her village forced her to flee.
"I learn from watching movies," she explains.
"Pirates of the Caribbean!"
While some of the young are despondent, looking for nothing more than to grow old enough to die, the vast majority still dream of something better and are willing to do what it takes to climb themselves out of "The Lost Generation" that the international human-rights community has labeled them. Among these hopefuls, leaders emerge, those with an intense devotion to learning and advancing while subsisting in the most gruesome of circumstances. Sabah is not the only one.
Moustapha is 16 -- and a savant. He is from Homs, an industrial center and Syria's third-largest city before the war. It was heavily shelled by government forces, and the children of Homs, to the extent that they survived, did so without any school. Two years went by. With rockets and screaming and hunger and darkness all around him, nothing to occupy his mind during the days and nights and months and years, Moustapha took to the Internet and used free resources to teach himself how to code. Literally.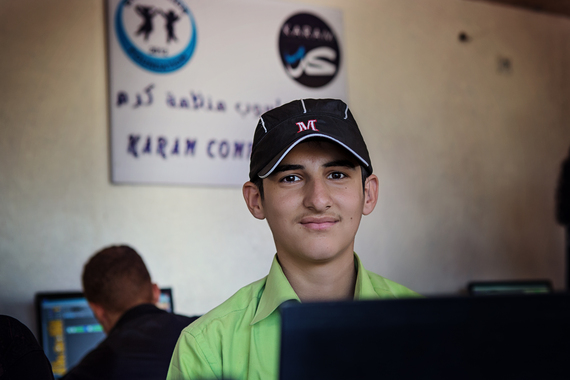 Moustapha in the KLP Computer Lab (photo by Mohamad Ojjeh)
You can perhaps imagine this quiet boy's sheer joy at being a student at the Salam School in Reyhanli, at having an actual place to learn every day, at learning without the sound of death in the background, and, mostly, at the opportunity to teach others.
Yes, for this exceptional young man, teaching himself to code was not enough. He wanted to share his knowledge. When we first met him, he was at the basement of the school, teaching coding to a handful of fifth graders. He is ecstatic to learn that Karam's computer lab is nearly completed.
The Salam school financed the enclosure and the extra generator needed, while Karam agreed to and did bring in all of the computers and equipment. Karam even imported a tech guru -- who just happens to be a Syrian rebel hero -- to set up the lab and work out any kinks. And voilà! The kids now have a fully functional computer lab right on the premises of the school. Under the circumstances, this is a small miracle.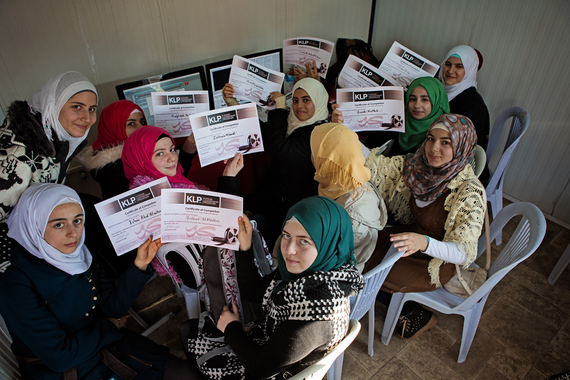 Students with the KLP certificates of completion (photo by Mohamad Ojjeh)
Sabah's eyes are sharp as she sits in a technology and entrepreneurship training course. She is huddled with 40 or so other girls inside the lab, divided in teams of two per computer. They listen intently to KLP mentors. Mr. Mohannah Ghashim, Ms. Amy Lute, and Ms. Dia Kraoubi (who asked that I not use her real name) lecture without softness. Indeed, they express little sympathy during the training.
"The last things these girls need is for yet another person to simply show up and feel sorry for them," says Lina Sergie, the co-founder of the program. "What they need is a way out."
KLP mentors teach the teens hanging on their every word to use the tools at their disposal, emphasizing technology. Blessedly, technology is largely available to today's poor. The trouble is that most refugees of this war are less tech-savvy than they are social-media addicts. WiFi is far more available than phone lines or even plumbing, and while it is rare for them to have a computer at home, smartphones are commonplace.
These displaced, isolated and lonely people find a connection with home through Facebook, WhatsApp, Instagram, and Twitter. They never unplug. An onslaught of tweets of new battles being fought, of territories won and lost, of entire neighborhoods bombed to shreds, battle alongside a Facebook newsfeed that includes pictures of a new nephew and the announcement of a cousin's marriage (and his death only a few months later). But most have never had an email account, and they seem mostly unfamiliar with Google's search function.
In the courtyard outside the lab, Karam's leaders ask Moustapha to be responsible (with the assistance of a teacher) for running the computer lab after their departure from Turkey.
The humble 16-year-old blushes with pride.
Back in the lab, a nervous young girl with a white headscarf whispers, "Bismillahir Rahmanir Rahim" (meaning, "In the Name of Allah, the Most Beneficent, the Most Merciful"), as she clicks, for the first time in her life, the "Google search" button on her screen.
Thoughts of an early marriage are now far from her mind.
"Free Turkish classes online"
Many thanks for your "likes," shares, tweets, and thoughtful commentary. Dynamic and respectful conversation is welcomed and appreciated.
Related
Popular in the Community