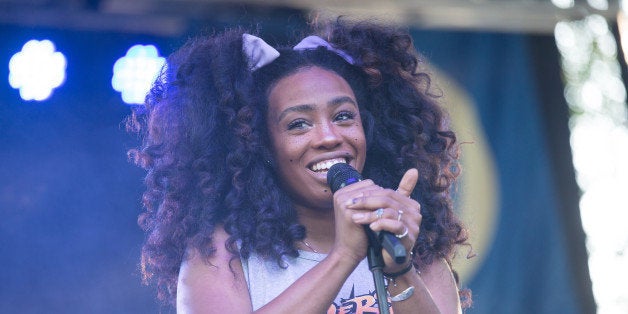 Among the dozens of musical acts comprising the lineup for the past weekend's Pitchfork Music Festival, only a handful of performances came with the same level of anticipation as that of R&B artist Solana Rowe -- better known by her stage name, SZA.
The St. Louis-born, New Jersey-raised 23-year-old first caught the eye of much of the music world in 2013, when she was signed to rising hip-hop label Top Dawg Entertainment, which boasts Kendrick Lamar and Schoolboy Q among its critically acclaimed crew.
That SZA is TDE's first female signee -- not to mention its first singer -- has been the central focus of many headlines about her, but Rowe is somewhat uncomfortable with that attention.
"That shit doesn't make any sense to me," she told The Huffington Post. "I just feel like I'm not the first female to win a fucking Grammy or an Oscar, so for me, I feel like I have to earn my space and prove who I am and what I am, not as a woman but as an artist."
Later in 2013, she self-released an eight-track EP titled "S."
"S," like much in SZA oeuvre, generally fits under the broad umbrella of R&B, but is otherwise difficult to classify. Hazy slow jams are all driven by SZA's hauntingly airy singing voice, featuring samples ranging from Fleetwood Mac to "Rosemary's Baby."
SZA has yet to release a full studio album -- which is currently in the works -- but she followed "S" with, naturally, "Z," another EP verging on album length and featuring cameos from Chance the Rapper, as well as TDE labelmates Isaiah Rashad and Lamar. Critics rendered mixed reviews for "Z," but the it helped the singer continue to amass an ever-growing fan base. (She has almost 90,000 Twitter followers.)
"It's a cool life," she said. "Everything has only gotten higher and higher."
Despite her recent successes, there was a quiet, apparent nervousness to SZA during her set at the festival. While some songs -- like "Childs Play" -- sailed, softer songs fell short of resonating in the way they might while listening to them alone with headphones.
SZA has previously said she doesn't feel she "fits the stereotype" of a successful singer, something she said she still feels today, all the buzz aside.
"I'm very sensitive and I think a lot of performers have a good poker face. I don't know, I think there's a lot of things that I am a little too opinionated about, but you never know," she said.
And the pressure surrounding her first full-length release under a renowned label? Immense, she said, but not for the reasons one might think.
"My pressure doesn't really come from music, my pressure comes from everything else, the things that are just part of being a 'public figure,'" she admitted. "Everyone has an opinion on you and thinks they know you or what you're trying to do."
When SZA speaks about her music, her words fly out quickly. It's immediately apparent that her songwriting consumes her. When it comes to the PR side of the business, her frustration is equally evident. Her mood shifts ever so slightly.
"People just think I'm trying to get into neo soul, like the second coming of Badu or like Lauryn Hill Like, 'Oh, yeah, she's neo soul, she'll have dreads soon I'm sure and, she should work with Common,' and all this shit."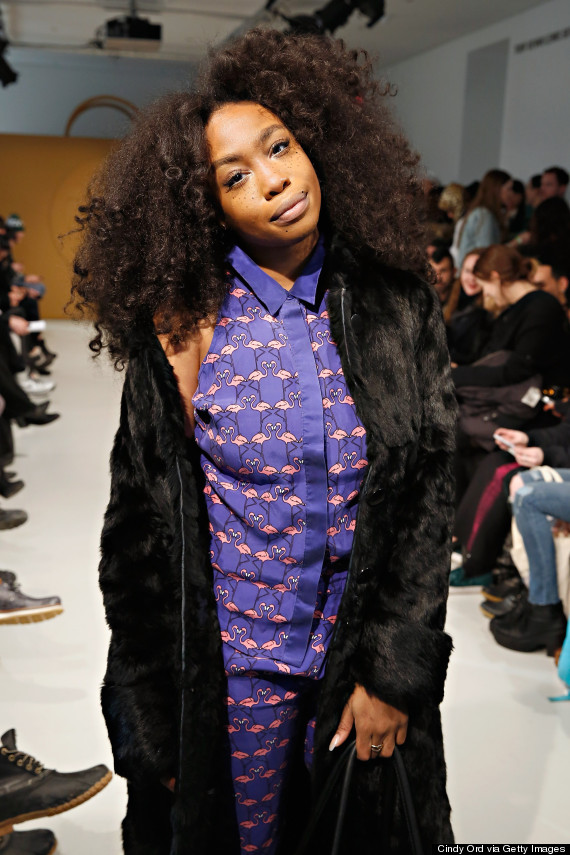 SZA at Mercedes-Benz Fashion Week Fall 2014 at The New Museum on February 10, 2014 in New York City. (Cindy Ord/Getty Images)
"The fact that I'm a fuller-figured, brown-skinned woman with curly hair now means that I must be striving for Erykah Badu-ism, part two, because I could never be part one," she continued. "But I have no desire to be that. As amazing of an artist she is, I don't want to be pigeonholed into the being of someone else or something. I just want to be able to do what I want to do."
For now, that means collaborating with artists and producers whose work speak to her -- she drops Kaytranada and SBTRKT as two names she could see herself working with someday. Another name that comes up is Icelandic icon Björk, whose work SZA has repeatedly cited as hugely influential.
She's also taking her time crafting the new album, which will be titled "A," a process she can't help but smile as she describes what she's putting together as "fucking amazing."
"I've changed a lot very fast and I don't know if someone who becomes a megastar is going to be able to change all the time," she said. "It's not that I desire to be a megastar, it's just that I want to be remembered for pioneering something, for setting something into motion or introducing and successfully merging different worlds that don't 'belong together.' I want to speak to everyone."
Calling all HuffPost superfans!
Sign up for membership to become a founding member and help shape HuffPost's next chapter
BEFORE YOU GO
PHOTO GALLERY
Pitchfork Music Festival 2014 Photos