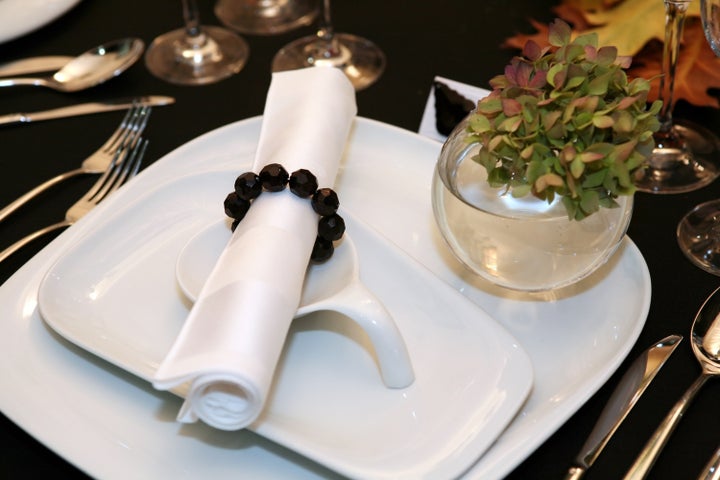 This year, instead of the usual resolutions, why not make gathering the family around the dining table -- working on manners and proper eating etiquette -- top of the list?
We all know the importance of eating together as a family, yet somehow, the day-to-day gets in the way. Most of our afternoons consist of sports practice, music lessons, dance class and homework. Gone are the days of leisurely meals, with everyone sharing the story of their day and having a chance to practice proper eating etiquette. Sometimes dinner is on the go, sometimes it's in shifts and sometimes it's fraught with interruptions.
If this sounds all too familiar, perhaps 2013 should be the year to incorporate Sunday family supper into your repertoire. Make a special family friendly meal and set the table as though you were expecting guests. Ditch the princess and superhero plastic plates and cups and use real glasses, silverware and china. Work on table manners and proper eating etiquette, but don't forget to have fun and enjoy the special family time. Practice may not make perfect, but will certainly make better.
Here are a few pointers to get you started on the path of Table Manners 101 with your family.
1. Always place your napkin on your lap prior to beginning the meal.
2. Wait to begin eating until everyone is seated at the table and has been served their meal.
3. If you need something, don't reach across the table for it. Ask the nearest person to please pass it.
4. Don't talk with food in your mouth. Hold the thought until you swallow your food.
5. Please chew with your mouth closed and keep lips together.
6. If you need to get up during the meal, politely ask to be excused and return to the table as quickly as possible.
7. Take the food on your fork or spoon up to your mouth. Not your mouth down to the fork or spoon. Eating over the plate helps in case there is a little spill.
8. In between eating, rest your fork and knife on the plate in and upside down "V." Knives and forks are not fairy wands or light sabers and shouldn't be waved around the table.
9. Try to use both your fork and knife and while cutting your food, doing your best to keep your elbows close to your side.
10. When you are done with your meal, place your fork and knife on the plate to the right side with blade in and fork in the upward position. This lets everyone know you are done with your meal and ready for dessert!
Tracey Doull is the founder of KitchenMoxie. For more of her dining etiquette and hostessing tips, recipes, information and inspiration, visit www.kitchenmoxie.net.

Related