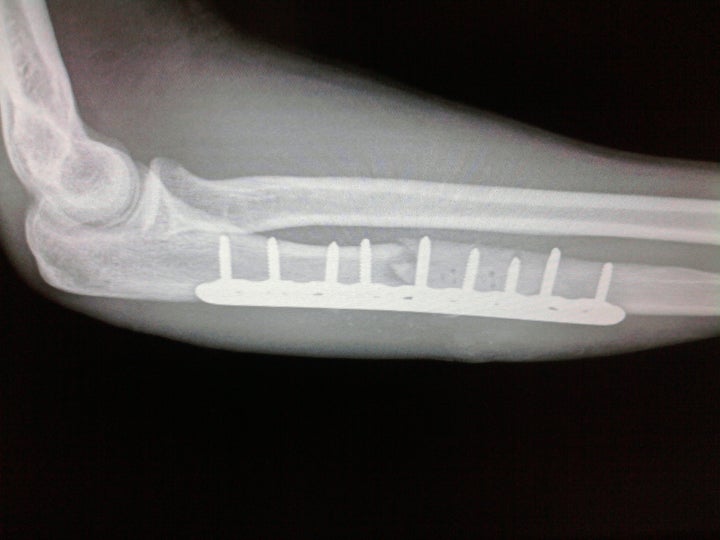 WASHINGTON -- A consumers' advocacy group and a panel of table-saw victims called on government regulators and the power-tool industry Wednesday to enact new safeguards against saw-related mutilation and amputation.
The number of table-saw injuries has risen to 40,000 annually, an increase of 10,000 a year in the last decade, National Consumers League (NCL) Executive Director Sally Greenberg told reporters at the National Press Club.
The nonprofit group's leader called for the Consumer Product Safety Commission, the federal agency tasked with protecting Americans from dangerous products, push through a table-saw safety standard that was first proposed in 2003 but has since languished. She also asked the tool industry to drop its opposition to the regulations and pass along any new costs to customers if need be.
"The vast majority of table-saw manufacturers haven't changed their technology in 50 years," Greenberg said. "This is a major public health and safety issue that cries out for a public policy response."
Long used by carpenters, construction workers and woodworking hobbyists, table saws typically come with little more than plastic guards to prevent fingers and hands from coming into contact with the blade. These guards are often removed by the saws' operators to make the work easier. About 4,000, or 10 percent, of the table-saw accidents each year result in finger amputation, according to statistics compiled by the NCL.
The consumers' league would like to see manufacturers adopt the kind of technology developed by a company called SawStop, which brings the blade to a standstill when it senses the electrical impulse emanating from human flesh. (Watch a demo of the SawStop in action.) Greenberg said the NCL has no affiliation with SawStop and receives no funding from the company. The safety measure would add about $100 to the price of a saw, she added. NCL officials and table-saw victims have been meeting with lawmakers this week to make their case.
The Power Tool Institute, a trade group representing table-saw manufacturers including Black & Decker and Bosch, said in a statement that the price of table saws would "increase dramatically" if companies had to use the SawStop technology. "The lower-priced consumer bench-top saws will disappear from the market," the group warned. It also said SawStop would enjoy an unfair market advantage.
Four victims of table-saw accidents spoke out in favor of new standards Wednesday, including Adam Thull of Crosslake, Minn. Thull owns his own woodworking business, and a year ago this month most of his right arm went through a table saw as he was cutting a wood panel. The blade sliced clean through the bone and nerve in his forearm. Thull's been told it may take five years for him to recover, if he's lucky.
"My two small children and my wife suffer along with me," the Minnesotan said.
Considering Thull didn't have health insurance, the accident has devastated him financially in two ways: With five surgeries down and six to go, he's run up a medical tab that he can't even fathom; and at the same time, he's also lost his ability to earn money.
He can only work for five or ten minutes at a time before the pain in his arm becomes unbearable.
"I've been able to find ways to do it, but there's no feasible way to turn a profit," Thull said. "It takes me ten times longer to accomplish anything."
In his ten years in woodworking, the 30-year-old had made a decent living doing what he loved to do. But now his family is on food stamps and receiving aid from the Lutheran Social Service of Minnesota. He doesn't know how he'll earn money in the future.
"The business is more or less done. There's no way to pay the insurance costs," he said. "The physical suffering is on me, but my six-year-old knows. He says, 'I wish daddy was like before the accident.'"
Although there are no hard statistics, Greenberg said that about 20 percent of table-saw accidents seem to be work-related, with the rest happening to hobbyists.
Like Thull, many table-saw victims are injured in the course of self-employed work.
Curtis Harper, a firefighter from Provo, Utah, said he lost his pinky and suffered severe nerve and ligament damage while he was notching a corner of a wooden board in 2007. Harper owns a small mantel-making business, Masterpiece Cabinet and Mill.
Looking at his mutilated hand after it ran through the saw, his first thought was that he'd lose his primary job, as a firefighter. He's since gone back to work at the firehouse, but he's lost much of the strength in his hand.
And the accident isn't easy to forget.
"Phantom pain is real," Harper said. "I still feel that little finger."
WARNING: Some of the photos below are gruesome.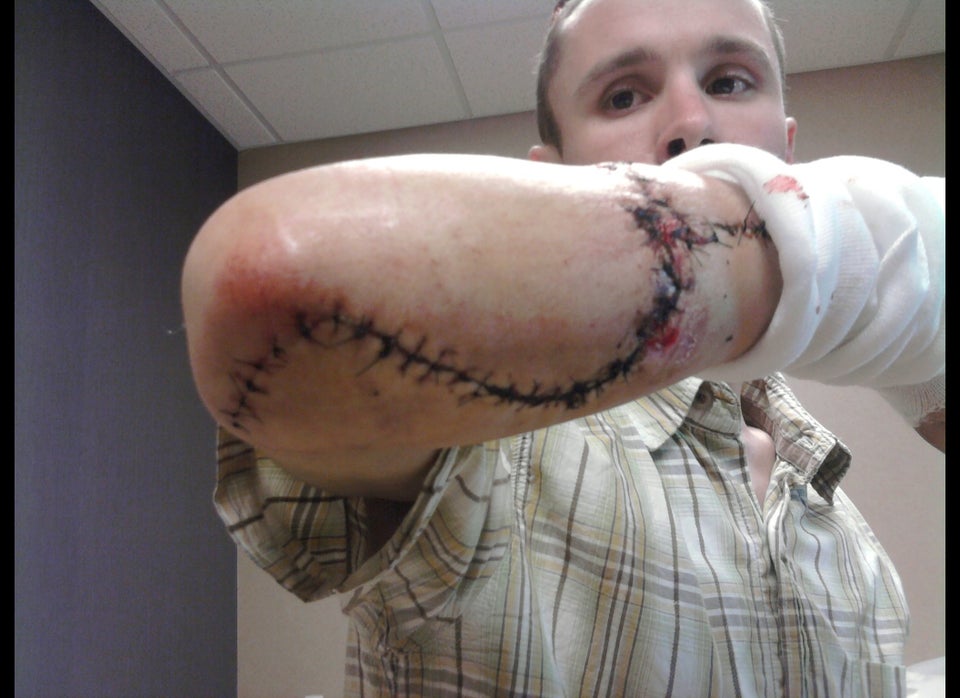 Gruesome Table-Saw Injuries Sideline Workers
Related
Popular in the Community