McDonald's is offering table service in one Manchester restaurant, will offer it soon in 11 more restaurants and could roll it out across its 1,250 UK locations if the service style is well received, The Guardian reports.
"We have listened to customer feedback and to meet their evolving expectations we are significantly investing in our restaurants to create an exciting new environment and improve the customer experience," UK Managing Director Paul Pomroy told the newspaper. "We also plan to test some new ideas. For example, we know that for parents it can be tough juggling the kids and carrying your food, so we have decided to trial table service, whereby customers place their order via our new kiosks and then have their food brought to them.
"It's an idea that has been successfully launched in France, and we are keen to see if it will prove as popular with our customers in the UK," Pomroy added
The paper says McDonald's is in the midst of an estimated £350 million store-improvement program. "This includes providing Apple iPads and Samsung Galaxy tablets that children can play with, installing digital kiosks where customers can make orders and building glass shopfronts on McDonald's restaurants."
But the chain seems keen to add upscale service. McDonald's Corp. "This is where McDonald's is headed," CEO Steve Easterbrook said in March at its Frankfurt Airport location, where diners can order and get food at a counter or order from a kiosk and have it brought out to them. In Australia, food is brought to diners who construct a Create Your Taste customized burger (below).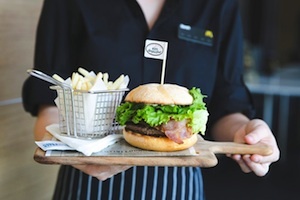 McDonald's has seen explosive growth of fast-casual burger concepts in the UK. Local chains include Byron, Gourmet Burger Kitchen, Handmade Burger Company and Honest Burgers, plus many independents such as Chop Shop, Burger & Shake and Ruby Burgers. And Shake Shack and Five Guys are there; Smashburger is coming.
Popular in the Community