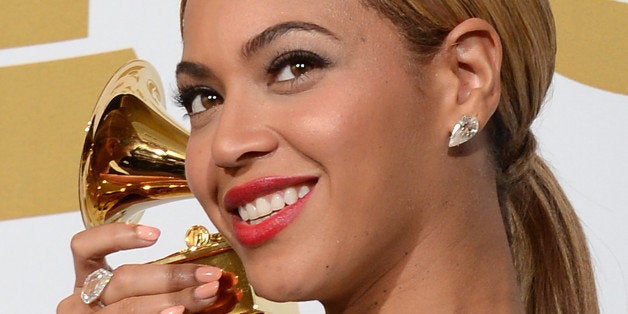 Topic: Grammy Awards 2014
What to say to your kids: Whether you like pop or rap or rock, music of any kind is important. It can make you feel happy and can even help strengthen your brain. In order to celebrate the greatness of music, The Grammy Foundation was founded in 1989. Their purpose is to "cultivate the understanding, appreciation and advancement of the contribution of recorded music to American culture -- from the artistic and technical legends of the past to the still unimagined musical breakthroughs of future generations of music professionals."
The Grammy Awards are part of the Foundation's mission to honor music and they do so every year with a large ceremony. Popular musicians come together, walk the red carpet, and see if they'll bring home a trophy for their work. Artists like Taylor Swift, Beyonce, and Adele have received Grammys. This year, performers like Jay-Z, Rihanna, and Blake Shelton have been nominated.
Tonight, let's talk about 2014 Grammy Awards and why you think music should be celebrated.
Questions for discussion:

What kinds of music and artists do you like to listen to?
What makes certain songs popular?
How you do think giving artists awards helps the music industry?
Have you ever received an award for something you've done?
In her cookbook, The Family Dinner, Laurie David talks about the importance of families making a ritual of sitting down to dinner together, and how family dinners offer a great opportunity for meaningful discussions about the day's news. "Dinner," she says, "is as much about digestible conversation as it is about delicious food."
We couldn't agree more. So HuffPost has joined with Laurie and every Friday afternoon, just in time for dinner, our editors highlight one of the most compelling news stories of the week -- stories that will spark a lively discussion among the whole family.