It's easily lost in the culinary course of dining, from appetizer to dessert, that the restaurant business is just that -- business. For chain restaurants, it is imperative to create a cohesive philosophy that identifies the brand, and makes it well-recognizable to consumers. But sometimes that brand gets diluted or veers off course, in which case,an image makeover becomes necessary.
Mimi's Cafe, established in 1978 as a French-inspired casual dining restaurant, is returning to its roots to solidify its image and recapture some of that market, which has rapidly expanded since its inception. This month, the chain has kicked off a three-restaurant test reboot, titled "Mimi's French Revolution."
Mimi's, a subsidiary of Bob Evans Farms, Inc., has 145 locations in 24 states. Its first location to undergo the revolution is in Valencia, a community of Santa Clarita, in the northwestern part of Los Angeles County.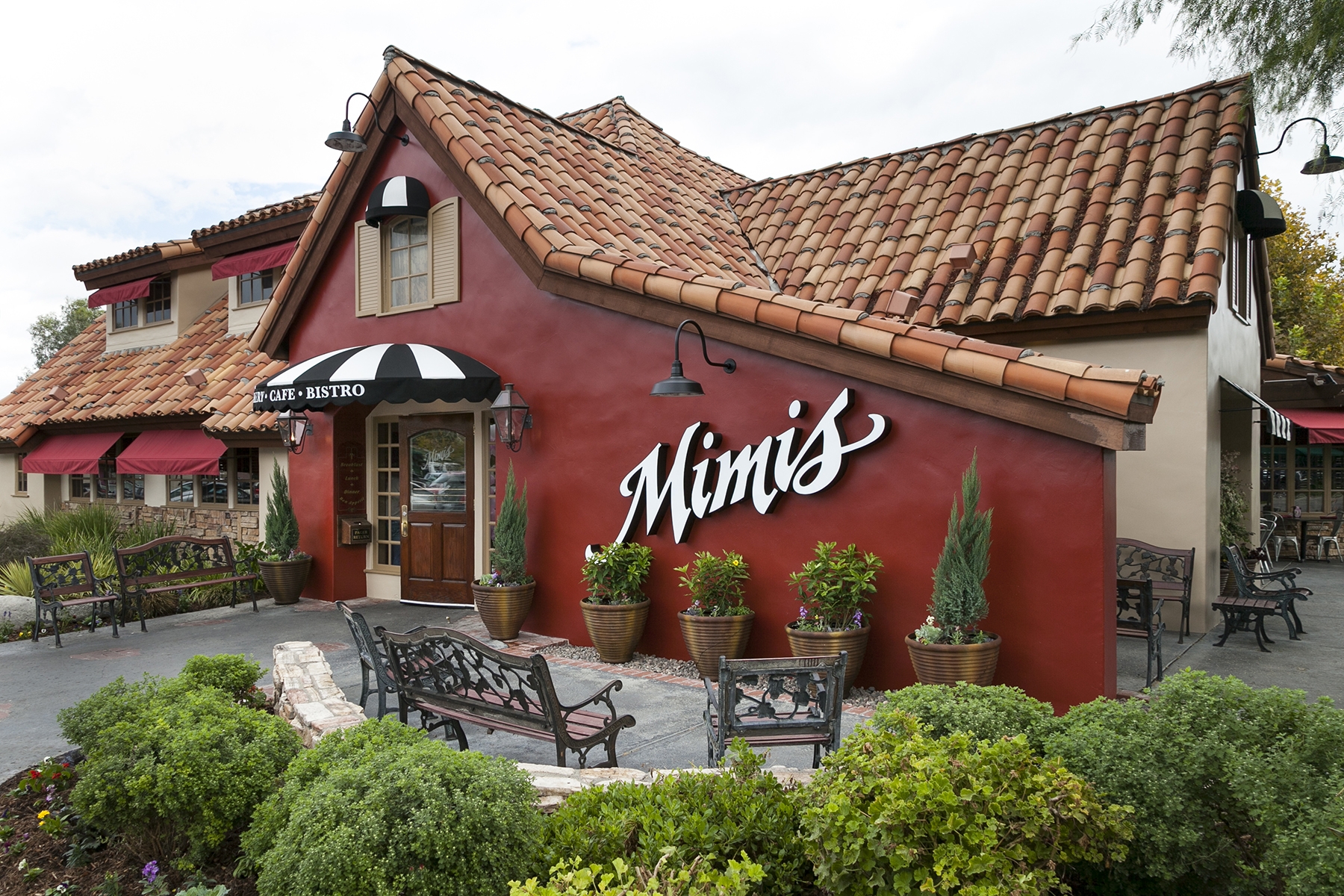 Mimi's Cafe undergoes "Mimi's French Revolution" in Valencia. (Photo courtesy of Mimi's)
I recently sat down with Mark Mears, the company's president and chief concept officer, who was excited to share the fresh new ideas the restaurant is employing. One of those ideas is the launching of a market inside the restaurant, which will offer Mimi's products.
"Mimi's new store-within-a-store business model is the first of its kind within the casual dining category," says Mears.
The concept is similar to what Starbucks does, offering racks of products with the Starbucks label within the store. But Mears points out that Mimi's has uniquely developed the concept for its casual dining establishments.
The store-within-the-store will offer Mimi's own brand of gourmet coffee (they roast their own coffee beans), highlighted by a French Roast blend, along with a wide selection French bakery items like chocolate, almond and butter croissants, French macarons, tarts, and fresh breads such as baguettes, batards, boules and fougasse, and their signature muffins. The front of the restaurant will feature a coffee/pastry counter where baristas will serve made-to-order coffees, including ubiquitous specialty drinks like mochas, lattes, cappuccinos and more.

The redesign includes a coffee station and grab-and-go counter. ( Photo courtesy of Mimi's)
Dennis Lombardi, a restaurant design and development consultant, says that bakery/café is "the fastest growing restaurant segment in the industry, as today's guests are looking for a combination of high-quality food, convenience and value within a unique and memorable dining experience." He adds that Mimi's is "well-positioned to capitalize on this trend."
With a new emphasis on specialty coffees and baked goods, Mimi's is hoping to draw customers from competing stores like Starbucks, as Mears acknowledges. To further that goal, the restaurant has added a carryout section, which offers an assortment of dishes made to order, as well as the new grab-and-go display case, where customers in a hurry can simply choose a freshly made sandwich, soufflé, tartine or other menu item, and get back to their commute.
At the same time that the company is looking to crack into the morning market, it is also expanding its sit-down dining options, attempting to create a more authentic experience for diners by redesigning its layout and revamping the menu to something Mears describes as "more adventurous, more romantic dishes."
"We are essentially going back to our French-inspired roots while offering more relevant ways for our guests to experience what they love about Mimi's," Mears says.

Mimi's President and Chief Concept Officer Mark Mears and Santa Clarita Valley Chamber of Commerce President and CEO Terri K. Crain. (Photo courtesy of Mimi's)
That overhaul includes a handful of French-themed dining rooms for diners to discover "more and different ways of enjoying [Mimi's]." The Garden features high wood-beam ceilings and plants; The Bistro is designed with warm lighting and dark woods for a romantic effect; The Winery includes brick walls and exposed wood beams; The Bar is full-service, with a brief selection of new and world wines; and The Patio is intended to evoke the al fresco dining of a sidewalk café in Paris.
One thing that hasn't changed is Mimi's philanthropic efforts. As part of its "Mimi's Cares Initiative," the company is fighting hunger and helping women and children with its "Hunger in Our Community," "Women's Health & Wellness" and "Children's Health & Wellness," respectively.
Whether Mimi's Cafe's re-branding will be effective will be largely dependent on the success of the three-store test run. Based on the contemporary new on-the-go concept and its cornering of the market on the French-inspired casual dining menu/atmosphere, all signs suggest that the company is responding to diners' needs and desires, and that's a solid formula for success.
CORRECTION: A previous version of this post incorrectly stated that Mimi's Cafe is a franchise restaurant. All Mimi's Cafe locations are company-owned.