 Evin Moore cares a lot about reading. In fact, he cares so much that he used the money he'd been saving for retirement to help start a group that gives free books to kids. That's right: kids who live in Denver, Colorado, can simply sign up on this website, and they'll get popular books like "The Hunger Games" sent to them for free.

We found out about Mr. Moore's organization, Burning Through Pages, when a picture posted on the group's Facebook page went viral. The illustration showed children imagining themselves as characters from books. You can see it here: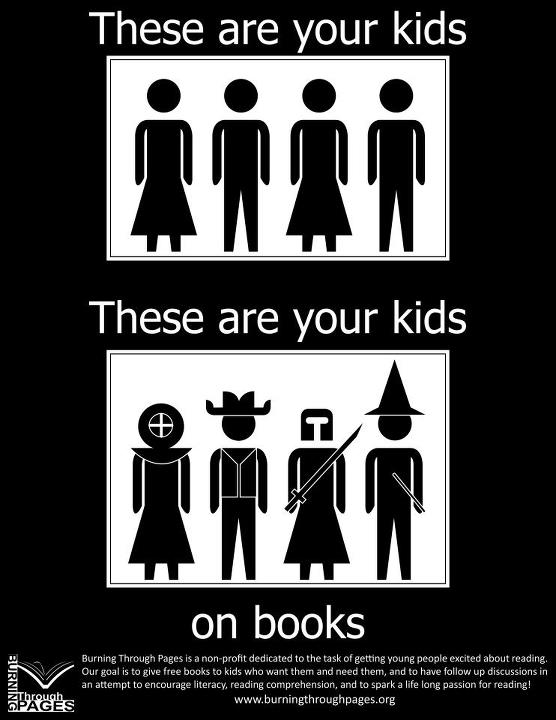 A 2010 study conducted by Scholastic and Harrison Group found that "nine out of ten children say they are more likely to finish books they choose themselves" -- and one of the goals of Burning Through Pages is to get kids to read books they might not normally read in school. As BTP says: "It's not what you read that's important to us, it's that you enjoy whatever it is that keeps you burning through the pages."

Many parents today think their children are spending too much time texting or surfing the Internet, and not enough time reading. The same 2010 Scholastic/Harrison Group study confirmed some parents' fears by reporting that "the time kids spend reading declines while the time kids spend going online ... and using [cell phones] increases." (It also reported that three-quarters of kids aged 9-17 agreed with the statement, "I know I should read more books for fun.")
Boys today do worse on national reading tests compared to their own gender a generation ago. There's no mystery as to why boys have slipped. Boys read significantly less than girls, and less than their dads did when they were kids. Nine out of 10 boys today do not read for pleasure -- at all. As one boy put it: "I'd rather be BURNED AT THE STAKE than read a book!"
There are lots of reasons why reading is important for kids and adults (male and female). Most of all -- as any bookworm can tell you – there's nothing quite like the thrill and excitement of a good story. A truly good book can swallow you up for hours at a time, teaching you about different people, different ways of life – even whole other worlds (like Middle-earth or Narnia). Would Evin Moore from Burning Through Pages have spent his time and money bringing free books to kids in Denver otherwise?
Questions for discussion:

What are your favorite books? What was it about them that you liked so much?
Do you think you should be spending more time reading?
Why is reading for fun important?
Would you ever start or join a book club in your community?
Which books would you recommend for the other people in your family? For your friends?
In her new cookbook, The Family Dinner, Laurie David talks about the importance of families making a ritual of sitting down to dinner together, and how family dinners offer a great opportunity for meaningful discussions about the day's news. "Dinner," she says, "is as much about digestible conversation as it is about delicious food."
We couldn't agree more. So HuffPost has joined with Laurie and every Friday afternoon, just in time for dinner, our editors highlight one of the most compelling news stories of the week -- stories that will spark a lively discussion among the whole family.