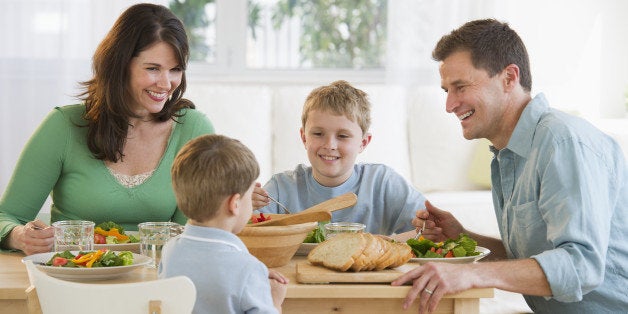 Topic: Why families sit down and eat together
What to say to your kids: Did you sit down to eat a large meal with your family this holiday season? If so, you are not alone. Whether it was for a Hanukkah feast, a Thanksgiving or Christmas dinner, or just a normal supper, sitting with your family for a meal is very common for Americans. According to a recent Gallup poll, on average, 56 percent of families with children under 18 eat dinner together six or seven times a week -- and there's no indication that that number is decreasing.
Tonight, let's talk about why sitting down to dinner with your family is important to you.
Questions for discussion:

Why do you think families want to eat dinner together as opposed to breakfast or lunch?
Do you think holidays encourage or discourage families from sitting down and having a meal together? What's it like in your family?
We've done a lot of Table Talk stories in the past year. What has been your favorite one to talk about?
In her cookbook, The Family Dinner, Laurie David talks about the importance of families making a ritual of sitting down to dinner together, and how family dinners offer a great opportunity for meaningful discussions about the day's news. "Dinner," she says, "is as much about digestible conversation as it is about delicious food."
We couldn't agree more. So HuffPost has joined with Laurie and every Friday afternoon, just in time for dinner, our editors highlight one of the most compelling news stories of the week -- stories that will spark a lively discussion among the whole family.
Related