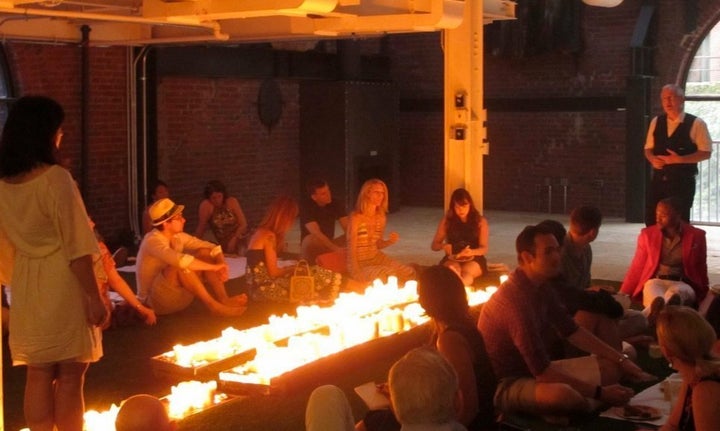 WASHINGTON -- From the outside, there appeared to be nothing special happening Sunday evening inside a simple brick building on Grace Street NW, a narrow thoroughfare off the C&O Canal in Georgetown. The only tip-off to the artsy intellectual soiree gearing up inside was an impeccably dressed gentleman in a red blazer and white pants lingering outside the door.
If you followed him inside, however, you would have discovered an echoing, two-story chamber full of D.C.'s aspiring movers and shakers, style icons and culinary gurus. Like any Sally Quinn dinner party in Georgetown, you had to have an invitation. But this was no Sally Quinn dinner party.
This was the sold-out inaugural event of TableTribes' summer picnic series, which aims to gather the most interesting people in D.C. for celebrations of food, camaraderie and conversation.
Would-be participants in the festivities were invited to apply on the TableTribes website, which prompted them to answer such probing questions as "What would your life taste like as pie?" If issued an invitation, guests paid a ticket fee (in this case, $65) and received an email the night before the event revealing the location.
The Huffington Post snagged an invite and observed the whole spectacle.
Each of the summer events has a theme to steer the course of the dinner conversation. Sunday evening's theme was "Order," and guests were urged to discuss such questions as "What are different ways we navigate through our day-to-day lives here in the U.S.?"
"Are they different from how people in other parts of the world do it?" "Does creativity and innovation flourish or diminish from order?"
PHOTO GALLERY
TableTribes Picnic
The "Order" evening also showcased the talents of JP Caceres, a mustachioed mixologist who, dressed in suspenders, straw hat and Chuck Taylor sneakers, looked like an urban hipster update of Agatha Christie's dapper detective, Hercule Poirot. Caceres' creative cocktails were a highlight of the picnic, as he reeled revelers in with a rosemary-infused grapefruit concoction, and finally sent them home with a fizzy drink mingled with agave flowers –- a known aphrodisiac, he gleefully assured imbibers.
Driven inside by rumors of rain, organizers of Sunday's event created an indoor, imitation lawn of fuzzy green plastic carpeting. In the middle of the faux field, dozens of candles burned in an impressive homage to the humble campfire. Attendees delightedly whipped out iPhones and snapped images until the candles grew too smoky and had to be extinguished. Over the course of three hours and four round of cocktails, "picnickers" peered at one another in the dark, sharing their own ideas on the speakers' perspectives over three hours and four rounds of cocktails.
Hosan Lee, founder of TableTribes and host of the evening, moved between guests.
As guests trickled out toward midnight, some were already anticipating the next event. Though the first picnic had been far from flawless, guests and friends of the host were confident in Lee's ability to keep improving the event. "Hosan's so detail oriented, she'll make it perfect in three weeks," one man declared, taking one last sip of his cocktail before sauntering out into the warm Georgetown night.
The next picnics in the series will take place on July 1 and July 15. For more information or to fill out an application, visit TableTribes.com.
REAL LIFE. REAL NEWS. REAL VOICES.
Help us tell more of the stories that matter from voices that too often remain unheard.