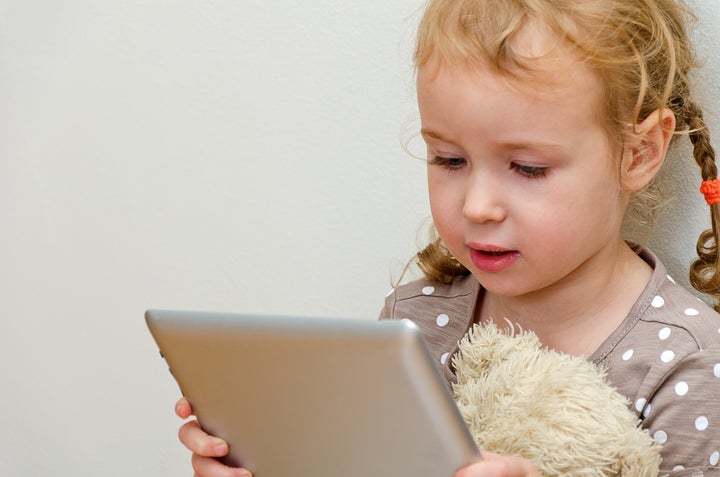 With a new tablet launching what seems to be almost daily, it's no surprise that tablets will be a hot topic of discussion at the upcoming 2013 International CES. In fact, the Consumer Electronics Association (CEA) recently published a study which asked "what do consumers want?" this holiday. Running away with number one -- a tablet. Their direct quote was "8.3 percent said tablets -- light years ahead of "money" (4.8 percent) and "peace and happiness" (4.5 percent)." Not necessarily the way I would rank things personally, but the public has spoken.
What one may find surprising is the fact that the hottest products in the toy industry right now aren't technically toys -- yup, that's right, they're tablets. And I don't mean toy tablets, though early learning devices like LeapFrog's LeapPad2 and VTech's InnoTab 2S certainly have performed well in the preschool category. We're talking real Android 4.0 Ice Cream Sandwich tablets meant for little hands. Reinforcing this trend, our sources tell us, is the amazing fact that the number-one and number-two-selling items at Toys"R"Us this fall were not action figures or plush animals, but kid-focused tablets.
Why is this the case and why does it make sense for toymakers like me to get into the very crowded tablet business?
First, it is important to understand that the toy business is just a segment of the overall kids' entertainment business. It is how kids amuse and engage themselves when they have downtime. As toy manufacturers, we do this in the form of physical products, rather than movies or music, but we entertain nonetheless. To stay relevant, toymakers must evolve to be able to entertain kids in the way that they want to be entertained. Right now, a large share of leisure time is going to tablet time. According to a recent survey released by The NPD Group, there was a strong increase in tablet usage among kids ages four to 14 in 2012 (a 13 percent increase vs. only 3 percent in 2011).
Second, as toymakers, we are experts at understanding what interests kids, and also, what motivates parents. This puts us in a strong position to be able to configure and deliver tablets to the kid/family audience in a compelling way.
Let me add, the tablet market is HUGE. According to CEA, tablet revenues are expected to increase dramatically to $29.2 billion in 2012 (an 83 percent increase), and reach $35.6 billion in 2013. Any time you have a market that big, there is an opportunity to make products that are designed specifically for a segment of the larger audience. For example, our Kurio7 tablet is made for families with kids.
Much of what is driving family tablet purchases today, just like what happened with home computers, is that there is a kid in the household. People buy these items not just because kids ask for them (and anybody with kids can affirm that these are high on the nag factor list), but also because parents feel it is important for their kids to have access to the latest technology so that they can compete in school, and so that they are not at a disadvantage to kids that are exposed to better, newer technology.
However, the issue is that while parents value digital readiness, they often struggle with handing over tablets to their kids with unrestricted access to online content. (Trust me, as a dad with two tween-age daughters, I can tell you the Internet is a scary place!). This void in the marketplace brought tremendous opportunity in 2012, often dubbed the year of the "kids' tablet wars," with the introduction of a new sector of Android tablets complete with parental controls and kid-friendly content.
Looking ahead to 2013 and beyond, the winners in the kids/family tablet space will be the manufacturers that not only deliver quality (Apple has set the bar incredibly high), but those who truly add enough value to make it worth deviating from the total market leaders (Apple, Amazon, and Samsung). In the end, the ultimate winners will be consumers.
I look forward to taking part in the rich discussion on "Kids' Tablets and Second Screen Report" at this year's Kids@Play Summit at 2013 International CES. (Wednesday, January 9, 2013 at the Las Vegas Convention Center, North Hall, N256, from 10:35 to 11:10 a.m. PT).
This blog is part of a series produced by The Huffington Post on the International Consumer Electronics Show (CES 2013), the behemoth consumer-electronics trade show held annually in Las Vegas. To read other pieces in the series, click here. What are your thoughts on CES? We invite you to submit pieces of 500-850 words -- for possible publication in The Huffington Post -- to ces2013@huffingtonpost.com.
Popular in the Community