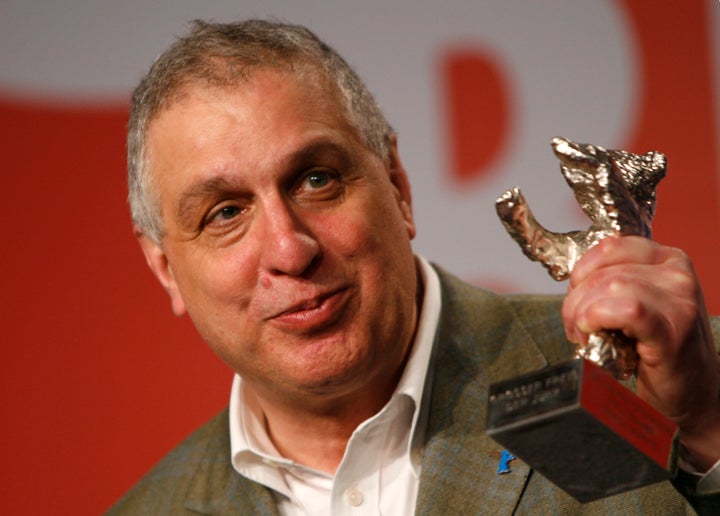 By Sean P. Means
Salt Lake Tribune
(RNS) Not even an Oscar-winning documentary filmmaker like Errol Morris is immune from the allure of a salacious sex scandal.
Morris ("The Fog of War") was reading his newspaper in 2008 and came across an Associated Press story about an American woman who had her pit bull cloned in South Korea.
The last paragraph of the item noted that the woman, Bernann McKinney, might also be Joyce McKinney, who was part of a "sex in chains" story from 30 years ago.
Morris was immediately intrigued.
"What is a tabloid story? A story that usually drags us in," Morris said in an interview from his Cambridge, Mass., office. "It could be a four- or five-word headline, but it makes us want to find out more."
McKinney's lurid and fascinating story -- of the former beauty queen and the Mormon missionary she tied to a bed in an English cottage -- is the basis of Morris' latest documentary, "Tabloid," which opens in select cities on Friday (July 15).
Here are the known events of McKinney's story:
In 1977, Mormon missionary Kirk Anderson went missing in England, reportedly abducted. A few days later, he was free, and told the police he was held against his will in a cottage in Devon, tied to a bed and raped.
McKinney, a former Miss Wyoming World, was arrested and charged with the crime -- though she and an accomplice, Keith May, fled Britain and returned to the United States.
To this day, McKinney opines that she and Anderson were in love and engaged to be married when his family forced him to accept his mission call. She says he went with her willingly to that cottage.
She also argues that it was impossible for her to rape him, using her standard argument, "Did you ever try to shove a marshmallow into a parking meter?"
(Anderson, who now lives in Utah, rejected Morris' requests to be in the film.)
McKinney turned down the filmmaker's first interview request, and he set the story aside. Six months later, after Morris had been offered a series with Showtime about tabloid news stories, he thought "The Case of the Manacled Mormon" would make a good pilot for the series.
"We called Joyce again," Morris said, "and this time she was interested."
Morris interviewed McKinney in a Van Nuys, Calif., studio. Producer Mark Lipson came away calling McKinney "so compelling, so driven."
"Joyce is a natural performer," Lipson said. "Given the opportunity, even casually, Joyce will talk for three hours on the phone."
"Tabloid" largely consists of an extensive interview with McKinney, in which she tells the story of her life. Morris augments her narrative with interviews with one of her accomplices, two reporters who covered the case for a British tabloid and an official from the Korean cloning firm. Morris also interviews Utah gay activist Troy Williams, who explains the pressures the Mormon Church and its belief in premarital chastity might have placed on Anderson's psyche.
"I have this fascination with Joyce -- I think everybody does," said Williams, who produces and hosts "RadioActive" on KRCL, a community radio station.
When Williams served a Mormon mission to England from 1990 to 1992, McKinney's story had taken on the stature of a folk legend -- a cautionary tale "to stay away from immoral thoughts and never leave your companion," Williams said.
McKinney sought out Williams several years ago, seeking to use his show to clear her name. But, Williams said, he never put her on the air because she was determined to talk only about her criticisms of the Mormon church.
The producer says Morris' "Tabloid" isn't a standard documentary or "60 Minutes" segment. "The movie, to my thinking, is as much film noir and B-movie," Lipson said.
Ultimately, Morris said, "Tabloid" isn't just about McKinney's sordid story -- or the way the British tabloids ran with it. It's about the elusive nature of truth.
"There's this idea that people know the truth and are hiding it from you ... and that you (the interviewer) are playing a cat-and-mouse game," Morris said. "There is no 'technique' for finding absolute truth. It's a quest, it's a pursuit, it's an investigation. You try to find things out, you hope to find things out, but you may fall short."
As far as the truth about what happened in Devon in 1977, there's only McKinney's version available. Anderson's not talking, and Keith May, McKinney's accomplice, died in 2004.
"This is not a claim that there is no such thing as truth," Morris said. "On the contrary, there is such a thing. We may not be able to grab ahold of it, but there is such a thing. Something happened in that love cottage."
(Sean P. Means writes for The Salt Lake Tribune.)
Calling all HuffPost superfans!
Sign up for membership to become a founding member and help shape HuffPost's next chapter