I was born in Nigeria, now called Africa's biggest economy, of an American mother whose parents were from Jamaica and Trinidad, and so, the lives of gay people in the former British colonies that are my heritage are typically not discussed, valued or understood with the lens of humanity, realness and frankness. Similar to how mental illness that is dealt with-in Africa, being gay is a taboo, a secret and seen as shame. In this vain, we avoid their humanity.
My life in Nigeria during my growing years had a few lesbians in my high school, they were not open but we all knew who they were. And my college years in the US was really the place to actually spend a good amount of time with gay people, it was too stereotypical, I took art and design classes and they were the least inhibited, dared to go beyond the straight thinkers in the ideas and implementation, and I learned so much from them. And, they were human.
Graduate school was the same, my friend Mikaela, now an architect in Canada, taught me most about the humanness of gay people, and that some days and sometimes, I say today that they are the most real of people I encountered and that straight people are sometimes not. But the most I learnt came during my six years at Parsons with the openly black designer and I would say now, my friend and mentor who I admire and respect deeply, Tony Whitfield. He is the most complicated man who taught me about real directness and truth in all its elements. With high standards, human compassion and sensitivity, he showed me that we are all the same... Human... people. No complications, just real. And I value that lesson.
So, when I saw Taboo Yardies, a film about the persecution of gay Jamaicans, I felt a connection to it in many ways. My heritage is Jamaican through my grandmother; I am Nigerian and my post-colonial country just signed a law against gay people and most personally, Tony Whitfield did a project called Chapel for the Betrayed about gay persecution and a passed bill entitled, "The Anti-Homosexulaity Act 2009″ and the horrific death of Uganda's most prominent gay activist David Kato in Uganda. Each begs the question about our humanity, what kind of world are we if violence and death is a way we see each other?
Selena Blake dares to ask this poignant question about our humanity in Taboo Yardies of her country Jamaica and the rest of the world. Wole Soyinka put the same question on Darfur, "What happens in Darfur becomes an assault on my own community, and on me as an individual. That's what the human family is all about".
Blake's movie is vehicle to talk and dialogue about being gay in Jamaica, the notion of what it means to come from a Christian society and how it treats people, the violence, persecution and death as pa way to "exterminate" people. Yes, I dare say that. What happens in Darfur, Nigeria, Uganda, Brooklyn, and Jamaica strikes at the core of our humanity, and we are all human.
Blake's movie comes from her sensibility to listening carefully. To be a good story teller, you listen to the ground and the message from the drums will direct you; as we Africans would say. Her drums came to her and as a straight black Jamaican immigrant she felt the beats of discrimination and, marginalization of a community, similar but different to being a black woman in America.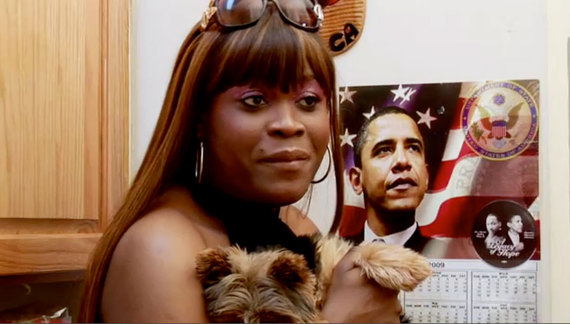 Photo from Taboo Yardies, Photo courtesy MayNov Productions
Taboo Yardies is one of those movies that reminds me of some of the history of ACT-UP, a movement for gay rights and AIDS in the US and the stories I recall from listening to Tony Whitfield. Blake is clear on her role, it's an activist one and a directive to all Jamaicans, first, to deal with this injustice and plight of her community, and to change the local and global conversation of human rights and sexuality. Simply, how can the nation of sunshine and great beaches live with this dichotomy of violence by its community, state and church? What kind of Jamaicans are we in 2014 to allow this to continue?
Taboo Yardies is an insightful documentary film on the pain and human rights violation of Jamaican people that shows that Jamaica is not ready to deal with this human issue. Like Nigeria and Uganda who have used legislation as a weapon, Jamaica's silence and non-action speaks volumes. We are all human.
Taboo Yardies will have a special screening in New York City on May 1st, 2nd, 3rd and 4th at Faison Firehouse Theater, 6 Hancock Place, New York, NY 10027 (at West 124th Street between St. Nicholas & Morningside Avenue).
REAL LIFE. REAL NEWS. REAL VOICES.
Help us tell more of the stories that matter from voices that too often remain unheard.