"Why would anyone ever read a book about abortion?" was the question that floated across my mind as I prepared to send the manuscript for my book, Choice, to my publisher. "Is this really a topic young adults want to read about in their spare time?" Pushing those thoughts away, I concentrated instead on the reason I had written the book to begin with: to make readers think about -- and possibly rethink -- their beliefs on the fraught issue of the right to choose.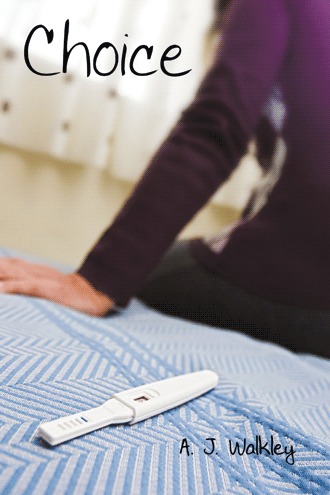 The idea for Choice came to me after a close friend of mine found out she was pregnant while we were both still young enough for the decision that came next to change her life drastically. For her, she did not feel like there was a choice at all -- she would have an abortion, no discussion needed. Putting myself in her position, however, I knew I would not have been able to choose that path as easily or as readily as she had. While I have been pro-choice for as long as I can remember, I did not know what I would do if I had to make that choice for myself.
As a writer, I've always turned to the written word to piece together the ways of the world, and to better understand myself and others. I knew that in this matter, it would be no different -- I would write a book that got to the heart of a decision that polarizes so many of us. To do so, I knew a particular structure would help get across the message best and I split the book into two parts: In the first, our protagonist, high school sophomore Haley Fry, discovers she is pregnant and chooses to abort the pregnancy; in the second half, Haley chooses to carry the pregnancy to term and to keep her child.
Being that teen pregnancy is very much a family affair, affecting every member of the family and not just the pregnant teen, I also chose to write the chapters in the first person from the point-of-views of Haley, her twin sister, Jamie, and both of her parents, Larry and Maggie. I wanted the reader to get a full understanding of how Haley's choice impacts everyone around her, and how each member of the family handles the situation and Haley's decision differently.
While I have never personally been in Haley's position, I feel for her and the countless teens that have to make this choice -- likely one of the most difficult choices they will ever make. I aimed to produce a work of fiction that teens could turn to should they find themselves in Haley's shoes; for parents with pregnant teenagers to find some solace in; as well as a book parents of teens might utilize to speak to their children about the subject, as well as about sex in general.
Despite my own opinions on the subject, I attempted to remain as neutral as possible in my writing of Choice, presenting both the option to abort and to see the pregnancy to term as valid options for a teenager in this position. Readers may get the sense that choosing to abort is the easier route for Haley, but not because of my stance -- because as a teenager, being a mother is extremely difficult. These difficulties and the realities of what being a teen mom are should be considered when discussing this matter.
A book about abortion might not be at the top of most people's reading lists, but should someone be looking for one, there is at least one more source for them to turn to.
REAL LIFE. REAL NEWS. REAL VOICES.
Help us tell more of the stories that matter from voices that too often remain unheard.