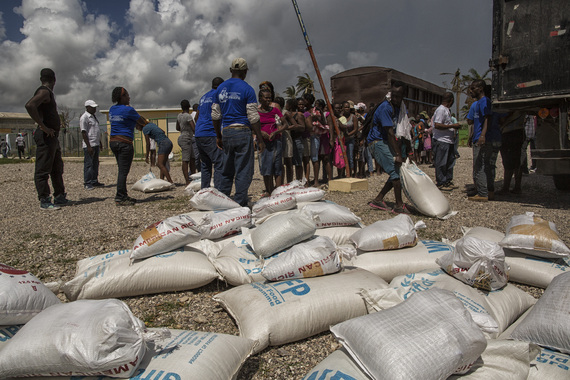 UN-supplied food rations are distributed to residents of Torbek, a commune on the outskirts of Les Cayes, in southern Haiti, that was heavily damaged by Hurricane Matthew in October 2016. UN Photo/ Logan Abassi
The new UN Secretary-General, Mr. António Guterres, has not wasted any time in highlighting the importance of disaster risk reduction for promoting peace and stability.
In his address to the UN General Assembly this week, he spoke about the classic drivers of disaster risk in the 21st century. "The effects of climate change, population growth, rapid urbanization, and environmental degradation are contributing to greater competition for resources, adding to tensions and instability," he said.
In a world where inequality also fuels instability and disasters accentuate the exposure of the weakest and most vulnerable in our societies, the Secretary-General sees prevention of conflict and disasters triggered by man-made and natural hazards as an urgent priority.
It is no coincidence that conflicts predominate in some of the world's most disaster exposed regions where weak institutional capacity to mitigate the impacts of disasters combines with other fragilities to create the conditions for conflict and civil unrest.
The number of weather and climate related disasters has more than doubled over the past forty years. Records for the hottest year on record are being broken every twelve months. Political stability and economic sustainability are put at risk by such events.
Drought has been a key factor in fuelling population movements, poverty and discontent in war-torn countries such as Syria, Yemen and Somalia.
The threat of conflict must be an important consideration in any cost-benefit analysis undertaken on the merits of investing in better preparedness, more resilient infrastructure and stronger institutions which will help reduce loss of life and economic losses from natural hazards and related technological, biological and environmental threats.
Economic losses from disasters deprive low and middle-income countries of much needed resources which could be more usefully spent in areas like quality education and health which are critical to eradicating extreme poverty and ensuring more resilient, productive and peaceful societies.
In an era when humanitarian needs have far outstripped the willingness of donor nations to respond, it makes economic sense to invest in least developed countries where well-resourced programmes designed to reduce disaster risk and adapt to climate change will contribute to long-term peace and stability and reduce the need to respond to future humanitarian crises.
It does not take a great leap of the imagination to understand how the 2015 earthquake in Nepal must have impacted on a country desperately trying to heal the divisions and recover from the losses inflicted by long years of conflict.
Past food crises in Africa and Asia have demonstrated how rising prices combined with floods and drought can lead to civil unrest. Fledgling democracies trying to adopt free market economic policies are considered particularly vulnerable.
The two-year-old Sendai Framework for Disaster Risk Reduction sets out clear targets for reducing lives lost, the numbers of disaster-affected and economic losses from disasters over the next 14 years. The UN General Assembly is expected to adopt indicators for measuring progress on these targets next week.
The Paris Agreement on climate represents universal acceptance of the need to reduce greenhouse gas emissions and to prepare the world, especially least developed countries which contribute little to climate change, to withstand the changes that are already underway.
Links to sustaining peace and eradicating poverty are found throughout the 17 Sustainable Development Goals which place particular emphasis on good governance and strengthening civil society.
These linkages will be given special consideration when the world convenes in Mexico this May for the first time since the initial piece of the 2030 Sustainable Development Agenda - the Sendai Framework - was adopted two years ago in Japan.
The Global Platform for Disaster Risk Reduction will be an opportunity to assess how we are moving from commitment to action and to discuss the challenges of investing in disaster risk reduction to reduce the scale of future humanitarian need.
Disaster risk reduction is not a controversial topic but a concern which crosses political, religious, social and economic divides encouraging people to work together on areas of common concern, sharing resources and best practice.
Adequately resourced, disaster risk reduction promotes civility, civic mindedness and resilience, and therein lies a key element of its potential to boost understanding and contribute to sustainable peace.
* Robert Glasser is the UN Secretary-General's Special Representative for Disaster Risk Reduction and head of the UN Office for Disaster Risk Reduction (UNISDR).
Related
Popular in the Community