 Terrorism is the new reality on the same level as air pollution, climate change and financial decline. Even in peaceful Austria, two teenage girls embarked on a journey to Syria to become brides of fighters and serve Allah through Jihad. Their two mothers are heartbroken, both established middle class women born in Bosnia. Meanwhile they join thousands of parents across Europe, whose children were also driven by the call to Syria. As the parents try to come to terms with the individual choices of their adolescents, they wonder, as well as security agencies, how they will have changed when they return, if they survive this adventure at all. There is a possibility of personal trauma but also they might bring terror back to their homelands.
In Nigeria, the fate of the abducted Nigerian girls has gripped at our hearts. Shockingly, nothing much seems to have happened. Although there is super technology that tracks terror outfits in distant Yemen and Swat valley, technology fails us to find this group young girls - and their desperate parents must trudge alone into the woods armed only with slings and arrows. There is certainly a global disconnect in attitude and determination. All of a sudden, terrorism is not only about bombing landmark buildings or popular public spaces - these actions are sending a clearer message. Terrorists are fighting education, women's rights, fighting in the deepest sense the fabric of all humanity. There is an undeclared war raging across countries in the already most volatile regions of the world. And we in the West might not be spared in the long run. Still we seem to be paralyzed to find the right response; we are bystanders watching a horror evolve in front of our eyes.
Returning from Zanzibar, the island off the coast of Tanzania in East Africa, I find the signs on the wall again. In a nutshell on this small island of 1.2 million people where the majority are under 25 and unemployed - the figures and sources vary - but we don't talk about the 20% unemployment that we sadly got used to in Europe - here we have a margin of 20% of the population actually employed! The political transitional process there is setting the stage and providing the excuse for this segment of society without hope to be used by ideologists. Decades of peaceful coexistence of the Muslim majority with the 3% Christian minority has only recently spiraled downwards expressed by burning churches, killing a priest and disfiguring an imam by acid attacks to name a few.
The Zanzibaris were shocked to see their youths take to the streets of Stone Town where they were shouting slogans of hatred and set car tires on fire in a march led by UAMSHO, meaning the Awakening. They indeed woke up the ghosts of intolerance, otherising and religious divisions. In such critical times, these are moments when everything can go out of balance and certain radical leaders are on standby. One local witness says that when you google Zanzibar, it's all about the danger of Al-Shabaab and the acid attacks on two English girls and there is no longer the smell of cinnamon and cloves in the air but rather fear and resentment.
Zanzibar is clearly showing the cracks, but it is still in a state where prevention is possible. We can't let the violent extremist hijack the local narrative. Like everywhere in Africa and beyond they are still a minority. This is the entry point to build up the resilience in mainstream society and encourage the strength to stand up and say: 'No, your agenda is not our agenda'.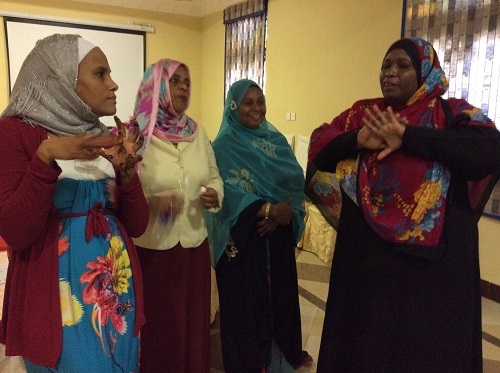 This strategy must be done on several levels and we need to look at the first line of defense which are the families and particularly the mothers. The home is the place where the excitement and frustrations of the adolescents can be dealt with and channeled. This is the only safe place where early warning signs can be addressed and responded to in an empathetic and constructive way. Such emotional grounding provides the basis for understanding 'the other' in any context and if youth cannot explore and express their negative emotions and needs at home they will find other less safe outlets. We need to expand the definition of nurturing and security in this case, with new experts being mothers, as well as fathers of course, trained with the skills and tools to intervene and interact on the emotional plane.
The potential power of civil society partnership and intervention is recognized at the highest level. In the UK, the national coordinator for counter terrorism policing, Helen Ball is addressing Muslim mothers to share their concerns about their children, if they feel that they are being lured by the call to Syria, after so many deaths of young men. The emotional intelligence of mothers to recognize the early warning signs in their children is used here for prevention. All these efforts are in the right direction and proper implementation, support and substantive funding must follow.
I remember very well, the heated discussion around the start of the wars in Afghanistan and Iraq. The argument that always came up was that any other approach takes too long, the problems need to be fixed at the earliest and so any other alternatives were off the table. Hardware has been tested since then for over a decade, billions of cash flowed into troops, logistics and arms and certainly important efforts in building up stability in some areas resulted. Still, the de-stabilizing forces have the upper hand and unusual diplomatic approaches dealing with the devil have not produced success. The medieval style treatment of women from household slavery to public execution has justified the interventions and quietened the voices of doubt. With due respect to all the women's gains in all the countries in crisis and transition, they are hanging by a thread and women are still bargaining chips. While Taliban are courted to join the local and international tables, women's absence from these same tables should ring alarm bells.
In Zanzibar for example, the constitution issue is burning, the referendum concerning the unity with the mainland are pending and this is all fueling radicalization. As worrisome as this is, this political opportunity is the perfect prevent scenario and women need to be part of it. They need to bring their voice and concerns to the fore. They need to be active in their families and communities to build resilience and create alternatives to external influences, which might lure them into divisive directions. Given their unique perspective and position in the heart of their communities, their expertise needs to be recognized and used across all levels of society both formal and informal.
This is about humanity now, it is time to stand up and defend our fabric of life. If half of humanity is left behind and left out, it won't work.
Schlaffer created the global SAVE (Sisters Against Violent Extremism) campaign -- the first female counter terrorism platform. Women's eNews included her as one of the '21 Leaders for the 21st Century', and she was named one of Newsweeks' 150 Movers and Shakers. www.women-without-borders.org
REAL LIFE. REAL NEWS. REAL VOICES.
Help us tell more of the stories that matter from voices that too often remain unheard.