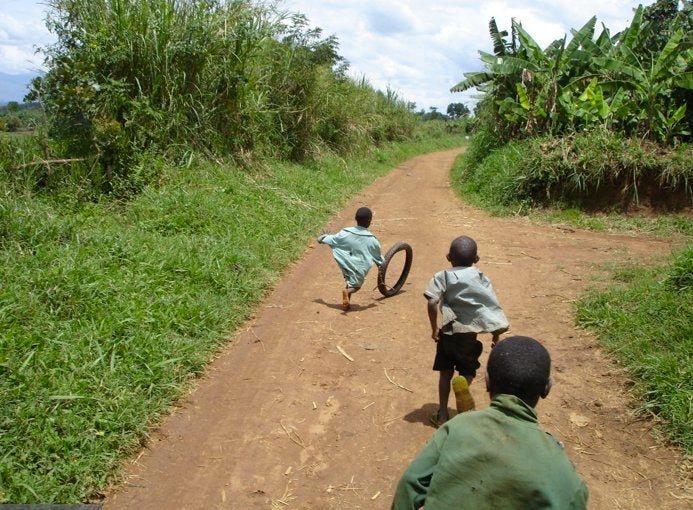 Today, Ghana's President John Mahama, UK Secretary of State Andrew Mitchell and I travelled to northern Ghana to announce a new five-year development program for one of the poorest regions of West Africa. Our hope is that through public leadership, community participation, cutting-edge technologies, and private investments, the region will slash poverty, hunger and disease and begin to achieve high and sustained economic growth.

Poverty reduction has entered a new era. Mobile phones and wireless broadband enable new models of business development and service delivery. New methods of prevention, diagnosis and treatment are controlling ancient scourges such as malaria.
Improved agriculture technologies can double or even triple the yields of subsistence farmers from one season to the next. And solar power at falling costs can bring off-grid electricity where there was only kerosene before.
The northern region is impoverished, considerably poorer than the areas of Ghana closer to the coast. It is further from the ports, lacking in key infrastructure, vulnerable to a range of tropical diseases and subject to alternating jolts of droughts and floods. The Government of Ghana has therefore prioritized the region for development by bringing in new technologies and investments.
A generation ago, regions like northern Ghana were typically left to their fate and that fate was marginalization.
The great Scottish philosopher and economist Adam Smith observed in 1776 in The Wealth of Nations that development typically begins at the coast and "it is frequently not till a long time after that those improvements extend themselves to the inland parts of the country."
Yet in 2012, we don't need to wait "a long time after." Wireless broadband, off-grid renewable electricity, and other advances in technology enable business to develop in isolated regions that were economically inaccessible just a short time ago. Online banking, libraries, school curricula, business networks, government services, and health care are already taking hold.
The MVP has been working for six years in such places in a dozen African countries. Villages have experienced tremendous gains in food production and sharp reductions in child mortality rates in that short period of time. New and exciting businesses are springing up in sites across the project.
When the project began, there were very few phones, neither landlines nor mobiles, in most of rural Africa. Today, thanks to private-sector investments, mobile phones are almost everywhere in rural Africa and, with them, countless business innovations in banking, payments, logistics and service delivery.
Other new technologies are spreading almost as fast through public-private partnerships. Until recently, the fight against malaria was hampered on several fronts: bed nets needed periodic re-treatments with insecticide that villagers could not afford; the first-line anti-malaria medicines were losing to parasite resistance; and diagnosis required laboratories that were few and far between.
But in just one decade all that has changed: insecticide-treated nets now last five years; new first-line medicines are highly effective; and diagnoses are now carried out by low-cost rapid tests that can be conducted by village workers in their community.
Donor funding by the UK, US, and others, new organizations like the Global Fund to Fight AIDS, TB, and Malaria, and the efforts of companies such as drug-manufacturer Novartis and bed-net maker Sumitomo Chemical, have enabled the scaling-up of the new technologies to tens of millions of households.
Up to a decade ago, "integrated rural development" had seemed to many practitioners to be too complicated to manage. Despite what may have been true then, the new information technologies and delivery models have changed all of that.
With greatly improved information systems, real-time data collection, online data and training and improvements in how services are delivered, communities can successfully introduce and manage several improvements at once. These improvements include - but are not limited to - agriculture, health, education, water and sanitation, electrification, IT connectivity, and business development.
Even remote rural areas like northern Ghana can now more effectively join national and international supply chains in agribusiness, using improved logistics, online payments systems, and greatly improved quality control.
This integrated approach allows for achieving objectives in a more holistic way than in the past. School performance can improve not only because the schools are better but also because the children are healthier. Hunger can be reduced not only because bouts of disease are cut but also because local farming productivity and therefore nutrition are improved. And the utilization of family planning services can be dramatically increased through a combination of outreach using trained community health workers, women's empowerment, improved child survival, and higher income-earning opportunities in agribusiness for women.
In such complex development programs nothing can -- or should -- be taken for granted. The northern Ghana site will be closely monitored for progress and shortfalls by the project itself. In addition, an independent and robust evaluation of the MVP in northern Ghana will be carried out by DFID, and will provide further evidence on the impact and cost effectiveness of the MVP approach to rural development.
It's very important to learn what works and to scale up the successful approaches. It's very important to see how climate change and other challenges on the development agenda are impacting vulnerable communities. We, and the world, will observe closely the developments in the new Millennium Village Project in northern Ghana. We will no doubt observe many creative new ways that local communities, private businesses, the national government, and civil society are fighting extreme poverty and accelerating progress towards the Millennium Development Goals.
Popular in the Community