What do you buy if you are hungry, impoverished, and only have $1 in your pocket? You can buy a delectable (and unhealthy) double-cheeseburger at many fast food restaurants. People the nation over, especially during our economic downturn, are buying the short-term caloric gain of the double-cheeseburger, to the detriment of their long-term health.
This simple act, repeated one way or another millions of times every day, is part of the reason that food is at the forefront of health care, energy, economic stability, and even national security.
Michelle Obama has said no to 'food deserts' or urban wastelands without access to adequate groceries and not surprisingly buffeted with plenty of fast food options, which are causing detrimental problems to cities' urban populations-- populations that have been abandoned by major supermarket chains.
Yet, the rising cost of nutritious food--which is linked to rising energy prices, the weakening dollar, crop failure from more frequent weather aberrations, and produce recalls due to increased instances of pathogen outbreaks--has lead to severe implications for the most fundamental of human necessities: our ability to eat adequately, safely, and nutritiously at an affordable cost.
In San Francisco, a staggering 150,000 people--20% of the city's population--forego food in order to pay their bills. The San Francisco Food Bank estimates the situation is direr for kids and the elderly of this high-rent city: 1 in 4 children and 1 in 4 seniors do not have sufficient food to meet their daily nutritional needs.
San Francisco is not alone in their hunger crisis. According to Portland, Oregon Mayor Sam Adams, his city has one of the highest populations of hungry and malnourished citizens anywhere in the nation. As a clear sign of our economic woes, food banks in this country are witnessing a 30% increase in the demand for food assistance.
Thankfully, elected leaders like Mayor Adams are not waiting for food retailers or Capitol Hill. In a show of self-reliance, local leaders are taking command, and turning to under-utilized, but arable public space in their city to grow fresh produce for the people who need it most. Portland's Parks and Recreation staff is planting fruit-tree orchards in neighborhood parks. City planners in Provo, Utah grow potatoes, peppers, beans, cucumbers, pumpkins, and melons in raised brick planters at City Hall.
Volunteers and state legislators in Montpelier, Vermont test their green thumbs on the Statehouse lawn. Beets, chard, kale, and lettuces make an attractive--and edible--landscape border. In Baltimore, Master Gardeners volunteer their time to grow some of the biggest and best chard, cabbage, and collard greens citizens have seen. And the harvests from these three communities' innovative public gardens are donated to their respective food banks and food pantries.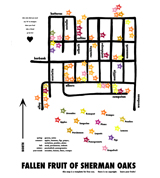 In Los Angeles, community activism is behind the Fallen Fruit program which aims to create a community of collaboration and shared wealth through public fruit trees. The group has created neighborhood maps of fruit trees that the community can legally pick and eat under the municipal's usufruct law. They ask others to map fruit in their own neighborhoods and add them to pre-existing maps, thus weaving a fruit fabric that will cover the entire country and eventually the world.
What we are just beginning to witness in this country is a paradigmatic shift in public food policy. It is not being initiated by central government, but by a local one. This unique brand of urban agriculture--what can more descriptively be termed "municipal agriculture"--is promising to restore individual and community health, to the benefit of our cities, and to the benefit of our nation.
There lays much work ahead to realize a hunger-free America where food deserts have been transformed into food oases. The road to food reform is long, indeed. The recent actions of many local government officials, however, illuminate a fundamental truth: that for any great movement, the seeds of change are first sown at home.
Related
Popular in the Community