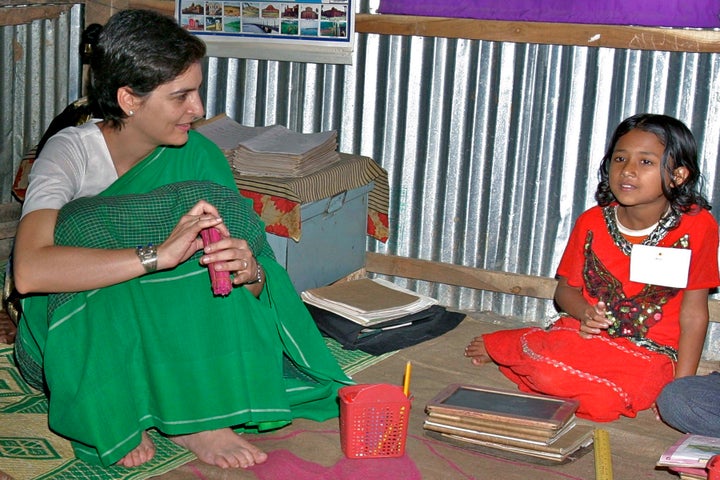 The same question was asked at the recent 40th anniversary celebration of BRAC, the astounding development success story from Bangladesh. BRAC, which is by most measures the largest (and many say the most effective) nonprofit organization in the world, gathered some of its development workers from 16 countries to learn from one another about strategies to empower young people.
I believe the world can learn a lot from Bangladesh. Each time I return, I can't help but notice the country's remarkable resilience. Despite so many challenges, a nation once famously written off as a "basket case" has made astounding gains in nearly every development indicator. Rates of maternal and child mortality have dropped to one quarter what they were 40 years ago, and where the average mother used to bear six children, the number is now closer to two. As BRAC's founder, Sir Fazle Hasan Abed, points out, "The progress we have made is the envy of most of the developing nations in South Asia and beyond."
But what stands out today, with persistent joblessness a concern everywhere from Detroit to Dar es Salaam, is Bangladesh's knack for creating new job opportunities for the poor. I am more convinced than ever that while talent is equally distributed around the world, opportunity is not. Creating more and better opportunity for all - but especially for teenage girls, the most likely change agents for poor countries - is the challenge of our times.
Pushing for improvements in access and quality in school systems is essential. For too many of the world's poor, there's sadly no joy in learning. Rote memorization is still the order of the day, and schools routinely fail to prepare students for the real-life challenges they'll inevitably face. "Unfortunately, public education systems in most developing countries are unfit and unsuited to prepare our youth for the 21st century knowledge society that we must aspire to," Sir Fazle said in an address presented at the 40th anniversary celebrations. "Outdated approaches to teaching must give way to new techniques that teach our children not to memorize texts, but to think critically and solve problems creatively. We must give greater thought and direct greater resources towards early childhood development and social and emotional learning."
Schools in poor countries need to take on board Daniel Goleman's pioneering work on social and emotional intelligence, by now well accepted in corporate workplaces and leadership training. These so-called "soft" skills are critical to successful employment, especially in places where people have to create jobs for themselves. In poor countries especially, schools need to help create a culture of entrepreneurship, one of the most important pathways out of poverty. It's not enough to address unemployment with trickle-down solutions to joblessness. The countries of sub-Saharan Africa, for instance, cannot afford to wait for jobs to come from factories or big enterprises. Employment needs to start bubbling up from the bottom, with enterprising people creating jobs for themselves and others armed with essential life skills such as an entrepreneurial mindset, creative thinking and adaptive planning.
As the world's largest secular, private education provider, BRAC uses a model that instills a joy for learning -- a joy that doesn't end at graduation. Anyone stepping into one of BRAC's 36,000 schoolhouses immediately feels the difference, be it in Bangladesh, Uganda or Afghanistan. Sitting on mats on the ground, their colored pencils ready at hand, these underprivileged students are clearly here because they want to be here. They learn life skills by teamwork, singing and dancing. Many are the children of farmers, cleaners and day laborers; they all missed out on a chance at mainstream schooling due to poverty, displacement or violence. The graduates of these "second chance" schools, now numbering 5 million students and counting, usually go on to thrive in public school systems.
It's a learning process that extends well into adolescence and adulthood. To tackle the global jobs crisis head-on, we need to work on the entire "educational value chain." Affordable and relevant basic primary education is the starting point, but the process continues with livelihood training for young adults from poor backgrounds. This needs to go beyond teaching for one particular vocation, by training future entrepreneurs how to understand trends and spot economic opportunities wherever they may arise.
BRAC and The MasterCard Foundation are using such an approach in partnership in Uganda: joyful learning in primary schools, and as students grow older, the instilling of an entrepreneurial mindset and the social and emotional intelligence needed to adapt to inevitably difficult situations. Combined with knowledge about sexual and reproductive health, financial literacy and access to microfinance, it's a powerful package that can give young women and families a boost up the economic ladder and put them on a better track. Education and livelihood development multiply the impact of microfinance.
The approach has taken off: BRAC has grown quickly since its local launch in 2006 to become Uganda's largest nongovernmental organization. Today 1,900 employees and some 5,000 BRAC-branded self-employed entrepreneurs touch the lives of 2 million Ugandans including some 148,000 micro-entrepreneurs, a majority female.
We often hear about Africa's "youth bulge" as though it's a harbinger of an even more troubled future for the continent. But let's start looking at the youth bulge as an opportunity, rather than problem. Let's think of the young as assets, not liabilities, and as job creators and entrepreneurs, not job seekers. Finally, let's ensure the poor have access to education and opportunity in the broadest sense, which includes life skills, livelihood training, empowerment - and, yes, a bit of joy as well.
REAL LIFE. REAL NEWS. REAL VOICES.
Help us tell more of the stories that matter from voices that too often remain unheard.