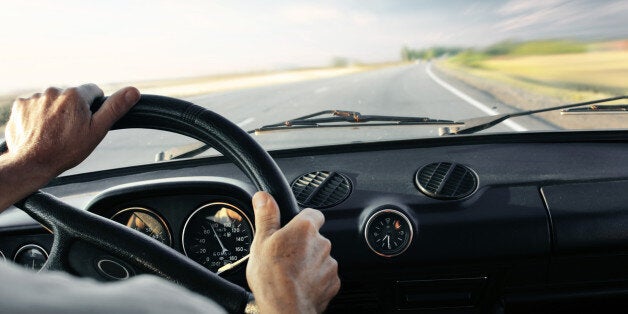 Look up the definition of the word pandemic in any dictionary and you will find an entry that describes a disease or condition causing mass suffering on a national, international or, at its most terrifying, on a global scale.
The prospect of such an event, a condition that would decimate communities, irrevocably affect the lives of millions and create seismic economic repercussions that deeply impact the progress and aspirations of entire nations, is simply horrifying.
How sad, then, that this is a condition we almost unwittingly continue to live with each and every day, in which we are all in some way complicit -- yet which we know how to cure.
I am talking about deaths and injuries from road traffic crashes. Every year on the world's roads almost 1.3 million people die. According to the World Health Organization, road traffic accidents are now the eighth leading cause of death globally, and the leading cause of death among young people aged 15-29 years.
Even more alarmingly, over 186,000 children die globally each year from road crashes -- that's more than 500 children every day, one every three minutes.
And yet, in the vast majority of cases, these tragic deaths, which in our desire for access to mobility we somehow translate into "acceptable losses", will on any given day barely merit a brief news snippet, in these pages.
This is a situation that, along with many others around the world, I am determined to address.
It's time for global action.
Great strides have already been taken to arrest the spread of this plague. In 2011 the United Nations, in recognition of the crisis we are living through, launched a Decade of Action for Road Safety, the goal of which is to save 5 million lives on the world's roads by 2020. Huge efforts have been made to bring this issue to the top of the global political agenda and the road safety community has had success -- but not enough.
The simple fact is that the figures for road deaths are increasing and as the Decade of Action reaches its midpoint we are in danger of missing the ambitious targets we have set to halt this pandemic.
Recognizing this, UN Secretary General Ban Ki-moon recently decided that the mission required renewed focus and in addressing this he bestowed upon me the great honor of becoming his Special Envoy for Road Safety.
For me, this is an enormous responsibility but also a tremendous opportunity. For the past five years, in my role as president of the FIA, I have made road safety a guiding priority of the organization and in a bid to present road safety as one of the major health and development issues of our time, I have travelled around the world meet heads of state, government departments and development organizations.
During that time, the one thing brought home to me on countless occasions is that to effectively press for change on a worldwide scale requires us to speak from a global platform.
I believe that coordinating the construction of this global platform is what the role of Special Envoy was created to achieve. This post can act as a catalyst for change, creating a focal point in terms of mobilizing the road safety community, world leaders and governments to fight for safer roads, safer vehicles and better driving rules.
Step 1: Gathering political will across the world
The tools to achieve all this are already at hand. Over the past decades, under the auspices of UNECE, the United Nations has developed 58 conventions and agreements in relation to international transport. Many of them govern a huge variety of road safety areas, such as traffic rules, the standardization of road signs and signals as well as vehicle standards.
These legal instruments are in place: we know how to build safer vehicles; we know how to build safe roads; we know the benefits of advanced and consistent traffic rules and road signs in making people use roads safer still. Yet there remain nations and regions that have not adopted these instruments. If we could get these instituted and correctly policed on a global footing we would see a dramatic improvement in road safety in the most crucial areas of the globe -- the low- and middle-income countries where a staggering 91 percent of worldwide road deaths occur.
Engendering the political will to act in those who believe that inaction is more cost effective will be key. It is a task I accept with relish for the simple fact that the effects of road traffic accidents have a huge impact on the economic wellbeing of nations, with between 1-3 percent of GDP of some countries lost annually.
If we can convince governments to spend a little to deal with the symptoms of this disease, we would save a lot -- in financial, but most importantly in human terms. The vote of the Sustainable Development goals during the UN's General Assembly will be a new crucial landmark in the implementation of a global platform to foster road safety. The SDGs should thus implement road safety targets in the global development agenda for the first time.
Step 2: Creating innovative, effective financing models
There is an urgent need to radically increase funding for road safety and we need to do more to encourage the private sector to make a substantial commitment. To that end I will be bringing together a panel of experts from a variety of fields to formulate new mechanisms by which we can create the funding needed.
We need to look beyond established, sometimes obsolete and ineffective models and be open and flexible to explore new ways of financing. One idea I have called for, along with the road safety community, is the establishment of a financing mechanism based on the model of UNITAID and the contribution from plane tickets. This would take the form of marginal contribution on sales related to the automotive sector.
Such a mechanism could rapidly generate extensive funding, which could then be poured into a global UN Fund for Road Safety to help developing countries face the challenges of road safety.
These are long-term goals and they will be hard won -- through advocacy at the highest levels, through lobbying at international, national and local level, through the development of better funding mechanisms and through a constant conviction that change can be brought out if we speak loudly enough and with one voice, pressuring those who would continue to relegate this global scourge to the realm of acceptable and affordable losses to look beyond the news in brief and to recognize the pandemic on their doorstep.
Popular in the Community