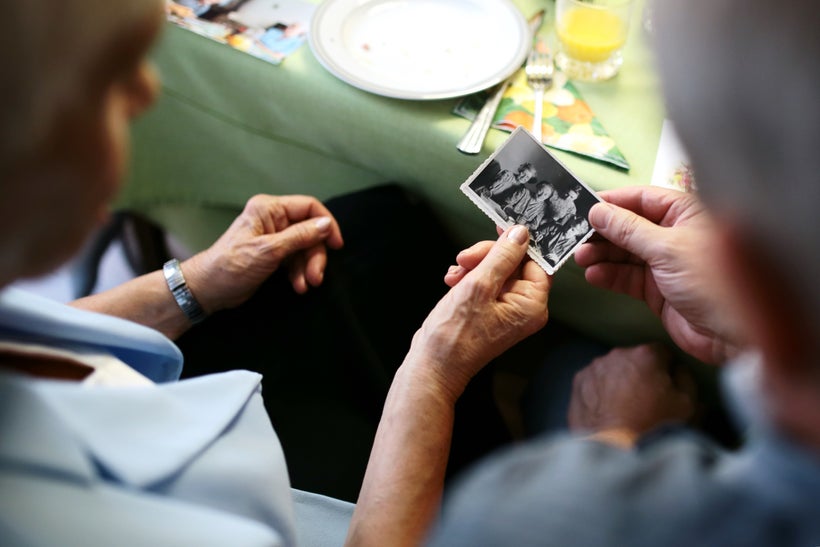 Caring for someone with Alzheimer's disease creates profound life changes, requiring the caregiver to establish a new relationship with the person with dementia. Most caregivers will encounter seemingly overwhelming challenges - whether it's managing difficult behaviors, feeling socially isolated or managing difficult emotions. It's important to explore various strategies to make you and your loved one feel more comfortable as you travel together on the Alzheimer's journey.
In my new role as the Director of Family and Community Services at Banner Alzheimer's Institute, I assist people with Alzheimer's and related dementias and their care partners find success and discover joy as they navigate their day-to-day struggles. In honor of National Family Caregiver's Month this November, I wanted to share three of the common caregiver challenges, and some strategies to manage.
Caregiver Challenge #1: Managing Behavioral Changes
People with dementia often lose the basic ability to communicate conventionally, and instead behaviors become a primary mode of communication. Sometimes, these difficult behaviors or actions are meant to convey an urgent but unmet need. As caregivers, when we see behavioral changes, we have to consider what triggered it and figure out what we can do to minimize that trigger. Here are some examples:
If providing hands-on care is causing your person to resist (for example, refusing help in taking a bath), they may feel their privacy is being invaded. Rather than ask a yes-or-no question like "Would you like to take a bath?" instead shift your language to, "It's time to freshen up." Think about keeping the person partially covered with a towel and think about their preferences for bathing. If the person is distressed don't force the activity, instead try another day or time of day.
Remember pain can trigger behavioral changes. For example, if your person is particularly irritable in the morning, consider he/she might be experiencing arthritic pain when getting out of bed. This pain could be lessened with Tylenol first thing in the morning. Consult with a medical provider if you suspect pain as an underlying cause of difficult behavior.
Keep in mind, any time you change the person's environment, there is likely to be an increase in behavioral disturbance. People with dementia require structure and consistency. If your person seems upset, try to remove unnecessary stimuli, such as the TV, provide pleasurable activities and be sure to offer more periods of rest.
Caregiver Challenge #2: Lack of Caregiver Support
As a person with Alzheimer's progresses through the disease, caregivers often find themselves becoming more isolated and withdrawing from social situations. Therefore, as caregiving responsibilities increase, it is vitally important to have a strong support system to offer respite and emotional support. This is especially true for caregivers who have relied on emotional support from the person with dementia, who may no longer be capable of providing that reciprocity. Here are three tips for staying connected and getting the help you need:
Modify existing social situations to make them more manageable for the person with dementia as it is important for both of you to stay involved socially. However, social situations that may have been comfortable in the past, like a large dinner party may be overwhelming for your person. Instead, try inviting a smaller group for lunch out at a quiet restaurant.
Look to family and friends for additional support and assistance. When family or friends offer to help, identify a specific way they can contribute. It could be as simple as having them pick up groceries for you once a week or playing cards with your loved one with dementia for a few hours while you take a much needed break.
Consider new a support system through a caregiver support group. Talking to people who can relate to what you're going through can be very satisfying, and may lead to building new friendships outside of the support setting. Spiritual leaders and professional counselors can also offer therapeutic support to help you cope.
Caregiver Challenge #3: Managing Guilt
Many caregivers feel guilty if they take a break from caregiving and worry that their person will be unhappy. It is important to recognize that respite is critical and there are solutions. Here are a couple things to remember:
First, it is important to adjust your mindset around the disease and think about letting go of your previous expectations of how things used to be. Try to understand that the cause of your changed relationship is the dementia, Recognize that there will be grieving along the way and remember to take it easy on yourself.
You may feel guilty taking breaks—but it is important to recognize that taking respite is required for your own health and well-being, and not doing so can raise your own risk of illness or death. Besides, taking breaks allows you to recharge and be a more effective caregiver.
Many care partners feel guilty seeking outside help from a professional caregiver or adult day program, because they are afraid their person won't be receptive.Often how we present the change makes the difference. Consider presenting a new caregiver as an "assistant" or an adult day program as a "club" or "volunteer" opportunity. When initiating the change, plan to be there on the first day to help your person transition, and to help staff get to know your person's preferences At times, the person with dementia may report they don't like the program or are unhappy, but check in with the staff who may notice that once the person gets settled into an activity and is engaged and distracted, they may actually be enjoying themselves.
For more caregiver tips and support during National Family Caregiver's Month, follow the Alzheimer's Prevention Initiative's Facebook page. Additionally, for more information on prevention research, Alzheimer's news, and brain health tips join the Alzheimer's Prevention Registry: www.endALZnow.org.
REAL LIFE. REAL NEWS. REAL VOICES.
Help us tell more of the stories that matter from voices that too often remain unheard.
This post was published on the now-closed HuffPost Contributor platform. Contributors control their own work and posted freely to our site. If you need to flag this entry as abusive,
send us an email
.