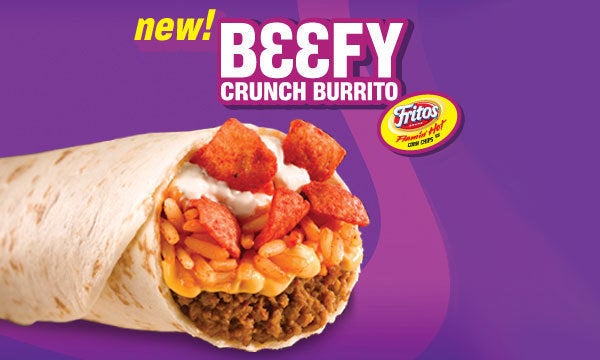 UPDATE, 1/25/11: Taco Bell has fired back at a lawsuit alleging that their taco meat filling cannot legally be referred to as "beef." Scroll down for their response.
The Associated Press reports:
MONTGOMERY, Ala. — An Alabama law firm claims in a lawsuit that Taco Bell is using false advertising when it refers to using "seasoned ground beef" or "seasoned beef" in its products.

The meat mixture sold by Taco Bell restaurants contains binders and extenders and does not meet the minimum requirements set by the U.S. Department of Agriculture to be labeled as "beef," according to the legal complaint.

The class-action lawsuit was filed Friday in federal court in the Central District of California by the Montgomery law firm Beasley, Allen, Crow, Methvin, Portis & Miles.

Attorney Dee Miles said attorneys had Taco Bell's "meat mixture" tested and found it contained less that 35 percent beef.

The lawsuit on behalf of Taco Bell customer and California resident Amanda Obney does not seek monetary damages, but asks the court to order Taco Bell to be honest in its advertising.

"We are asking that they stop saying that they are selling beef," Miles said.

Irvine, Calif.-based Taco Bell spokesman Rob Poetsch (PAYCH) said the company denies that its advertising is misleading.

"Taco Bell prides itself on serving high quality Mexican inspired food with great value. We're happy that the millions of customers we serve every week agree," Poetsch said. He said the company would "vigorously defend the suit."

The lawsuit says that Taco Bell's "seasoned beef" contains other ingredients, including water, wheat oats, soy lecithin, maltodrextrin, anti-dusting agent and modified corn starch.
In an official statement from Taco Bell, its President and Chief Concept Officer Greg Creed fires back at the suit's lawyers, saying they "elected to sue first and ask questions later -- and got their 'facts' absolutely wrong." Moreover, Taco Bell says they plan to pursue legal remedies for false statements made about their food, emanating from the lawsuit. Taco Bell's official statement:
"At Taco Bell, we buy our beef from the same trusted brands you find in the supermarket, like Tyson Foods. We start with 100 percent USDA-inspected beef. Then we simmer it in our proprietary blend of seasonings and spices to give our seasoned beef its signature Taco Bell taste and texture. We are proud of the quality of our beef and identify all the seasoning and spice ingredients on our website. Unfortunately, the lawyers in this case elected to sue first and ask questions later -- and got their "facts" absolutely wrong. We plan to take legal action for the false statements being made about our food."

Greg CreedPresident and Chief Concept OfficerTaco Bell Corp.
Popular in the Community