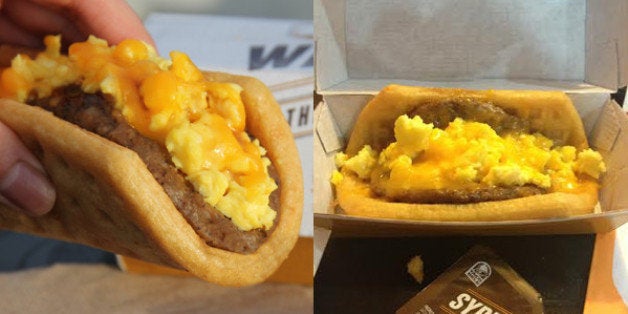 Taco Bell's breakfast menu won't do well in its New York market.
We say this because we're spoiled here in New York City, where we can get fresh eggs whipped up with ham, cheese and hot sauce on a roll for about $3. That's less than a Starbucks breakfast sandwich, and it's fresh. But we digress. We previewed a portion of the new breakfast menu -- the A.M. Crunchwrap, the Cinnabon Delights, Taco Bell's new coffee and the fabled Waffle Taco -- and we did enjoy it, for a fast food menu.
But Taco Bell's expert marketing team will give you a far tastier picture of its new menu than we will. So let's review it by comparing the company's stock images of its breakfast items with our own:
THEIRS: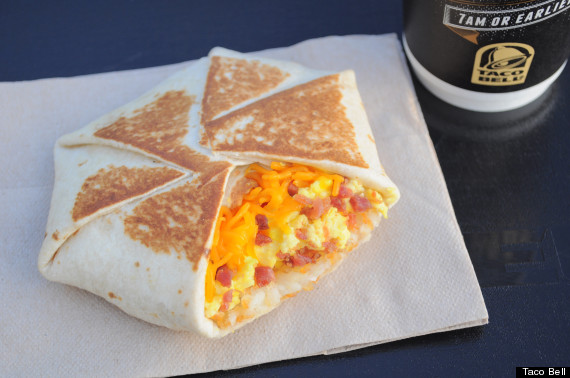 OURS: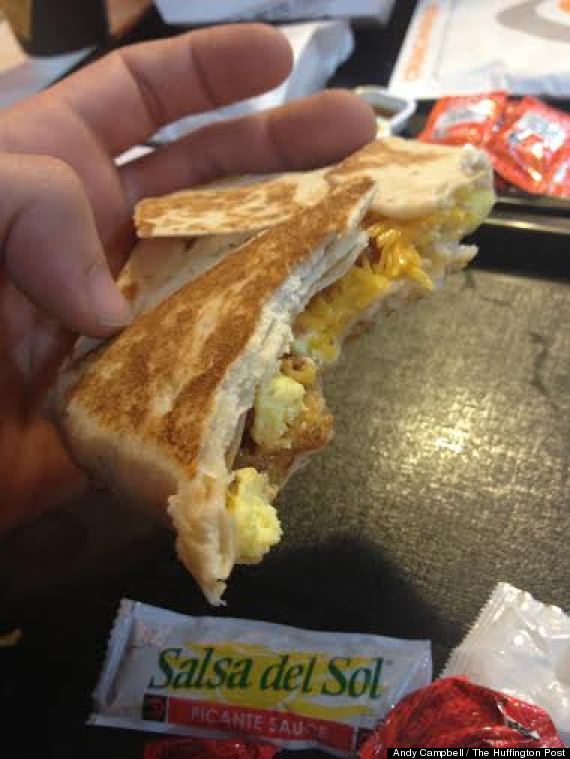 The A.M. Crunchwrap is the best item we tried, because it's something new (unlike the Waffle Taco - see below). It's got everything you want for breakfast in one perfect little handheld package: Bacon, eggs, cheese, and hash browns. It's crispy and all of the flavors stand out. Heck, even the eggs have a bit of flavor on their own. But as you can see, it's a bit richer, saltier and greasier than the press photo would have you believe. Also, leave the new Salsa del Sol Picante Sauce on the table, and stick with regular Taco Bell hot sauce.
When you try the new breakfast menu (starting on March 27), we recommend only trying this one. They're all gut bombs, and two or more items from the menu will have you wishing you were back in bed rather than typing up a fast-food review for The Huffington Post.
THEIRS: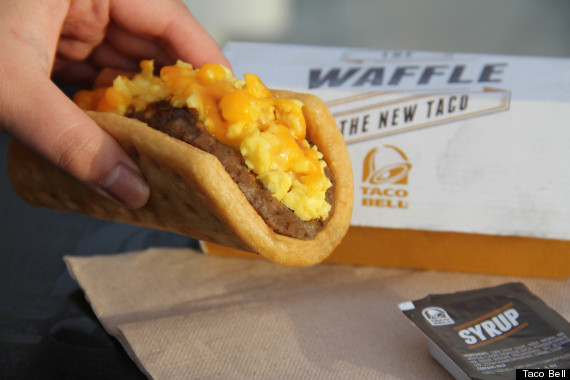 OURS: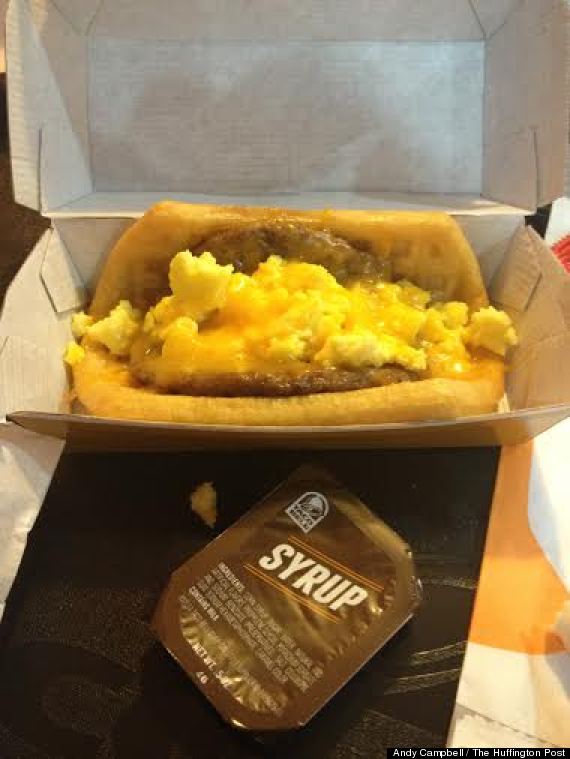 There's a lot of hype surrounding the Waffle Taco, because holy mole, what is this thing and should I eat it? We say it's nothing new. It doesn't taste terrible. But its greasy mouthfeel of egg, sausage, spongy "waffle," cheese and syrup isn't unlike that of McDonald's McGriddle sandwich. This is one that everyone will try because it's hilarious to tell your friends about, but it won't hold up on the fast-food market like the delicious Doritos Locos Tacos did.
Also, look at that beautiful publicity image. It's not like that. Don't look down, just stuff your face before you remember what your putting in your tum-tum for breakfast.
THEIRS: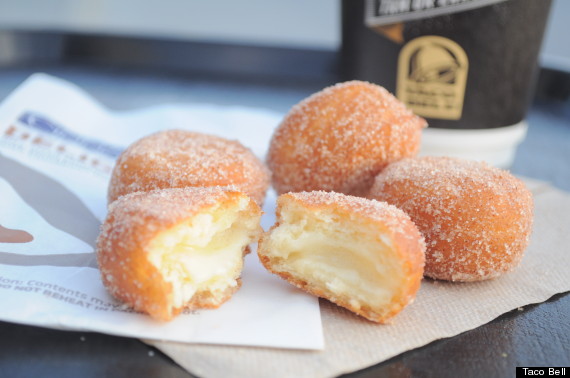 OURS: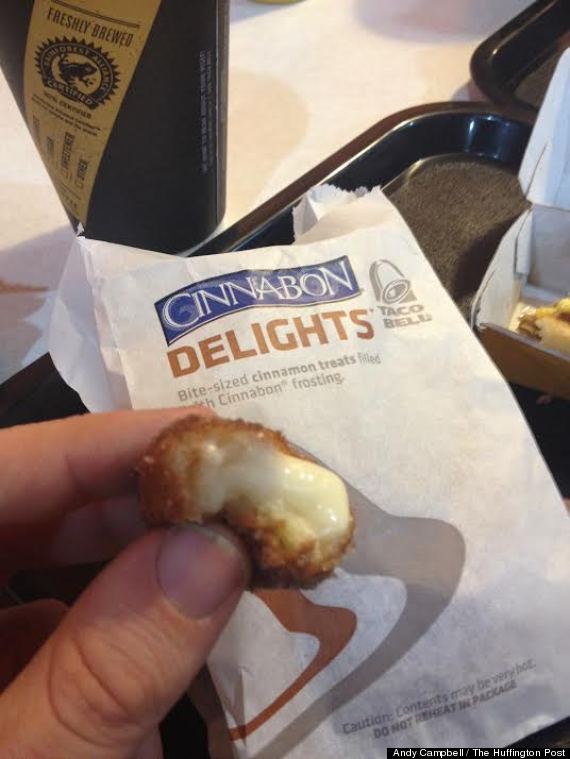 Just look at that first photo. Fluffy. Mildly creamy. Light, even. But listen here, reader, and listen good: Do not eat Cinnabon for breakfast. You got so caught up in the first photo that you didn't even realize the Cinnabon name was tied to it, did you? Do you know what a Cinnabon is? It's the reason the rest of the world isn't surprised about America's weight problem. It's sugar-coated, fried dough, filled with rich, creamy sugar goo. Don't eat that for breakfast, you guys.
We're always excited when coffee gets added to a menu. We want coffee available to us at all times. This coffee was watery and burned, stick to your local coffee stand. We're also confused at the label bragging about its "Rainforest Alliance Certification." Apparently, it's only 30-percent certified. What does that even mean?
You're probably going to try this menu once. You probably won't go back, unless you really enjoy the A.M Crunchwrap. The rest of the items -- though we haven't tried the burrito, the sausage flatbread melt, or the bacon grilled taco -- aren't changing the game, and McDonald's and Jack In The Box already have solid breakfast fare for the price. You can try all these items and more starting on March 27. Let us know what you think!
Before You Go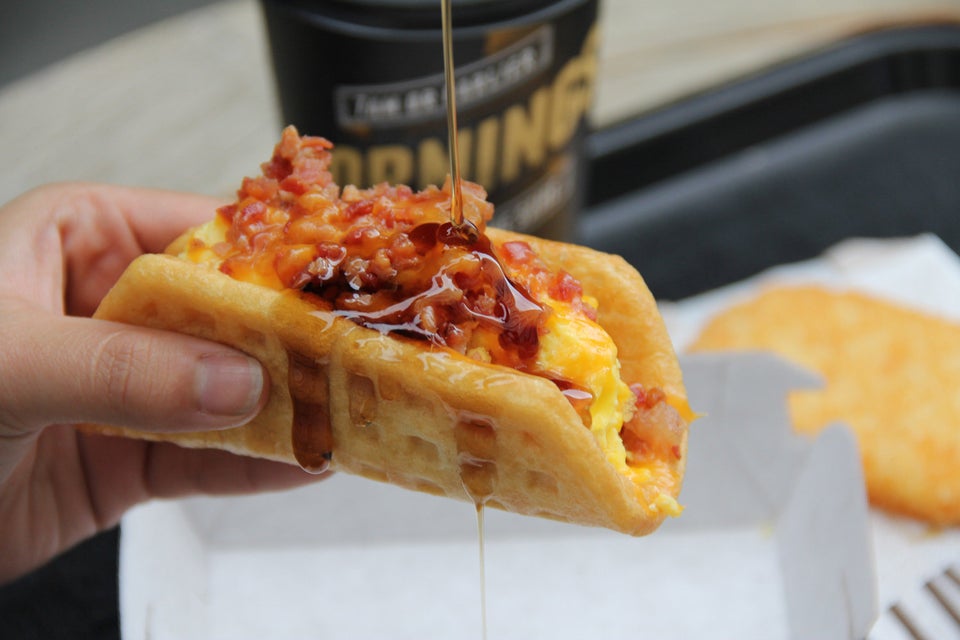 Taco Bell Breakfast